What are your memories of reading Shakespeare in school? Did you enjoy it? Was it a chore? I must admit in high school it seemed like a bit of a chore to read Shakespeare – although I do remember some fun study group times working our way through the Bard. One play that I did enjoy was Much Ado About Nothing.
The summer after my freshman year of college, I was on campus for work and classes. One weekend, the family came to visit & we went to see the latest Shakespeare on Screen adaptation – Kenneth Branagh's Much Ado About Nothing. It quickly became a favorite film of mine – the soundtrack shuffles through my iPod & I frequently pop in the DVD to watch when I want a "background movie" for knitting.
In 1996, I was living & working in Greenville, SC – one weekend when the Olympics were in Atlanta, Dad & Rebecca escaped to Greenville (Mom was in CA). Our Saturday evening plan was to see a local production of Much Ado About Nothing – this time at an outdoor theater & set against the backdrop of post-WWI Italy. As we headed to the park for the play, the skies opened up. By the time the play was to start, the rain had ended but we were soggy for the rest of the evening. It was fun to see a familiar play in a different setting & the rain adventures just added to the memory of the evening – many times over the years one of us has commented about "remember when we saw…"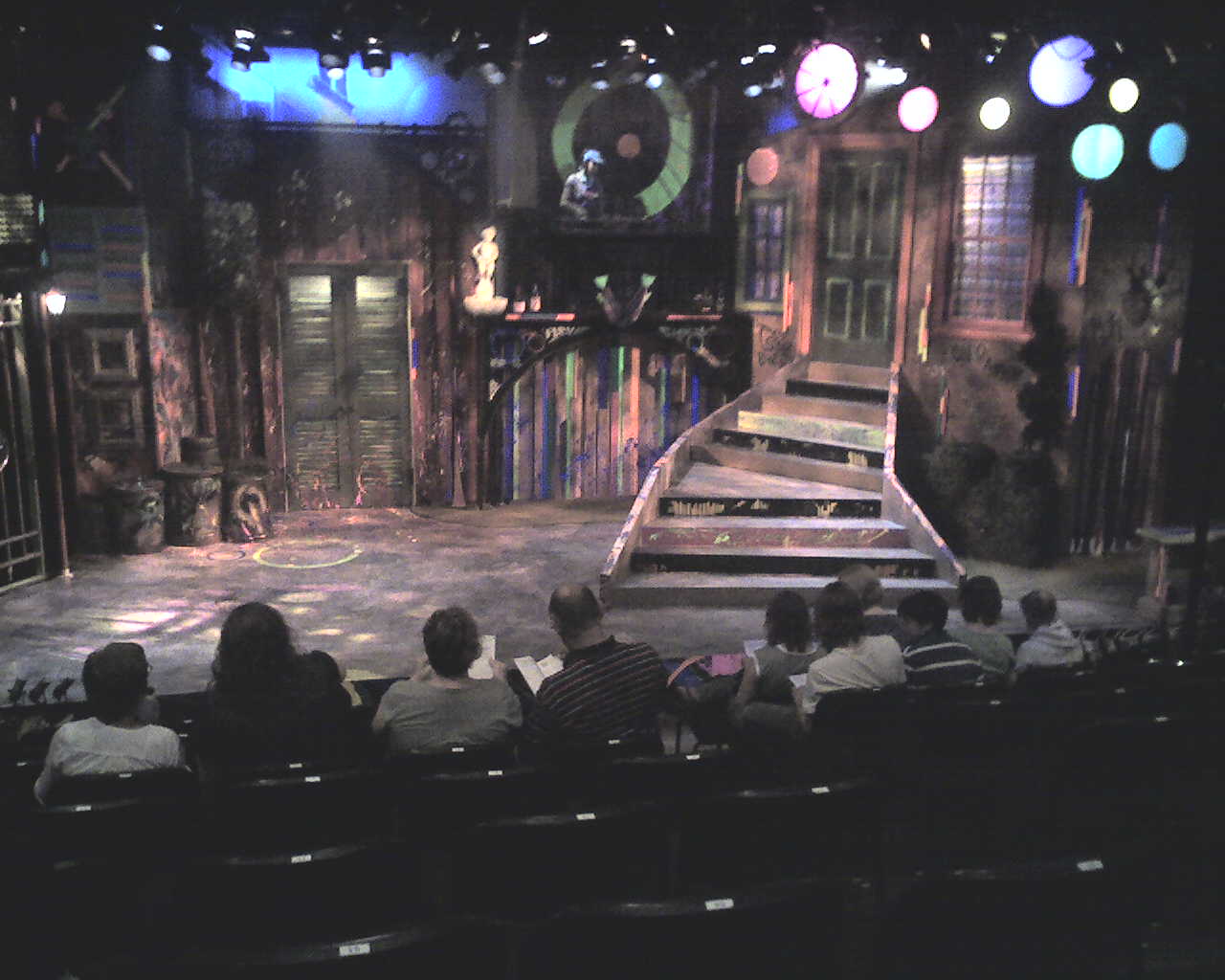 A quick "stealth" shot of the stage as I was quieting my treo…
Over the weekend, I had the opportunity to see another unique adaptation of this favorite play. The Chicago Shakespeare Theater recently premiered Funk It Up 'Bout Nothing – the story from "Much Ado About Nothing" moved to present day and told through hip-hop rhyme and rap with a DJ spinning the whole time. The play was shorter than other versions and indeed a bit bawdier – but it was also filled with non stop laughter. I happened to see the last performance of the play – later this week it will be opening in Edinburgh. This was the first time I saw a performance at the CST and the view of the city and lake from the 6th floor lobby of their smaller theater at Navy Pier was spectacular – since I didn't encounter traffic or parking issues on my way there I arrived in plenty of time – so I sat down & enjoyed the view while working on a current knitting project. All in all it was a delightful way to beat the heat on a Sunday afternoon!
Do you have a favorite Shakespeare play? A favorite retelling in a different setting?