Oh the cold, gray days of winter…no sunshine in sight! So, on a cold, gray, snowy Sunday I whipped up a Sunshine Salad in the kitchen.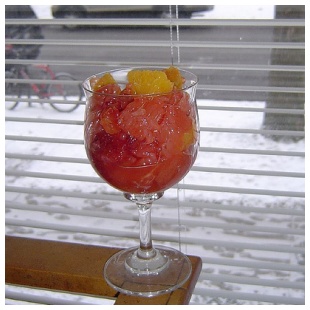 I came across this citrus salad recipe and used it as my starting point. I used a ruby red grapefruit, navel orange and blood orange. For the dressing, I mixed half clover honey and half blueberry honey with the citrus juices. In addition to the cardomom (one of my favorite spices) I also added a dash of ground cloves. This is a simple salad that tastes great – I'll be making it again.
In addition to finishing my Bejeweled scarf earlier this month I've managed to finish quite a few other things.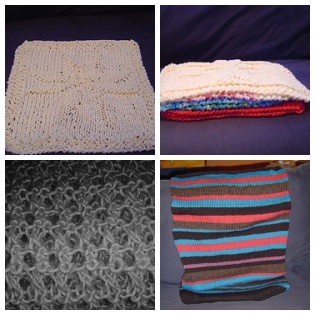 First up, a stack of dishcloths (and this stack doesn't even include all of them so far this month). Most of these are my standard "grandma's favorite." I also completed the January Monthly Dishcloth KAL – a snowflake. I must admit, knitting a dishcloth in cream (or white) seems odd to me – I knit dishcloths to be used & this seems like it will always be stained or always have to be bleached.
Next up, a secret knit that can't be revealed quite yet. How's that for a teaser?
Next, I dug deep into the WIPs and pulled out my striped felted tote. The bottom of the bag has been seamed up, all of the connections have been dealt with – it's ready for felting fun in the washer and then some handles.
Why have I been knitting so much this month? Work has me traveling during the week again – this time driving to the Northwoods of Wisconsin. On my drive up last week, I managed a detour to the Herrschners Retail Store – the reason for stopping was to buy a Wool Winder to go with my new swift. I left with a bag filled with yarn and no winder – didn't even think of it when I was in the store. I was able to stop at the store on the way home & pick one up. It has already been put to good use.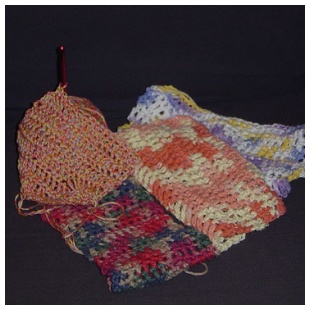 Last spring, I picked up SnB: The Happy Hooker when Debbie Stoller came to Arcadia Knitting. I wanted to pick up some of the crochet basics last year; however, that didn't happen. On Saturday morning I had my first Crochet Basics class at Arcadia – when the class is done I will have completed a scarf & learned several basic stitches. Saturday was the single and double crochet – homework was to practice those stitches and we'll begin the scarf next week. I have done some practice with the intended scarf yarn; however, most of my crochet practice has been with leftover dishcloth yarn – not only am I practicing my new skills I'll also have a few "wonky" dishcloths for my sink. One thing I have noticed with the crochet is that my right hand and arm gets sore – which is something I haven't noticed with knitting.
Thanks to everyone for sharing your stories about your Friday Night Knitting Clubs. Isn't it great that we are each able to find our own groups – whether in person or through our online connections? Now that the book has been released the author has appearances throughout North America – check out the schedule and see if she is coming to your town. Unfortunately she isn't scheduled to visit Chicago yet; however, if you do go to an event I'd love to hear about it.