Hostas have always been an Artisan family favorite in the garden. At home in the 'Ville, the eastern exterior wall of the house is planted with hostas of assorted colors and sizes. Included in the collection are hostas from my grandparent's home in Ohio (circa 1985), hostas from previous homes, hostas "rescued" from the houses that were torn down for the Atlanta airport expansion, and hostas from Miss Butterfly's house here in Chicago.



Last year I stumbled across Jessie's beautiful handpainted yarns. When I saw the skein called "Blue Hostas" I immediately snapped it up. When the yarn arrived I wound it into a ball but didn't know what I would knit it into – throughout last year, everytime I would be in the yarn stash & come across this yarn I would have to "stop & stare" at the beautiful colors. New Year's Eve weekend I cast on for the perfect project with this yarn: Bejeweled.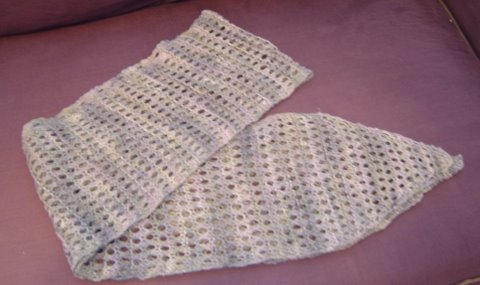 I love this scarf! The pattern was well written & I love how the lace knit up – it was a very easy pattern to memorize & progressed quickly. I finished the scarf in under a week. Once I was done, I gave it a dip in the SOAK from Scout's Swag & then pinned it on the living room rug to open up the lace pattern.



Thanks Shobhana for sharing this great pattern! Thanks Lolly for organizing the KAL! I will definitely be knitting this pattern again – in fact, I've already started on 2 new projects based on this pattern (at opposite ends of the yarn scale).
(P.S. #1 The pictures don't do the yarn & scarf justice – but the lack of decent daylight recently has made it difficult to capture the true beauty of the finished product.)
(P.S. #2 These aren't pictures from our hostas – as I was pulling together this post I realized that I didn't have any pictures. Click on each hosta mosaic for more details on the source Flickr pictures.)