…My So Called Scarf
This was the knit project I took home to GA with me over Thanksgiving. I had started about 4 rows before heading to the airport on Tuesday afternoon- by the time I landed in Atlanta I had knit about 16″ – the seat next to me on the plane was empty so I didn't have to knit "squished up." By Thanksgiving evening I was finished with the scarf.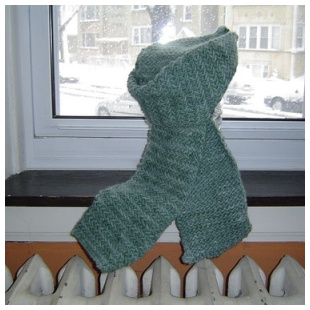 The Details:
Pattern – My So Called Scarf
Yarn – Malabrigo in Emerald (bought at Genuine Purl in Chattanooga)
My thoughts on this scarf? I love it! All of the knitblog praise about Malabrigo yarn is true – this yarn was wonderful to work with & the finished scarf is incredible. The subtle tone changes in the yarn look great and this scarf is very soft and warm. And the pattern…very fun to knit, I will use it again!
When I first starting reading knit blogs, this was one of the first patterns that I bookmarked. Earlier this year, I looked at the pattern and was intimidated by the stitch description – my knitting has primarily been based on k, p, yo, k2tog.
While knitting this scarf I reflected on my knitting over the last couple of years – specifically scarf knitting. Sometime I'll write a more in depth knitting history – I first learned to knit from my Grandma in 1997 and then didn't do a lot with it for several years. In the fall of 2001 I was traveling for work when I picked up "the" Real Simple issue that had the simple striped scarf pattern & I decided to give it a try. I knit the scarf in the hotel room in the evenings – back and forth in the garter stitch in 2 shades of gray Wool-ease yarn. Gee, what an exciting knit! Thanksgiving 2001 I finished up the fringe on the scarf while at home with the family. While this scarf looks a little worn these days it has served me well. Since that first scarf, I have knit several additional scarves for me – as well as a couple of gifts which didn't get photographed. All of these scarves were variations on knit, purl, garter, stockinette, rib knit – nothing too difficult.
So this scarf was a departure for me – a more involved knit stitch that is something I wouldn't have attempted even 10 months ago. A couple of times I lost a stitch and had to work back to find the mistake. But in the end I am very pleased with how this scarf turned out. Since this turned out to be a relatively easy knit for me I have a feeling I will be branching out into new stitch patterns/difficulty levels in the future.
…And a Hat to Match
I had plenty of yarn leftover from the 2nd skein of Emerald yarn even though the "your height = scarf length" rule meant knitting 69″ of this great pattern. So of course, a hat was in order!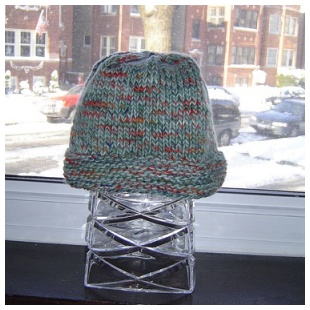 The Details:
Pattern – Based on the Cloche du Bois from Hilari at Make Me
Yarn – Malabrigo in Emerald & Koigu Kersti (also from Genuine Purl)
Needles – 10.5 double points
Pattern Modifications – Cast on 72 stitches
When I visited Genuine Purl back in October, there was only 1 skein of this beautiful Koigu colorway so I bought it without knowing what it would become. The colors seem to pop when knit together with the Emerald. Since both yarns were Chattanooga purchases this is my "Chattanooga Cap."
This was a quick knit – less than 4 hours from cast on to weaving in the ends.  I'm sure I will knit it again.
Both of these new knits will be getting plenty of use now that winter is in full effect here in Chicago. In fact, my scarf came in handy this past week while up in WI visiting a client site – it was 12 outside that 2nd morning but this scarf around my neck kept the bitter chill at bay while walking from car to building. Both the hat and scarf match all the winter coats currently in my closet.
Since this scarf was knit so quickly over Thanksgiving, the rest of my time at home was spend on some unexpected holiday knitting & crafting. Stay tuned for the details…