Just like every knit project has the "final ends" that need to be woven in before the project is complete – this post is a bit of the knit bits that I've been meaning to mention & wanted to post about before the holidays get in full swing.
Bejeweled KAL


After you are finished with your holiday knitting, how about starting off 2007 with a little bit of lace? Lolly is hosting a Bejeweled KAL for Shobhana's lovely little scarf pattern. Go purchase the pattern by the end of the year & she will donate her profits towards the shipping costs associated with the Dulaan knitting project.
I have several yarns in the stash that would look lovely with this pattern & I will be casting on for the scarf after the holidays.
ISE – Victoria in Canada knit me a lovely scarf for the International Scarf Exchange. This is a lovely, dense scarf knit in one of my favorite color combinations – chocolate & turquoise. Thanks Victoria for a great scarf that will be used in the winter months ahead.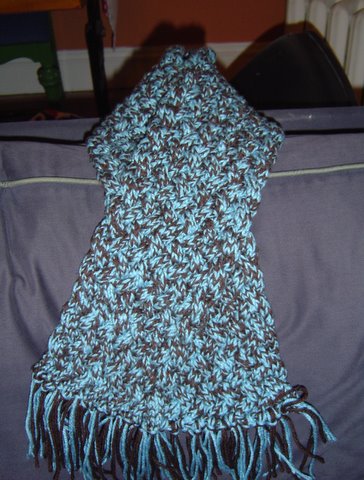 ChicKnits Patterns – Bonnie Marie is launching a hard copy version of her lovely knit patterns. On Dec. 10th, Arcadia Knitting hosted a trunk show to celebrate the launch. Most of her knits were on display and she also led a seminar on how to get the right measurements. While I'm not yet ready to tackle one of her beautiful sweater patterns, I did pick up the felted bucket hat pattern and a black tweed yarn to knit it up in the new year.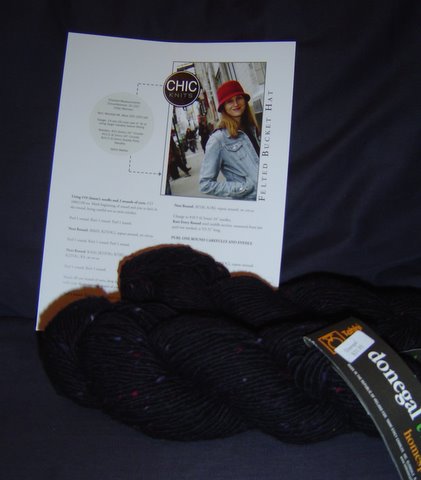 Comforting Jenn – A belated picture of the square I knit for Cathy's Comforting Jenn blanket. A dusty sage & dusty mauve superwash held together & knit into a "Grandma's favorite" square.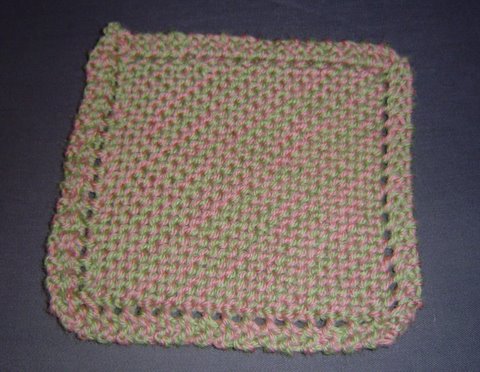 One Skein – I've mentioned a couple of times that I was working on some felted bowls from the One Skein book. The first batch were knit with Lamb's Pride Bulky or 2 strands of Cascade 220 on size 15 needles. I think they need felted a bit more.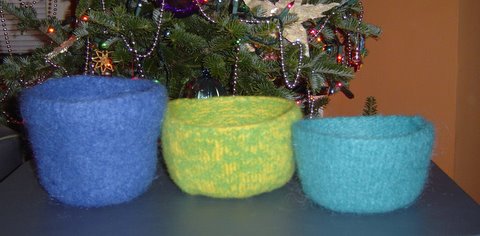 The second batch were knit with the wonderful private label yarn from Sit'n Knit over in New Buffalo. These were knit on size 10.5 needles. I love how they turned out & will definitely be making more of them with this yarn.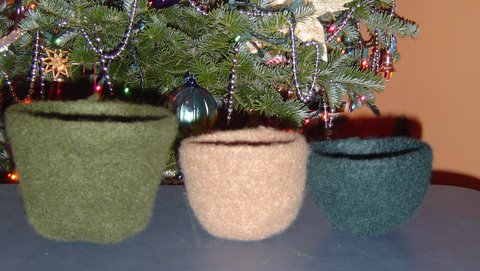 It was fun to look around the house to find assorted bowls to shape these against – I have some ideas for the next batch.
A Last Minute Knit – Because I didn't have enough to do to get ready for the holidays…I've decided on a last minute knit gift. Thankfully it's a fast knit and I'm loving it! I'll reveal more after it has been gifted.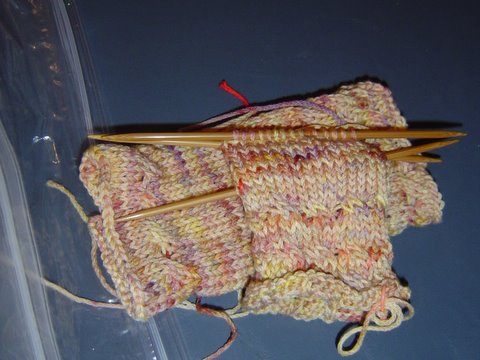 'Tis the Season – Finally – a bit of holiday fun. If you haven't done so already, go check out Purl's Radio WKNP – the 12 days of Knit-Mas – yarn inspired versions of your favorite holiday songs.