I hope that each of you had a lovely time celebrating the holidays with those near and dear to you. I was able to enjoy a week at home in the 'Ville with the family.

If you had asked me 5 weeks ago what my Holiday Handknits would be this year I would have said "1 gift." By the time that Christmas rolled around, it turned out that I had many more handknits to gift.
As I mentioned earlier, I knit several Christmas trees while at home for Thanksgiving. I also finished up a 6th tree that was gifted to family friends on Christmas Eve. In addition to my own "mantel forest" that I'd like to knit before next Christmas, I've had several other requests from Mom & Dad for trees to gift next year. Stay tuned.
In addition to the trees, here are the other handknits that I gifted this year.
First up, the "secret knit" that I worked on starting in August. Earlier this year, when my Dad & I were in the yarn aisle at JoAnn ETC he jokingly gave me a not so subtle hint about wanting a knit scarf. Now he has an Artisan scarf. I bought this yarn at Stitches Midwest – Brooks Farm Limited Edition Sock Yarn. The pattern is the "broken rib" pattern from the Knitting to Go deck (& sent to me by Judy for the Vacation Knitting Swap earlier this year) on size 9 needles. This was the perfect project for my plane commuting to/from Chattanooga. The colors of this yarn are gorgeous – blues, greens, browns – it goes great with many of Dad's coats and jackets.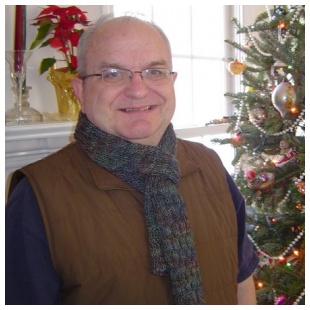 Next up, the first installment of the "Artisan Dishcloth of the Month" club for Mom and Rebecca. Each month in 2007 they will get a new dishcloth from me. These are "grandma's favorite" in the Sugar'n Cream Mistletoe colorway. The second dishcloth was knit (start to finish) at the Chicago airport last Thursday when the flight was delayed because of rain and fog.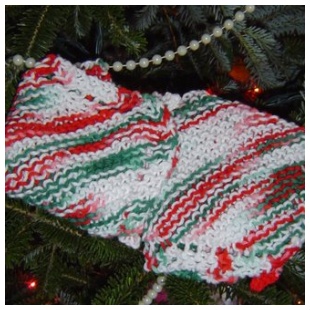 The "last minute" knit that I alluded to earlier was indeed a pair of Fetching gloves for my Grandma. (Stay tuned for a longer post on them…)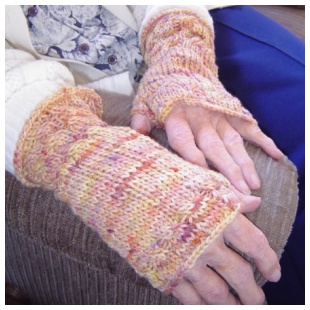 Additionally, a couple of my felted bowls were gifted.
On the receiving end of gift giving, I received 2 great items that will help with Artisan Knitting in the coming year: a swift and the One Skein Wonders book. Thanks Grandma!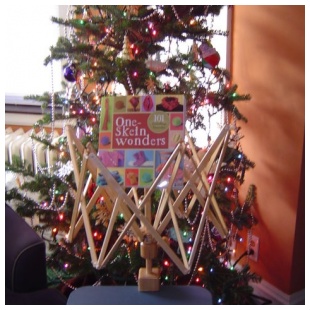 Christmas at home with the family was a lot of fun. Our traditional Christmas Eve movie was on the 23rd this year – Night at the Museum was delightful. After church, on Christmas Eve family friends came over for a yummy dinner, gift exchange & a "newer" tradition of watching The Vicar of Dibley Christmas Lunch episode. Later in the evening we watched It's A Wonderful Life as we always do on Christmas Eve evening. Christmas Day was lovely – when we first get up we open our Christmas stockings (which are all needlepoints from Artisan Dad) and then enjoy breakfast before opening the gifts under the tree. After delicious homemade cinnamon rolls and peppermint coffee the gift opening began. We don't open the gifts as a free for all – rather, Dad hands out the gifts & only one of us opens a gift at a time. I think the gift givers are as excited to see the reactions to gifts as the gift receivers are to open the gifts.
The day after Christmas was a day trip up to Chattanooga to visit friends from my 6 month project there earlier this year.
While at home I also taught one of Rebecca's friends how to knit. A couple of hours one morning and Sheila was well on her way to making a "grandma's favorite" dishcloth. Sheila is the 3rd person that I have taught to knit – as I was teaching her I was very aware of "what" I was doing with each step of the dishcloth. Sheila is so crafty so she picked this up rather quickly.
As 2006 winds down and 2007 begins I'm looking forward to a couple of days of reading, knitting and cooking – some of my favorite things that seemed to be in short supply for a lot of this year.