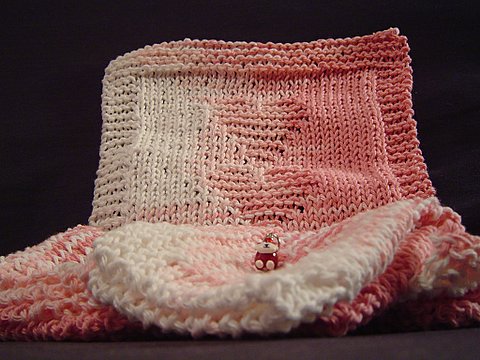 This project was the perfect weekend knitting activity while waiting for the Olympics & working my way through the at home Netflix. This weekend I ended up with all foreign films at home…having to read subtitles means that the knitting can't be too complicated. These Valentine themed dishcloths will be making their way to my Mom & sister with some coordinating dish towels.
The knit details:
– Melissa's Knit Valentine Dishcloth – I see some of her other designs as future "quick projects" in the coming months
– Strawberry varigated Sugar n' Cream yarn (4 dishcloths from just under 2 1/2 balls of yarn)
– Size 8 needles
– The Valentine Day's Sheep from Katie's Shop was the perfect accessory to mark my odd row needle.
– I had originally planned to use a solid color yarn for these; however, this was the only Valentine themed Sugar n'Cream yarn at Michael's on Friday afternoon.
The movie details…thoroughly enjoyed The Chorus/Les Choristes. Also, I "finally" saw Cinema Paradiso & loved it – as often as I've heard the soundtrack it seems like I would have seen the movie by now. Interestingly enough, one of the 'old movie' songs in the film "Anna (El negro zumbon)" has been wonderfully redone on the latest Pink Martini CD.