So I had already been planning this post, with this picture…then Lolly's Project Spectrum was announced & I thought this post is an "early entry" into Project Spectrum. The picture was taken in "full color" & then I had some fun on Snapfish with the effects & applied the pink tint. I have never been much of a "pink person" – without a doubt this is my favorite pink! 🙂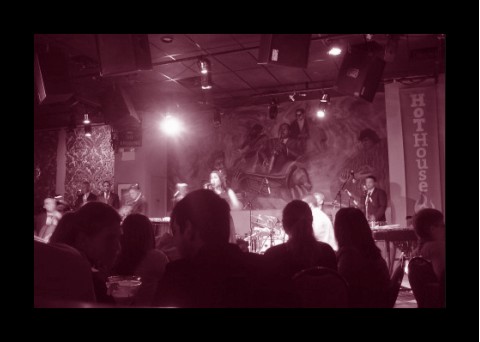 For the last couple of years, whenever anyone asks what my favorite band is I immediately answer Pink Martini. I first discovered this band in 2002 when I saw them in concert at The Hollywood Bowl & I was instantly hooked. In fact when I saw them, I flew home from LA to Chicago late on Sunday night – got up early on Monday morning to drive to my project in South Bend IN & at lunchtime on Monday went to the South Bend Border's to pick up their "Sympathique" CD.
In September 2005 they "finally" came to Chicago & yep, I was at both sold out shows at The Hothouse.
The concert experiences at the 2 different venues were like night and day – but both were incredible experiences. (The above picture is from their show at The Hothouse.)
Both CDs are in constant play in my car stereo, home stereo & on my laptop at work. This is music that can be on constant repeat loop for me & I never get tired of it. Pink Martini has always had a good following in Europe and when I was in Italy in June I heard them on the radio while strolling through a piazzo in Rome – how appropriate. If you haven't heard them before I'd encourage you to check them out. I have noticed their music turn up in several movie soundtracks.
Back to Project Spectrum…when I was uploading these pictures to print out for the scrapbook I picked the pink tint for all the pictures I wanted to include in the layout for the Sept. concerts…pink & black pictures on black pages with pink paper…I haven't put those pages together yet (way behind!)…I'll post them here when I'm done – hopefully in March for Project Spectrum's Red/Pink Month.