In typical Amy fashion, work trips & fun trips ended up stacking up in early March. After being home from Wisconsin for 3 1/2 days, it was time to head to Texas for a long overdue extended weekend with my girlies. When I arrived on Wednesday evening, the girls were already asleep; however, as I settled into Miss M's room for the weekend it was evident that someone was excited I was there: I was welcomed into the Hotel M'Amy suite that included many reminders of being in Miss M's life.
Thursday was a low key day – plenty of playtime with the girls. Miss V was initially a bit shy to me but in no time all was normal and she was even reading to me. (Following in her sisters' footsteps in the reading, for sure.) Miss M & Miss K treated me to a piano concert as they practiced – including a duet. And where we used to leave the little girls behind to spend time shopping, this time Maya & I took a backseat to 3 girls with definite opinions as they were clothes shopping.
Friday had us on the road right away to head into Dallas. After telling me about it for years, the girls were able to finally share the Perot Museum of Nature & Science experience. We started with a fun 3D flick about chipmunks preparing for winter and then headed to the top level and began working our way down through the levels. This curious gal had so much fun exploring with my curious gals – we were battling spring break crowds so we didn't get to do everything but how fun it was to step back & watch them explore.
Saturday started with homemade pancake breakfast and then playing at home. Later in the morning, Miss M decided I needed a sparkly spa pedicure. After lunch, we went to a local pottery place & had some painting fun. I look forward to incorporating my new plate into my decor – each of the girls painted a flower for it.
After days of gray & rain, Saturday was beautiful weather so instead of going out for dinner we decided to open the patio dining season at home. Grilled steak and chicken and veggies were delicious as we sat at the patio dining table surrounded by twinkle lights and the beautiful backyard. The clear sky and sight of stars and the moon sparked conversation about space exploration from the girls, including "has a woman ever walked on the moon?" Dinner was topped off with s'mores made in the outdoor fireplace.
Sunday started slower as we sprung ahead. Another gorgeous day had dawned and so we spent plenty of time outside – walking the dog, flying kites in the open lot across the street, at one point, Miss K & Miss V decided it was time to jump in the swimming pool.
Before long, final hugs were being given and it was time to head to the airport. As we backed out of the driveway, this sweet scene was bidding me a reluctant farewell.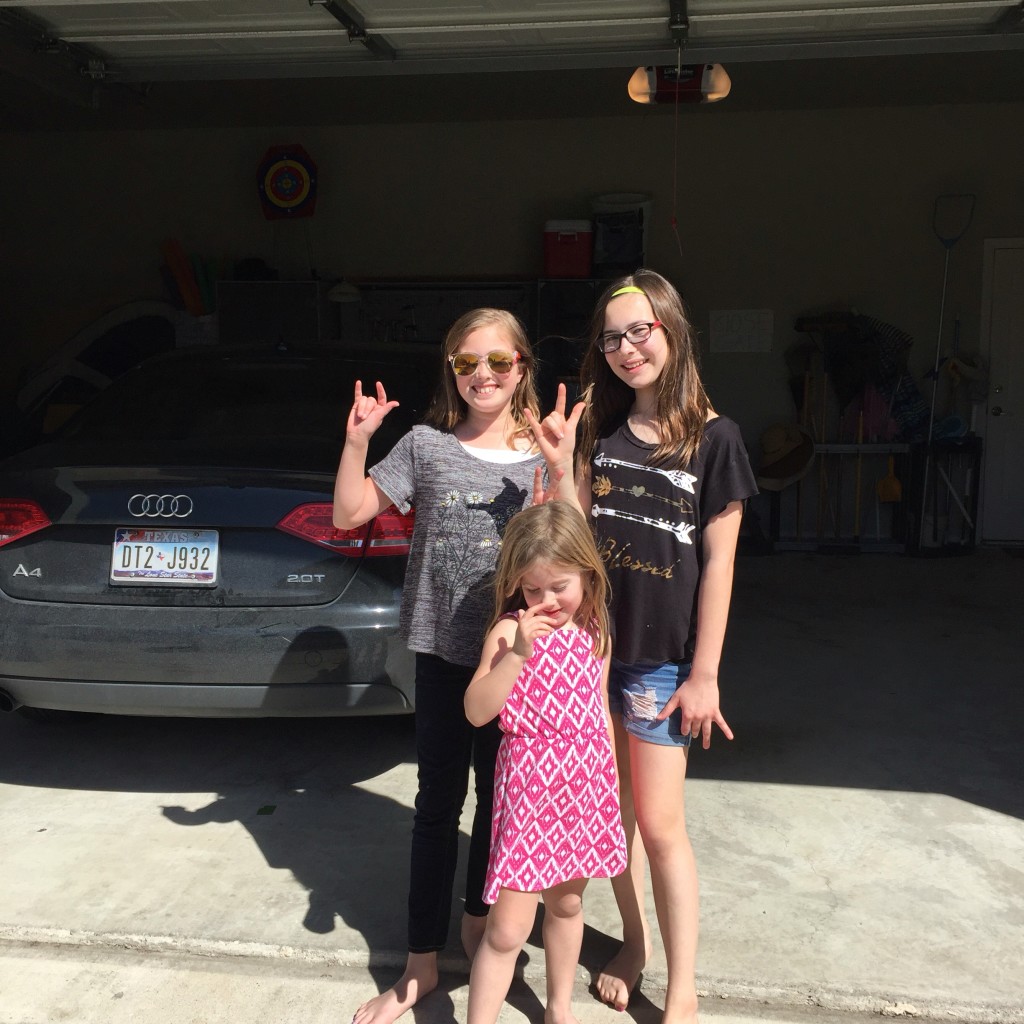 The days with these girls were just what I needed! I'm so lucky to have these 3 delightful little ladies in my life!