When I was younger, the Artisan family lived in North Dakota. There were many cold winter nights where Mom & Dad would wrap us in Grandma-made afghans & take us outside to see the phenomenom that are Aurora Borealis – northern lights. Those afghans provided warmth from the cold as we took in all the beautiful colors that danced across the winter night sky.

A couple of years ago I came across a skein of yarn that was named Aurora Borealis – while the yarn was very bright, I knew that someday I would knit something from it. As I was deciding on a project for my holiday travels & time at home I decided that it was time to knit up the yarn. I selected a cowl pattern, held my yarn double & began to knit round & round the circle.
Earlier this year, Mom mentioned that she would like to learn how to knit – we just never got around to it when I was home in Sept. or at Thanksgiving. On Christmas Eve, I went up to the hospital to sit with Mom & brought along a skien of Sugar'n Cream yarn and some needles – in no time at all, Mom was working through the "Grandma's Favorite" dishcloth pattern. As I knit round and round in the linen stitch, Mom was following the classic "knit 2, yarn over, knit to the end" rhythm of the dishcloth pattern. Before long, it was time to show her how to decrease in the dishcloth pattern. And then at home, as she sat in Grandma's chair in the living room she bound off her first dishcloth. She immediately started on her second dishcloth and kept trucking along.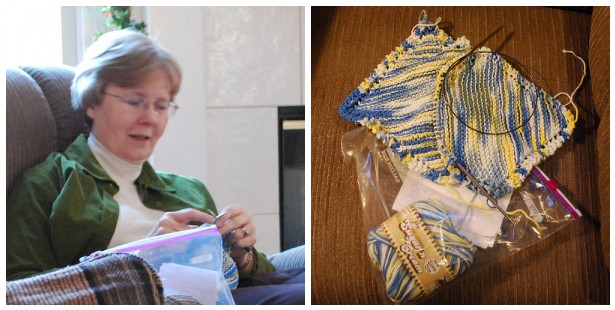 On Christmas Day, Mom & I knit by Grandma's bed as she napped. When Grandma was awake, she was suprised to see Mom knitting. As Mom said to her, "Remember, you taught Amy to knit & now she is teaching me…" The day after Christmas, I knit round and round as we waited for the transfer from the hospital to the nursing home & then kept on knitting as Grandma was being settled into her new room. Between all of the bedside knitting and knitting at home as the family watched movies I was quickly done with the cowl.
This cowl project was a perfect example of the right yarn & pattern at the right time. When I mentioned the name of the yarn, Artisan family memories of northern lights were retold. And the bright yarn provided a bit of extra cheer that we all needed.
Northern Lights Cowl details
Chickadee Cowl by Kristen Kapur
Aurora Borealis Sock Yarn by Perchance to Knit held double on size 8 needle
Since I've come back, Mom continues to knit on her dishcloths. When it was time to finish cloth #2, she couldn't remember the bind off so she googled & found a video of it.
For some time, it was evident that Grandma's knitting needles were slowing down & coming to a stop. One of the last time I saw Grandma with her needles, I had to show her what to do. With Grandma's move into nursing care, it is obvious that her needles have come to rest. But I'm so thankful that she taught me how to knit & I'm so glad that I was able to get Mom knitting as well.
The last time I asked Mom about her knitting, she said she was still knitting away – I think that my dishcloth cotton stash at home may be in jeopardy. She mentioned how relaxing the knitting is & how glad she is that she can now knit. Ah, the allure of the simple dishcloth knit! Even as I undertake more complex knitting projects, I find that the simple knit of the dishcloth can always calm. In between other knitting on the needles these days, I'm also making another batch of Comfort Cloths for washing Grandma's face.