All last week the forecast was showing that new snow would be here for the weekend. On Thursday, the forecasted snowfall totals for Friday/Saturday were stepped up a bit. It quickly became evident that this weekend might be a good one to hibernate at home. Friday morning's commute was a bit longer than normal because the first round of snow was coming in. Thankfully, the rest of the snow held off until I was back home before dinnertime.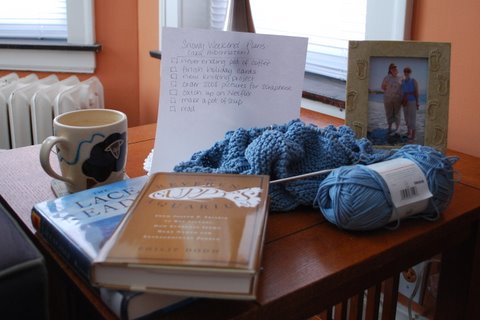 (click the picture for details)
I woke up on Saturday morning to quite a bit of snow on the ground and it kept falling all day. The neighborhood soundtrack throughout the day was filled with shovels scraping the pavement, wheels spinning in the snow/slush and the whir of snow blowers. Before long, lawn chairs were out in the street as parking spot placeholders.
My "goals" for the weekend were simple.
Never ending pot of coffee:

The french press was in constant use all weekend – the It's a Grind Winter Blend is my current favorite. A bit of Italian Sweet Cream creamer & my sheep mug made it perfect.

Finish holiday cards:

Umm, I had good intentions of getting cards out at Christmas and then life got in the way. So I'm going with a "New Year's" approach instead. Signed, sealed & ready to go in the mail tomorrow.

New knitting project:

I cast on a for a new "big" knitting project & have been making great progress on it. As the inches of snow increased, so did the inches of blue garter stitch. More details later this week.

Order 2008 pictures for scrapbook:

It's January – time for a scrapbooking retreat in 2 weeks, so I had fun going through the past year & figuring out what pictures to be ordered.

Catch up on Netflix:

Ladies in Lavender and The Ballet Shoes were perfect knitting flicks.
Make a pot of soup: At the grocery store on Thursday evening I decided that I was in the mood for a pot of cauliflower soup. I found a couple of good recipes on a few food blogs & ended with my own hybrid that hit the spot (roast the cauliflower, onions & garlic before going into the pot, add some walnuts in with the 'normal' ingredients – blend it all together- yum!). Since I had the big pot out from the back of the cabinets, today I decided to make a big pot of chili for this week & the freezer.
Read: Between Christmas gifts and library books I had no shortage of reading material. This weekend it was The Reverend Guppy's Aquarium and The Lace Reader.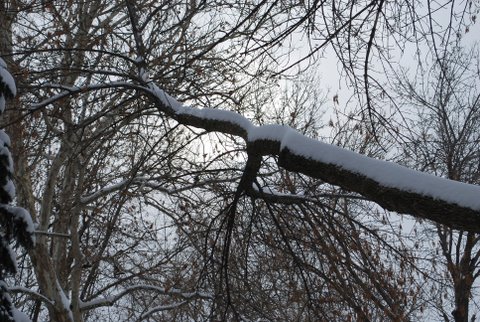 I had hoped to head over to Jen's for a bit of knitting this afternoon; however, I feel like I'm fighting off the start of a cold so I'll continue to hibernate. (And be very grateful for a building mate who shoveled my side of the garage!) The snow is definitely getting old this winter – there have been too many long commutes in the snow, slush & slick. It was nice to enjoy this snow storm from inside my cozy home.