The Artisan family has always said that our holidays aren't about tradition – they are about being together. Over the years, we have developed some traditions; however, we also know that the holiday will "go on" if we don't do the traditions. Christmas 2008 was a real test of our holiday approach…looking back now, I think we all would agree that we succeeded.

A week before Christmas, Grandma was admitted to the hospital for unknown reasons – it was obvious that she was in general decline. After a couple of days she stabilized and we learned that she would be discharged to nursing home care – once a bed became available. Needless to say, it was tough being up here in Chicago away from everyone as this was all unfolding – I was counting the days until I would be flying home for the holidays. I made a last minute decision to fly out on 12/23 instead of on 12/24 as originally planned. On the 23rd I awoke to a snow storm here in Chicago – before I even left for the airport my flight was already delayed an hour. I didn't care what the delay was – as long as I was able to get home! One hour turned to 2…3…4…but finally the flight was in the air.

Christmas Eve was filled with last minute shopping (groceries), visiting with Grandma and the final preparations for Christmas. Mid afternoon, while sitting with Mom for a bit at the hospital, I taught her how to knit (more on that in another post!). For dinner, I pulled together "a taste of Ikea" comfort meal – with a packet of the Ikea gravy mix, a bag of frozen meatballs and a pan of roasted potatoes & onions we quickly had a delicious dinner. Our Christmas Eve evening tradition is to watch It's a Wonderful Life – this year, we were in the mood for Christmas in Connecticut instead.
When we awoke on Christmas morning, Mom made her delicious orange rolls for breakfast & as we enjoyed peppermint coffee we opened about half of our presents in the morning. Mom & Rebecca then went to the hospital to see Grandma. One of Rebecca's friends brought us a delicious spread for our Christmas dinner in the early afternoon. Afterwards, we finished opening our gifts. After our traditional Christmas afternoon of napping & diving into the new books, Mom & I went up to the hospital for a bit – we took a plate of Christmas dinner for Grandma.
The day after Christmas, we received notice that a bed was available for Grandma at the nursing home – by dinner time she had been transferred. We were all relieved to have Grandma out of the hospital. On Monday afternoon she was transferred to the memory care unit – something that we all agreed was needed. The rest of the holiday time was spent visiting with Grandma, watching movies, reading new books, simple meals and just being together.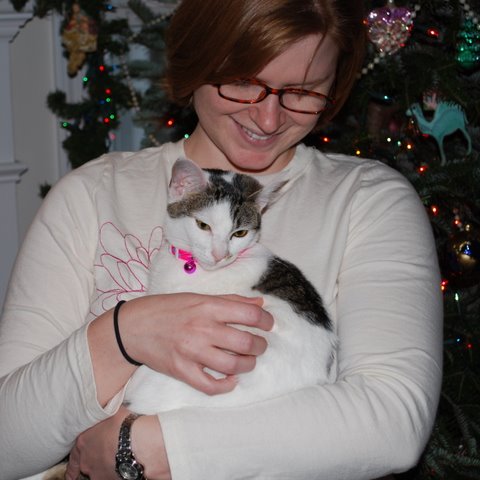 Rebecca got a new kitten, Maylene Noel, the weekend before Christmas who was more than happy to provide us with extra love & cuteness whenever we needed it. Because she was recovering from her "fix" surgery, she was just a lap kitty – although she was ready to get on the floor & explore.
Underneath the Christmas tree, there were many handknits. After months of keeping quiet about some of my knitting it was fun to finally share the projects with them!

For Rebecca, a Sunday Market Shawl in Dream in Color Butter Peeps. For Dad, a Hurricane Hat in Creatively Dyed Yarns Woodbrook. For Mom, a Christmas Lace Scarf in Brooks Farm Yarn  Four Play. I actually gave Mom her scarf when she was here in October – it was a cold weekend & it provided her with just the extra warmth she needed.On Christmas morning I placed a Mitered Hanging Towel on the oven door handle for Mom – I was thrilled with the JOY button that I found for it.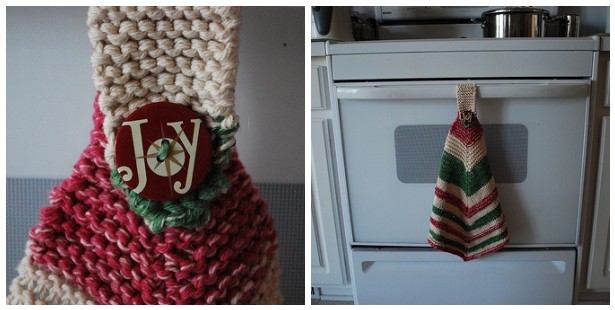 One of these days, I will knit socks for everyone in the Artisan Family – this was not the year for it. However, I was still able give everyone hand knit socks. This fall I discovered Fernwood Woolworks – Lynette uses her antique knitting machine to knit socks to your size specifications using the yarn that you send. So, I dove into my stash & found yarns for each of us. These socks are great – they fit us all perfectly!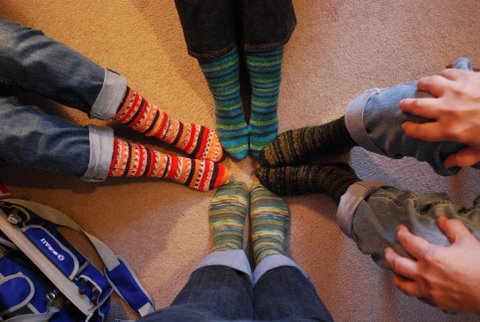 Not all of the yarn under the Christmas tree had been knit by me. The Peruvian yarn feast continued with 2 more presents from Rebecca. I'm amazed that she was able to bring anything else home in her bag. In my stocking – a small skein of alpaca in 2 natural alpaca colors. Under the tree – a cone of beautiful forest green alpaca. Hmm…maybe a colorwork project?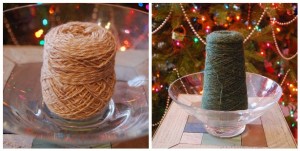 All too soon, it was time for me to repack my suitcase & fly back to Chicago. While none of us could have predicted that this was how our Christmas would be this year, we all agreed that it still was a memorable one because of the the time we had together just "being a family."
As this new year starts, so too starts my 4th year of blogging here at Amy Artisan – I'll save my "year in review/looking ahead musings" for another post.