This weekend was the 2nd annual Midwest Fiber & Folk Art Fair. Last year, it seemed like I stumbled on announcements about the fair and it was definitely a highlight of summer fun. This year, as soon as I saw the dates for the fair it was on my calendar. Saturday morning was rather rainy when I picked up Jen & Kristy – so we picked up our standard iced coffees and headed northwest – by the time we arrived at the fair the rain had stopped.  In addition to the vendors, these cuties were outside basking in all the attention.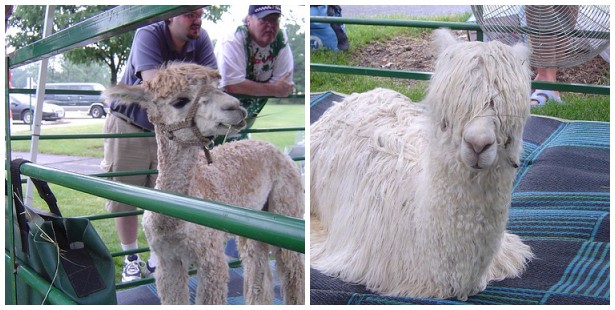 With the new location and layout, vendors were spread out indoors and out. Our favorites from last year were mixed in among new discoveries. This year I ended up with quite a bit of fiber; however, each skein was unique in it's own way & I'm looking forward to turning them into some fun projects. Among the spoils:

– A pair of Ohio Flats needles that Sistermaide debuted at the fair. These are so cool to knit with – they are flat instead of round needles which have a totally different feel to them – less stressful on the hands. (These are so new they aren't on the website yet.)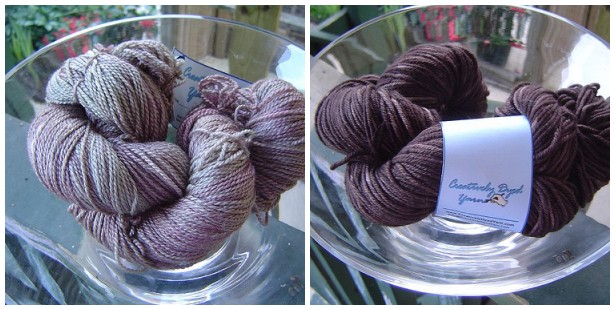 – Diann was back with her beautiful Creatively Dyed yarns. A skein of Ocean in a sage/rose overdye combo & a skein of her newest Woodbrook in the chocolate brown namesake color.

– Brooks Farm: 2 skeins of their new Willow (wool & bamboo blend) and a skein of Four Play from the Widows & Orphans rack. Their Limited Edition III yarn is now a regular called Ellie – there were so many beautiful colorways that I may pick some up at Stitches Midwest next month.

– HeavenSent Home Spun soaps & some roving from Esther's Place – the 3 of us are planning to try making felted soap bars soon.
– A new discovery – Redfish Dye Works had beautiful skeins of silk dyed in just about every color of the rainbow. I picked a skein that reminds me of boysenberries.
– A skein of llama in Wedgewood blue from Rach-Al-Paca Farm. This yarn was spun from Zander – a 4-H show animal in Wisconsin.
I did pick up several other non-fiber finds; however, since I actually planned ahead & picked up a few gifts most of the pictures can't be shown. I can show you one of my favorite finds of the weekend, some new art of my art wall in the living room.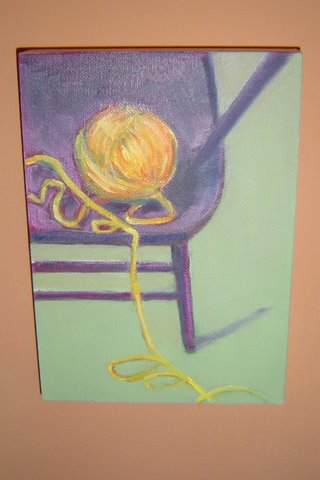 – This little piece is from Sue Schneider (no website) – she had many beautiful oil paintings. Beautiful birds, detailed tea pots, gorgeous flowers & so many great fiber insired pictures. When I saw the colors of this one I knew it was coming home with me.
After we had our fill of fiber & folk art, we worked our way back to the city. Kristy had never been to Ikea – since she is leaving Chicago at the end of the month it only seemed right that we stop & let her experience it once.
All in all, a great day of fiber, folk and fun with friends!