A frequently quoted song reminds us to:
Make new friends,
but keep the old.
One is silver,
And the other is gold.
The last couple of weeks have been filled with both.
The middle of this month was a golden friendship trip – 5 days in Dallas with my dear friend Maya & the ever adorable Miss Butterfly & Miss Doodlebug. (It was an all girls weekend because their Dad was out of town.) After a winter wrapped in hats and scarves it was great to spend the weekend in sandals and capris. Even though both little ones had a bit of a stomach bug we had a fun weekend.

On Friday we packed a picnic & headed to The Dallas Arboretum where the spring blooms were in full effect – the full spectrum of color was in abundance.
There was a fun lunchtime concert with 2 great children's entertainers: Aunty E & Joe McDermott – several times throughout the weekend we were singing snippets of their fun songs.
The weekend was filled with lots of play time, lots of swing time (higher M'Amy, higher!), lots of reading, lots of snuggles and so much fun. On Saturday evening Maya & I escaped for a few hours of "big girl" time – after 2 1/2 hours we emerged from Nordstrom Rack (with lots of great things for both of us) and then enjoyed an excellent dinner at a newer Vietnamese place, Zander's House.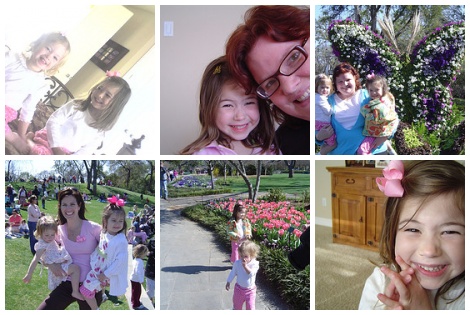 (click here for more pictures)
Last Thursday evening was a serendipity trip that turned into a silver friendship trip. On Wednesday I saw that Kate Jacobs was going to be in the Milwaukee area on Thursday for a "The Friday Night Knitting Club" book reading event. Since I wrote my review of the book, Kate and I have been emailing back and forth so I was hoping to meet her. Since I was home in Chicago, I was able to drive up for the evening. Because the event was "last minute" there was a smaller crowd than hoped for; however, it was still a fun evening. After the event was over, Kate & I kept the conversation going over tea & coffee at the book shop cafe before I dropped her at her hotel and then came back home. Kate it was great to hang out with you – hope to see you in Chicago!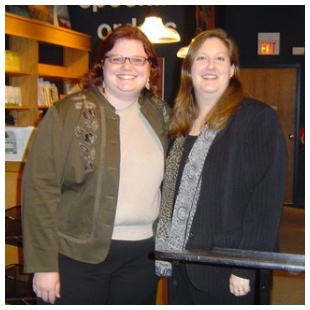 My sister flies in this evening for a 4 day visit & I'm taking a couple of days off while she is here. Tomorrow is a day trip over to our favorite Michigan lakefront area with a friend and the rest of the time will be filled with all sorts of sister fun!