White Sock, Blue Sock…

(with a nod to Dr. Seuss & a Happy 50th Birthday to the Cat in the Hat!)
Right after I clicked "publish" on the last post I cast on for sock #2. While I didn't end up knitting the whole evening I did get a good start on the leg. While on the road this week I finished up most of the leg. By Saturday morning I was onto the foot of the sock and by the time I had watched the last of my Netflix I was kitchnering the toe.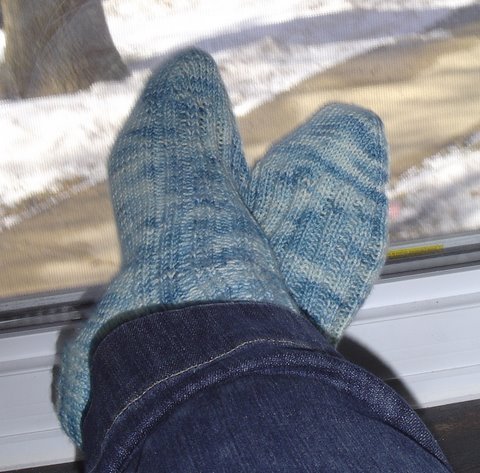 Most hand knit socks are fraternal twins – these are no exception. In fact, they may be a bit more "mismatched" than most. On Thursday evening as I started on the heel flap I realized that I had cast on too many stitches for the sock (64 instead of 60). After an initial thought about starting over with 60 stitches I decided to just move forward. As I turned the heel I was able to "get rid of" 2 of the extra stitches. The other 2 stayed until I started on the toe.
Overall I'm very pleased with how the socks turned out. They feel a bit big so I will be washing them before I wear them & hope that they tighten up a bit. Now that I've finished my first pair of socks I think I can 'finally' justify a fun pair of clogs that I've been wanting – they'll be just the thing for wearing with hand knits.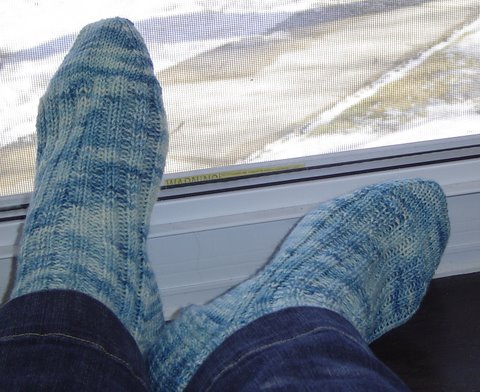 As I mentioned in my previous post, the time had come to just conquer socks. Just as many Dr. Suess books were just strings of simple words (ok, and some fun ones as well), in reality these socks were just a variation on knit and purl stitches. I knew I could do it – I just needed to. To that end, it reminds me a bit of when I was learning to read. As my Mom tells it, I was ready to read on my own but just wouldn't – that Amy stubbornness was in effect. Once I started kindergarten and saw a classmate reading I came home & started reading on my own. I haven't looked back since then – reading has always been a favorite past time since then.
Do you remember learning to read? What stories do you remember about it? Just as I continued to practice reading by reading more and more books I'm continuing to practice socks by starting on another pair. On the needles now is the "Sassy Stripes" yarn that I purchased for last spring's sock class. (And I have already turned the heel since this picture was taken.)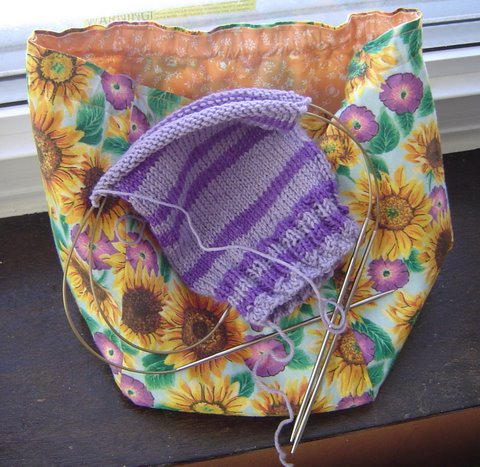 What is your favorite Dr. Seuss memory? When I moved into my dorm room my freshman year of college, that first night I remember pulling back the covers on my bed & my parents had left me a copy of "Oh, the Places You'll Go!" Indeed, the places I have gone since then!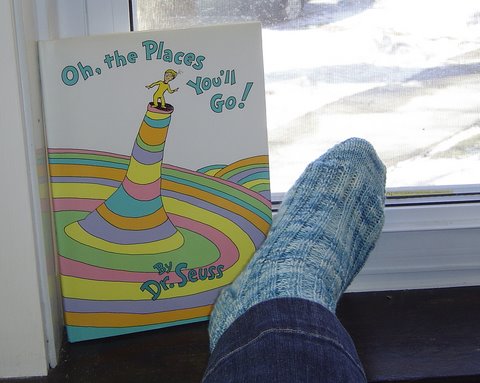 Today is your day!
Your mountain is waiting.
So get on your way!