One of the things that I have always liked about the "Grandma's favorite" dishcloth pattern is the simplicity of it. You don't have to think – your hands can just knit & your brain doesn't even have to be "on" in order to make progress. Even with the larger baby blanket size of the pattern it still "moves." A new "simple knit" favorite is the Baby Bib in the Mason Dixon book – a bit of "garter stitch back and forth" and before you know it you're looking for a cute button to finish off a cute gift.
While at my parents house in GA this weekend I whipped up 2 bibs. On Sunday afternoon Mom & I searched through her button tin as well as my Grandma's tin – in addition to finding great buttons for these bibs I also pulled out several buttons to use on future bibs. The Faded Denim bib will be gifted by my sister to Baby Jackson. The Cool Breeze bib does not yet have a recipient but is ready to gift at a moment's notice.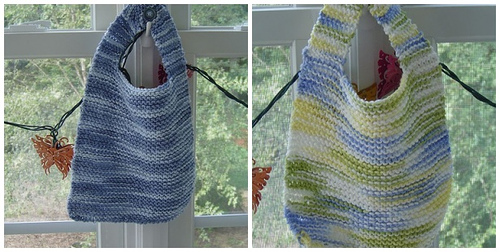 Â
The weekend with the family was lowkey and just the recharge I needed from a stressful week. As a thunderstorm rolled in on Saturday afternoon I finished up my latest summer read – The Harmony Silk Factory by Tash Aw. Another very enjoyable book – the story of a Malaysian man in the 1940s -Â told through the eyes of the son, the wife and a loyal friend.
I'm now reading "this summer's book" – The Memory Keeper's Daughter by Kim Edwards. So far it is an engaging read. In fact, I had to force my self to turn out the light last night because I knew the alarm would come quickly at 4:30 this morning (and it did).
I'm planning to make it to the Stitches Midwest Market on Saturday afternoon – anyone else going to be there then & want to meet up?