While browsing through The New York Times yesterday one of the top articles I saw was about a favorite Southern California summertime event – the tableau vivant that is Pageant of the Masters. Reading that article got me thinking about some of my favorite arts that have happened "under the stars." Since work travel is limiting my "arts events" this summer I'll take a stroll down memory lane and share some of my favorite events.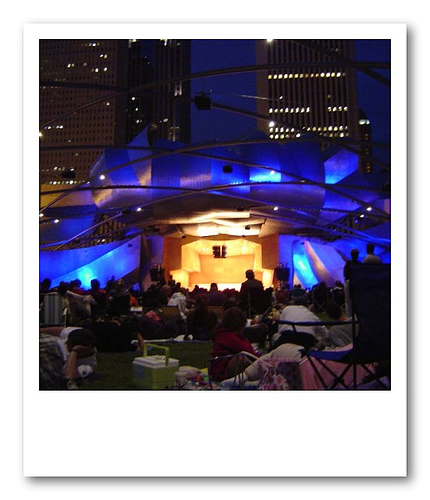 One of the first outdoor experiences I remember was seeing productions by PCPA in Solvang, CA. My parents had season tickets & I went to a couple of the shows when I was in second grade – Hank Williams – King of Country Music and Carousel. The evenings were a bit chilly so I remember being layered to stay warm & sharing hot cocoa from a thermos with my Dad.
My Grandma used to live in Orange County, CA – one summer when I was in elementary school I was lucky enough to go see Pageant of the Masters. Wow! What an experience – seeing "everyday people" transform into these incredible works of art was something not forgotten. In 2002 I was able to grab tickets for another show & was just as impressed, if not more so, to see the artworks. This time, a favorite was the recreation of the first Wonder Woman comic book cover. (I recommend you view the NY Times slide show on the Pageant to get an idea of what is involved in staging this event.)
When we lived in Overland Park, KS, we spent many a summertime evening at Shawnee Mission Park enjoying the great performances of Theater in the Park. For $5 a carload we saw many of the great Broadway musicals. One year my sister's birthday party was held out there in conjunction with a show. These community theater productions definitely hooked my sister & I on musicals. In the 17 years since we left Kansas, on many occasions someone in the family has said "I wish we could go to Theater in the Park."
Ten years ago I was living in Greenville, SC at my first job after college. On July 4th, my roommate and I went out to Furman University for their celebration - alum Keith Lockhart conducted an incredible symphony concert – including the 1812 Overture and fireworks that seemed as though they were reigning down on us. During that same month, one weekend my Dad & sister drove up from Atlanta (to escape the Olympic craziness) and we went to a local amphitheater to see Much Ado About Nothing. A local theater company had set the play in post World War II Italy – so the clothes were "newer" but the script was the same. This is one of my favorite Shakespeare plays so seeing this new twist was a lot of fun. Before the play began there was a summer downpour – so we were a bit soaked but that only adds to our memory of the experience.
As I've mentioned before, in 2002 I saw Pink Martini at The Hollywood Bowl. The other band that night was Sergio Mendes & Brasil '66. It was an all around fun evening – the next time I go to the Bowl I'd love to have seats in the Garden Boxes or Terrace Boxes and enjoy a great picnic at the seatside tables.
Chicago has 2 spectacular summer concert venues. Ravinia Festival is a 100 year + summer tradition. The lawn is a great place to picnic – you can picnic as big or as small as you want to & you see a bit of everything…from linens, china & crystal to buckets of chicken & a roll of paper towels. I've never sat in the Pavillion & seen the artists – but on the lawn I've enjoyed the sounds of James Galway, Nancy Griffith, Tony Bennett & many more. In 2004, Millennium Park opened along the lakefront and among the treasures in the park is the Jay Pritzker Pavillion designed by Frank Gehry (one of my favorite architects). During the summer months the Grant Park Music Festival has free concerts & the huge lawn is just perfect for a picnic – it is great fun to watch the sunset through the overhead trellis & see the lights of the city skyscrapers come on. (the picture above is from a concert in 2004)
It's your turn now…what are some of your favorite arts events under the stars?