My first FO of 2006! 🙂 I've named this scarf Mission.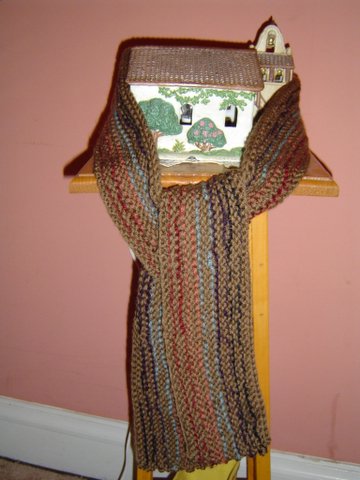 Why? The obvious is that this was knit with Mission Falls 1824 wool. The primary color (cocoa) was originally purchased in the fall to be my new scarf for the winter but it wasn't dark enough for what I was wanting to make. The color stripes were hiding in my stash from a scarf that I knit in 2003.
This was a very fast & fun knit – one evening watching the Rose Bowl game and midway through the March of the Penguins DVD on Friday evening and it's done.
This was my first lengthwise-knit scarf & I love how it turned out. The secondary colors were knit together with the main color so the "color rows" are a bit thicker & show as a bit marbled.
The second reason that I am calling this Mission is that it's colors remind me of La Purisima Mission near Lompoc, CA. Among the memories are school field trips and family visits to the mission when we lived in Lompoc when I was in elementary school. In fourth grade everyone had to do a "mission project" & be creative – my project was a counted-cross stitch of the mission. It was my first (of not many) cross stitch project. Today more than 20 years after that class project the finished canvas is framed & hanging on my living room art wall here in Chicago.
(The scarf is pictured with a miniature of the mission.)