Ah, OCTOBER…a month filled with fall flavors…fall and falling leaves…the flavors of autumn…beautiful autumn skies…shortening days…a bit of travel…a return to blogging…and more…in the midst of it all, these are the things that filled my October days…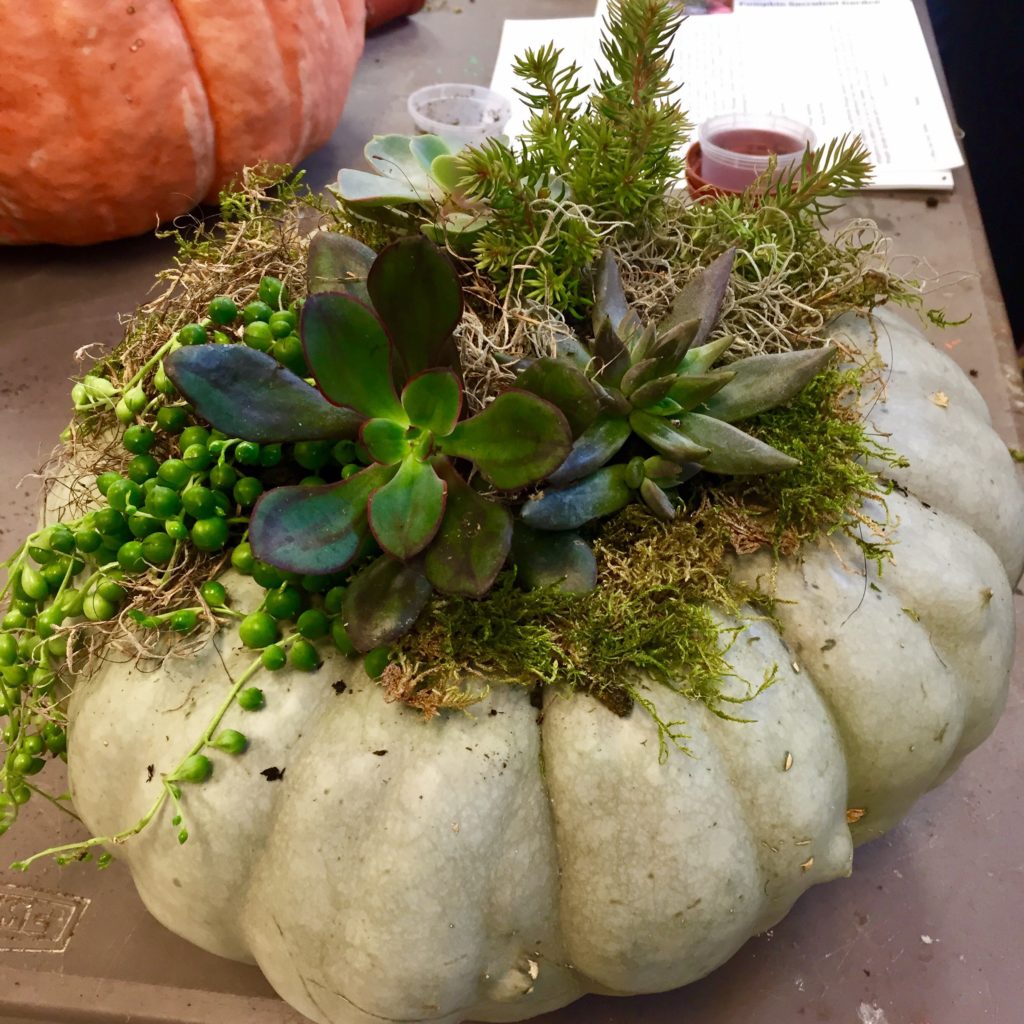 Arranging…succulents in a pumpkin! A Saturday morning class at my favorite garden center yielded this beauty for the mantel. When I signed up for the class, I thought it might involve scooping out a pumpkin to create a planter – no pumpkins were carved in the making of these. Rather, succulents were potted into the divot at the top of the pumpkin and then moss was arranged over the dirt. A simple design with endless possibilities – next year I will be doing this on my own, for sure.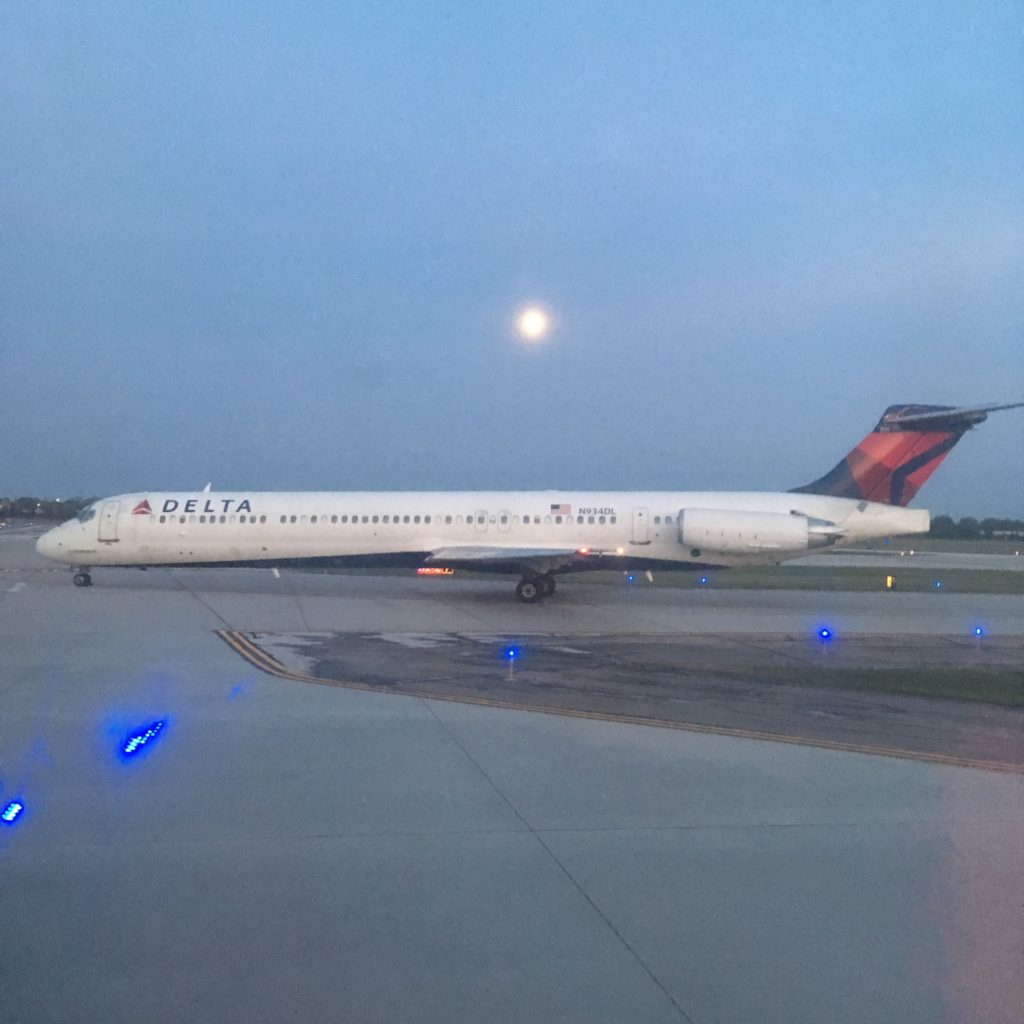 Traveling…just one work trip to start the month. A quick overnight to Milwaukee for a one day meeting. As I arrived to my hotel room on the Monday evening, I was getting the 24 hour flight check-in notice for my return flight.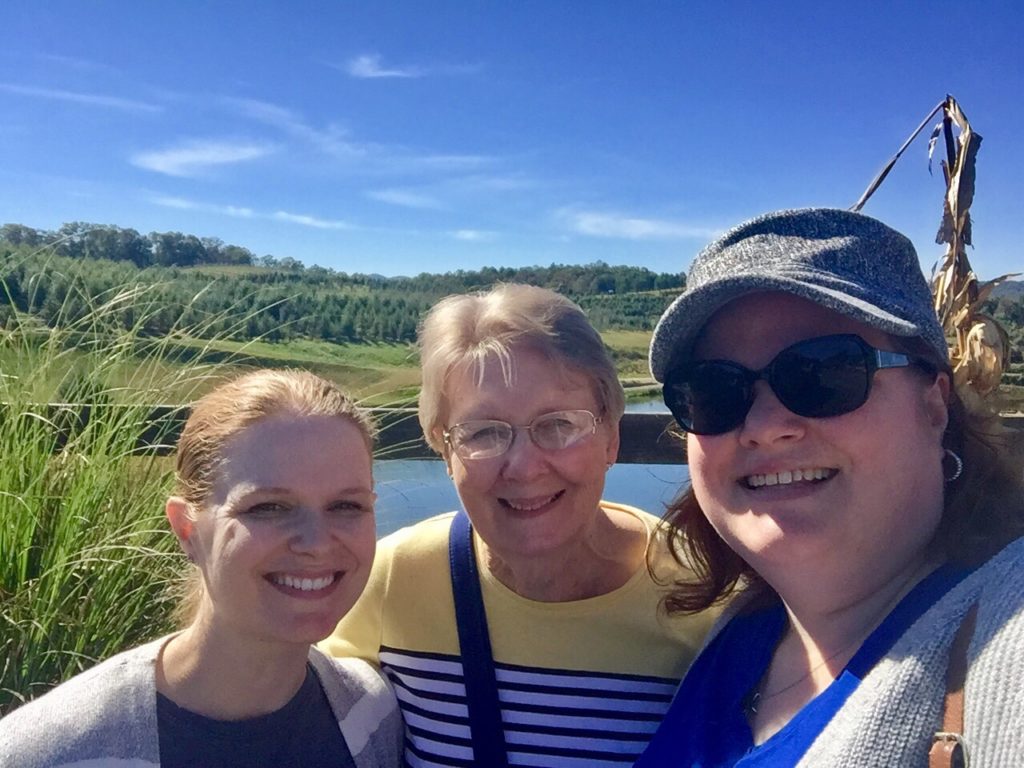 Adventuring…while home in Georgia for a long weekend, a Friday was a perfect day for some autumn adventuring with Mom & Rebecca. It was a gorgeous day to head north to the mountains. First, we stopped at the Georgia National Cemetery to visit Dad – it was our first time there since the headstone had been installed. After a quick lunch at a roadside stand, we continued north towards Blue Ridge. We braved the crowds & chaos of Mercier Orchards for apples (of course), fried pies, cider donuts and hard cider. Once back home in the Ville, we enjoyed dinner at a new to us Vietnamese restaurant that is fast becoming a family favorite.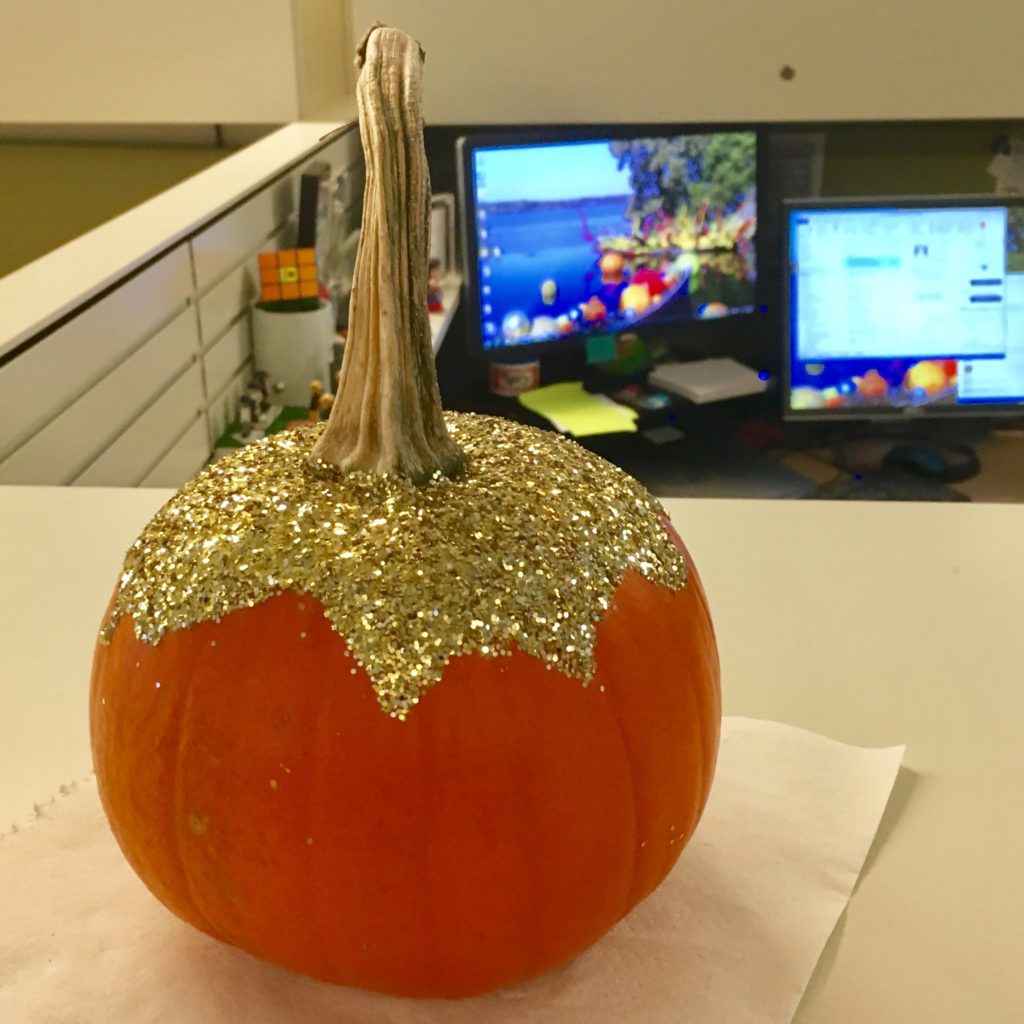 Decorating…with Modge Podge and glitter! The office activities committee once again provided a pumpkin decorating station that was overflowing with possibilities in paint, stickers, glitter, pipe cleaners, ribbons and more. I went for simply and sparkly with the gold glitter topped pumpkin to decorate my desk.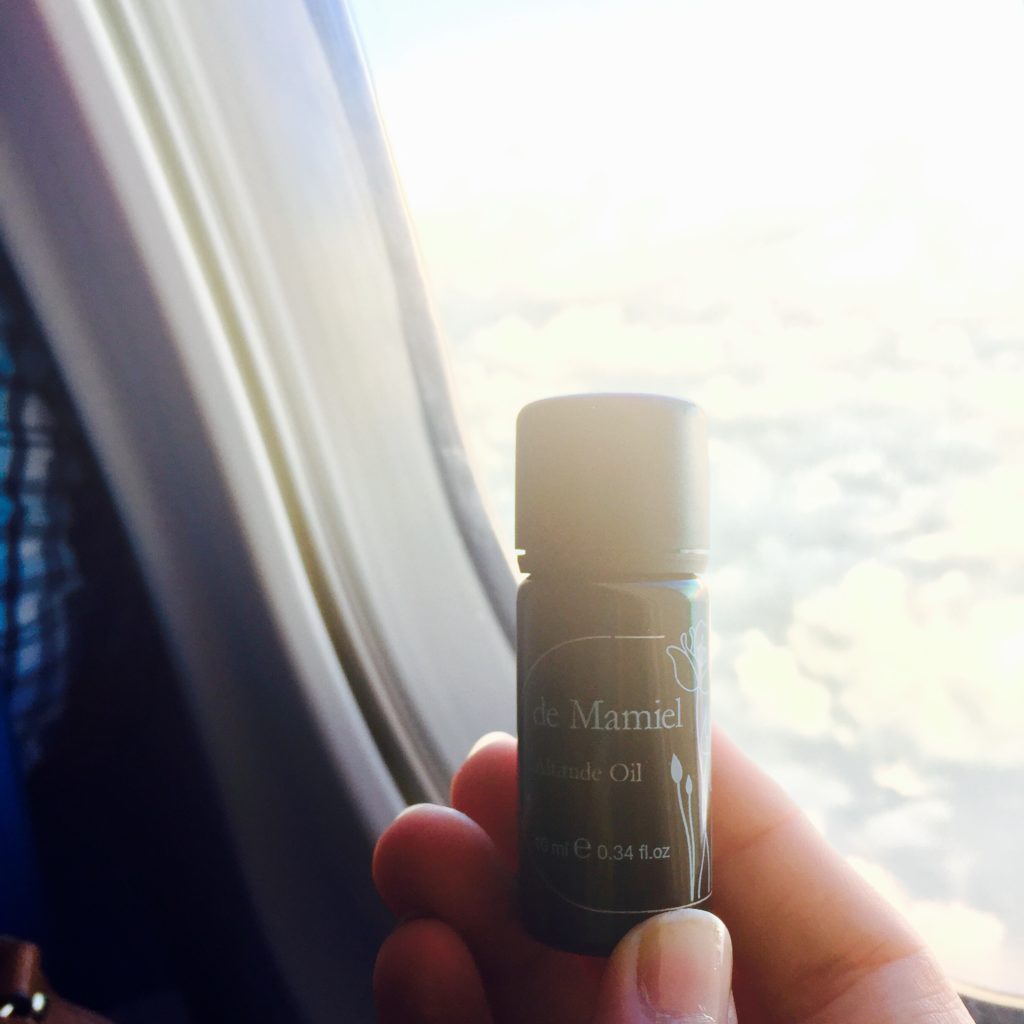 Dabbing…Altitude Oil to keep my head clear …this was recommended by a seatmate on a flight to Milwaukee – she is touring as Mimi in the 20th anniversary RENT tour…she said it was a favorite for staying well with all the travel, so of course I had to track it down & order it. In addition to being a great energizer while up on the air, it has also been helpful in stopping rapid fire sneeze attacks and sinus headaches and keeping the start of a cold at bay.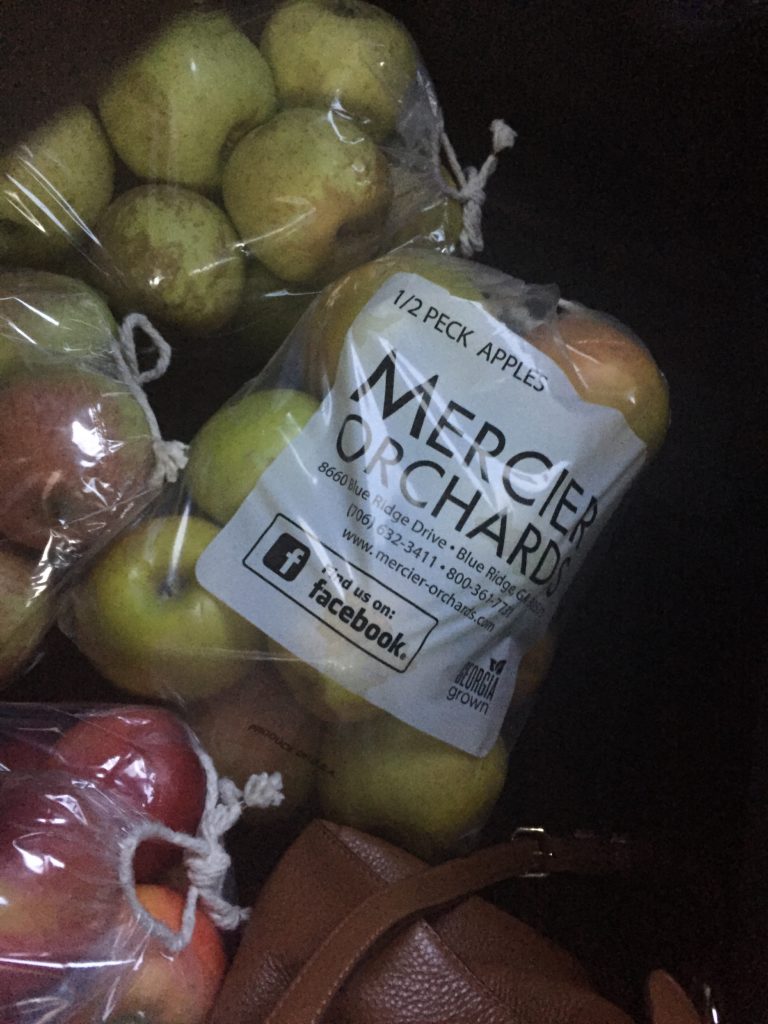 Cooking…minimally but simply and healthy…my favorite Chocolate Chili was made and "stocked" in the fridge for most of the month and paired with all sorts of things for quick lunches & suppers – I see this being a common occurrence for the foreseeable future.  On a Sunday afternoon, local apples simmered on the stove for a simple batch of chunky applesauce – looking at my produce tower, another pot is on the horizon.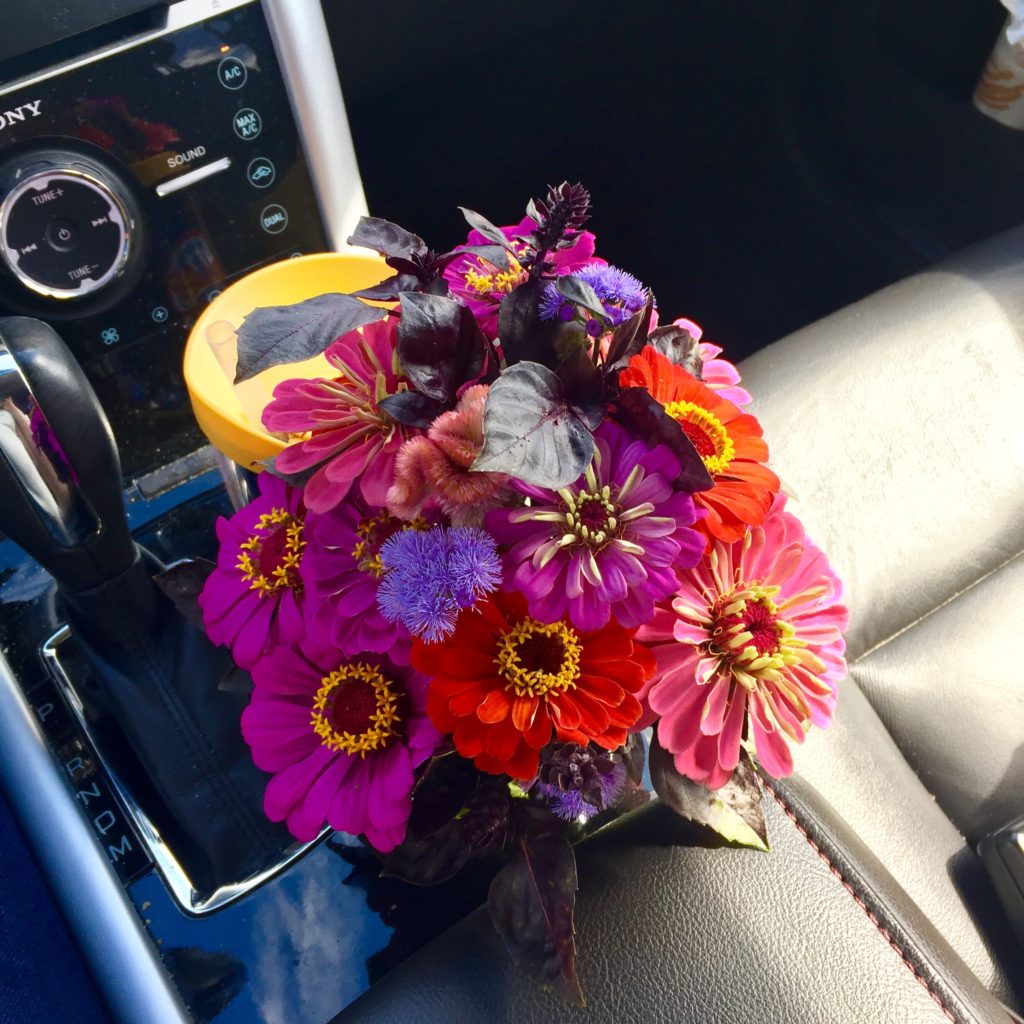 Enjoying…one final sweet bouquet from my local farmstand. These $5 arrangements bring joy, for sure. Early in the season, I go for the cut-your-own option. But I just love when the farmer's mother begins offering these sweet "cup holder bouquets" of zinnias and other flowers and fresh herbs. As the season ended, it was fitting that it was a more autumnal bouquet of flowers paired with purple basil.
Wearing…a Life was Good shirt for Halloween. As I shared on Facebook, navigating life without Dad is filled with all the emotions – some days, all seemingly at once. While tears & sadness creep in, we also have plenty of smiles & laughter along the way. To some, this year's Life is Good Halloween shirt might seem an unlikely choice for us. But, since Dad loved a clever pun…this was an obvious choice for Rebecca & me. I'm pretty sure Dad would say "well played, girls" with a twinkle in his eyes & a smile.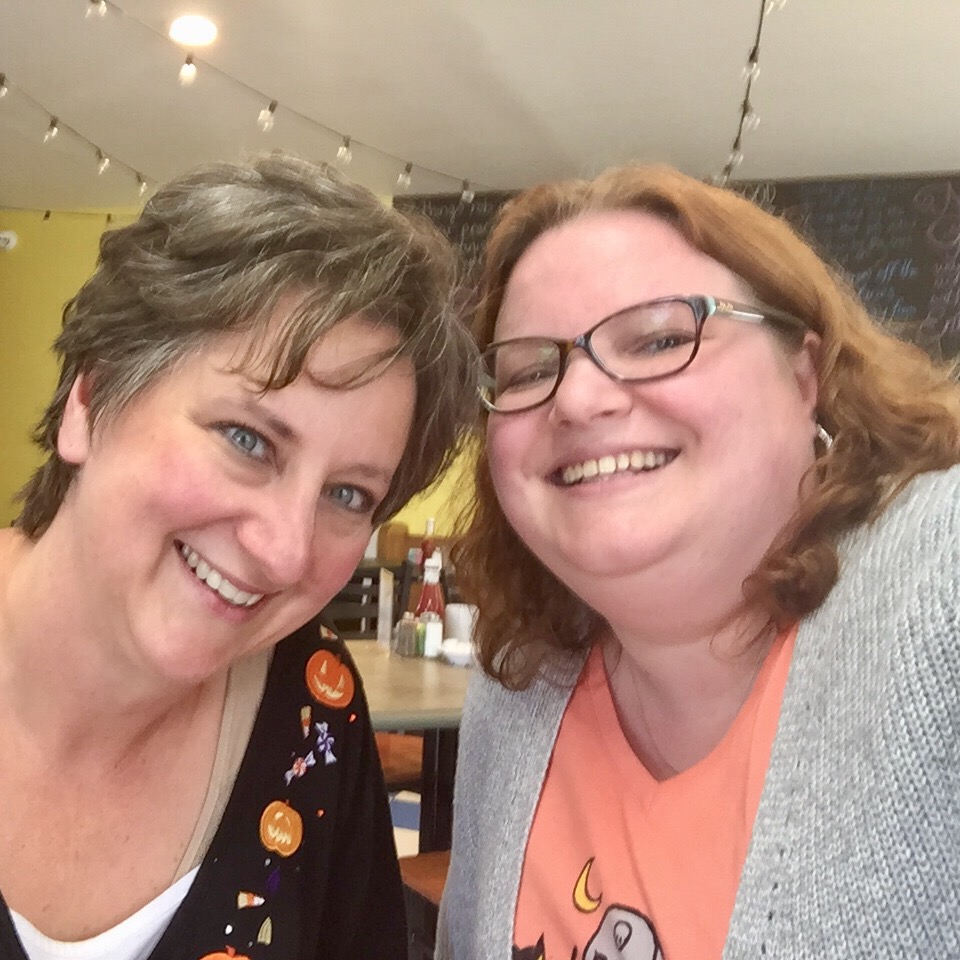 Lunching…a Saturday day trip over to Lancaster County included lunch with a dear friend from Chicago who lives in the area. It had been 10 years since we'd seen each other and as we each enjoyed our Halloween themed Eggs Benedict at Gracie's on West Main we caught up on life.
Looking Ahead…November is always a favorite month with my birthday and Thanksgiving…I know it will be more bittersweet without Dad to celebrate with us…
What filled your OCTOBER days?
After way too long, once again linking up with Leigh for What I'm Into.