As January rolled into February, my meal planning continued as did my adventures in "new to me" meals that follow the guidelines of THM. These are some of the tasty meals from this month of "new" cooking.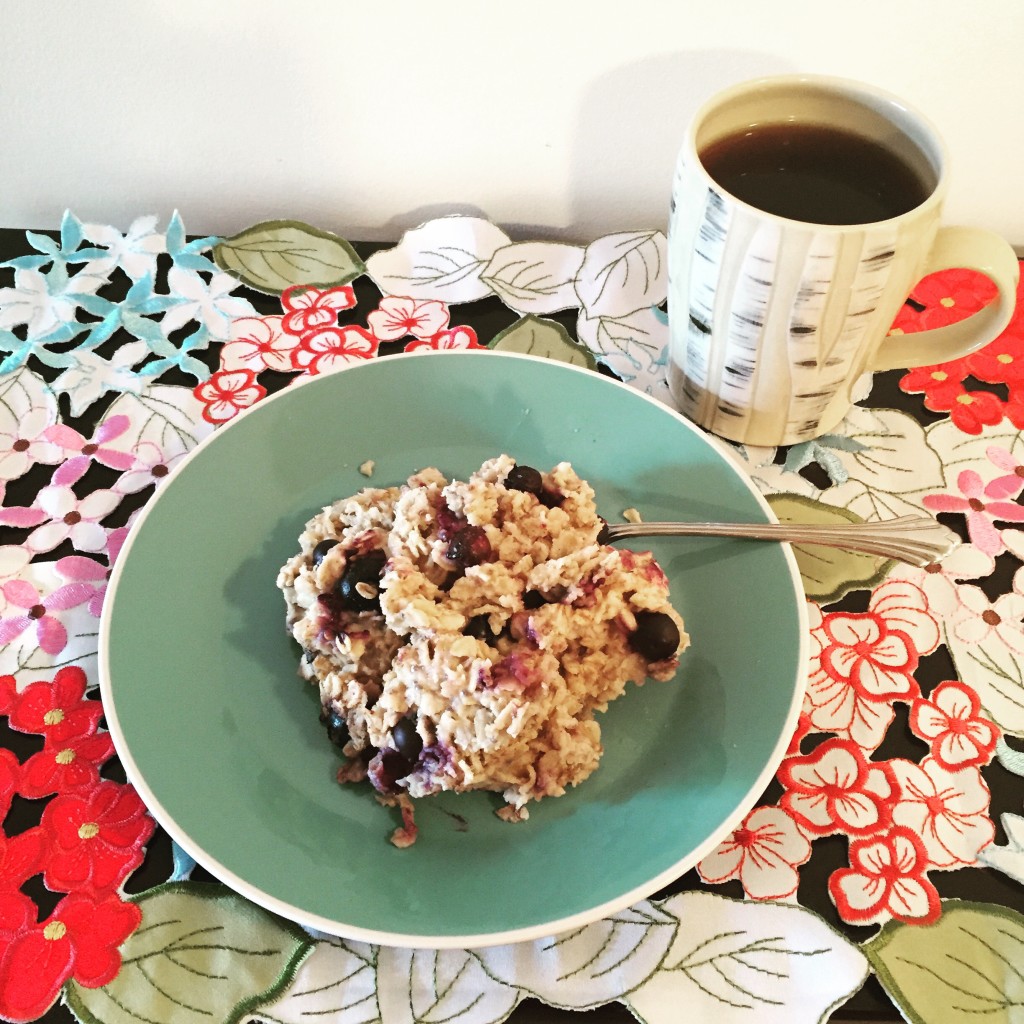 Baked Blueberry Oatmeal -I've blogged about Baked Oatmeal a couple of times before…so of course I would look for these sorts of recipes that align with THM. I made this on a blustery Saturday morning. It was delicious right out of the oven and equally delicious throughout the week either cold or warmed for less than a minute. The combo of ingredients provides you with a "stick to your ribs" breakfast in the best way possible. (THM = E)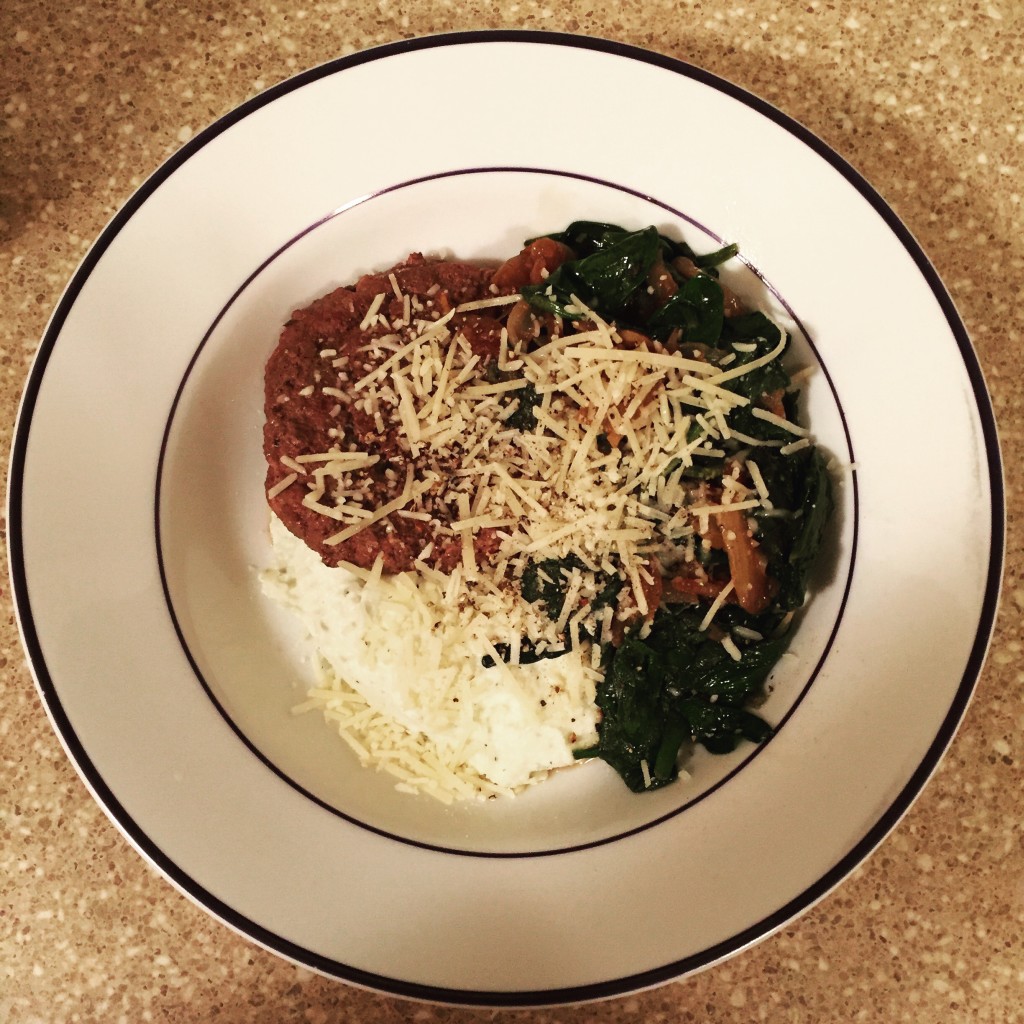 Buffalo Burgers with Mashed Cauliflowers and Wilted Spinach – I whipped this meal up on a Monday evening after I had been away for a long weekend and the groceries were rapidly dwindling. I pulled the box of Trader Joe's Buffalo Burger patties out of the freezer in the morning. After work, this meal came together quickly. In one skillet, I browned a thinly sliced onion and caramelized it with a bit of balsamic vinegar – then I added a huge pile of fresh spinach and let it wilt down. The burgers were quickly cooked in another skillet with just a bit of salt and pepper. As these things were cooking, I cooked a bag "steam bag" of cauliflower in the microwave and then made a mash in my blender (based on the recipe for the topping in this Shepherd's Pie). Quickly this was all plated with a dash of Parmesan cheese to finish. (THM = S)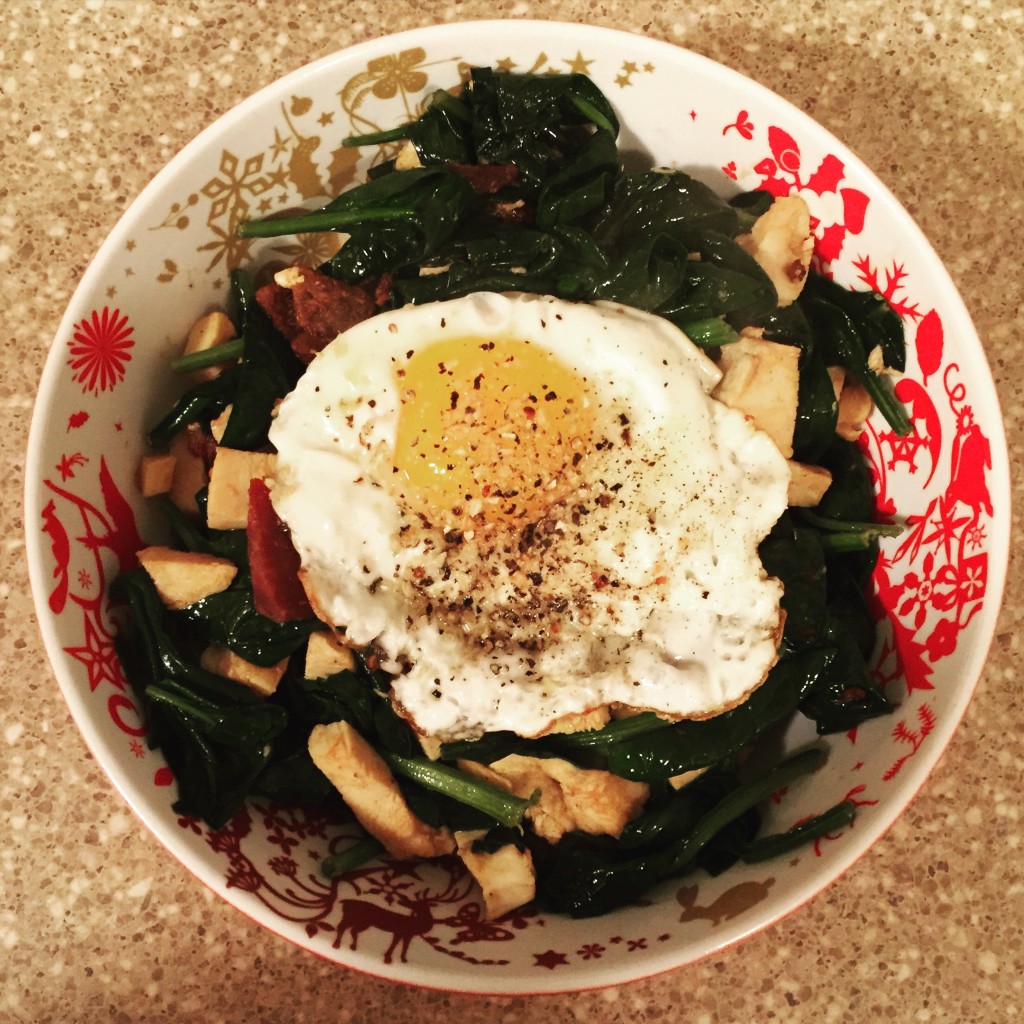 Sizzling Spinach Salad with Roasted Chicken and a Fried Egg – Another Monday evening supper bowl. I started with some chopped up chicken in the skillet with some coconut oil & Frank's Hot Sauce (a go to protein since my first Whole30) – then I added a bit of chopped/cooked bacon & a big pile of fresh spinach to the skillet & cooked it till the spinach had wilted. As the spinach went in, I also fried an egg in my mini-skillet to add to the top of the bowl. (THM = S)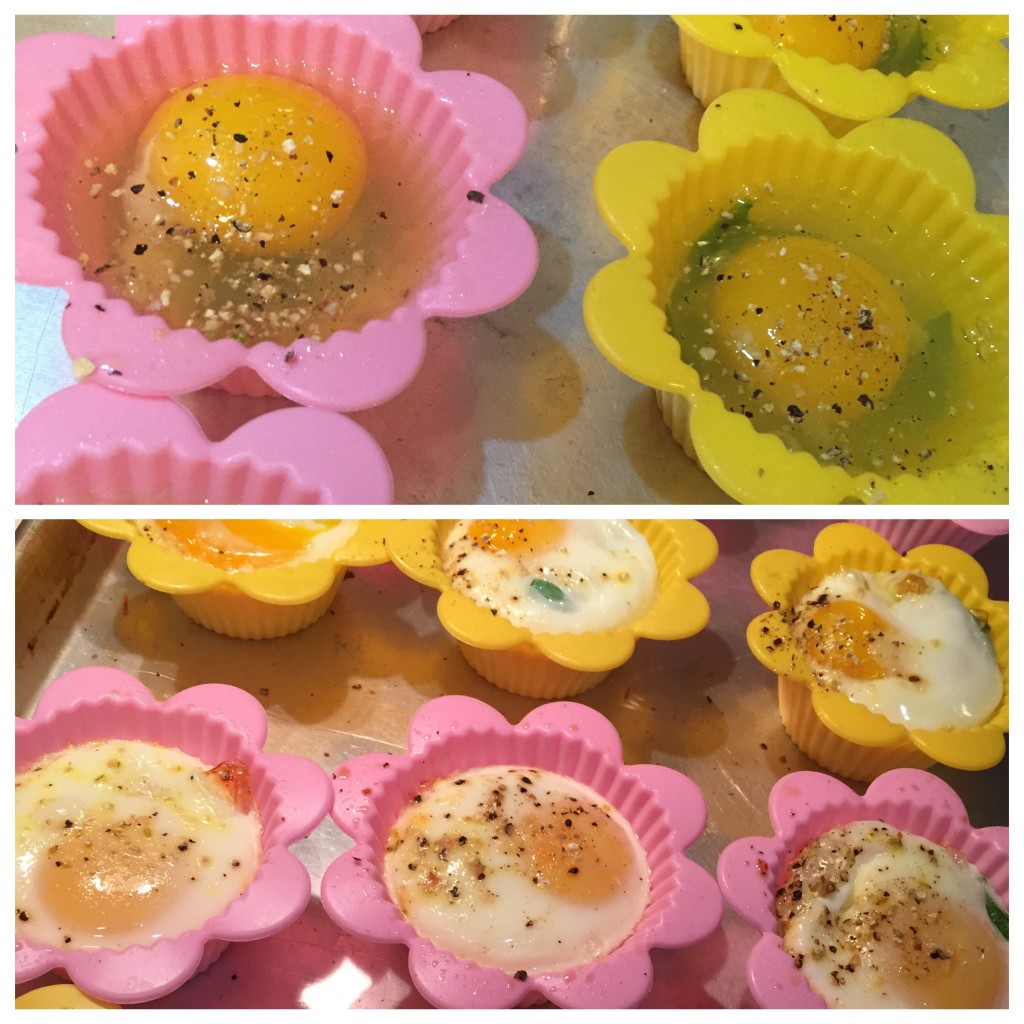 Green Egg Cups – A make ahead breakfast option for the work week. Fresh spinach in the bottom of the greased muffin cups. A sprinkle of Parmesan cheese. An egg cracked directly into each cup & topped with a twist of cracked pepper. Bake @ 350 for about 20 minutes.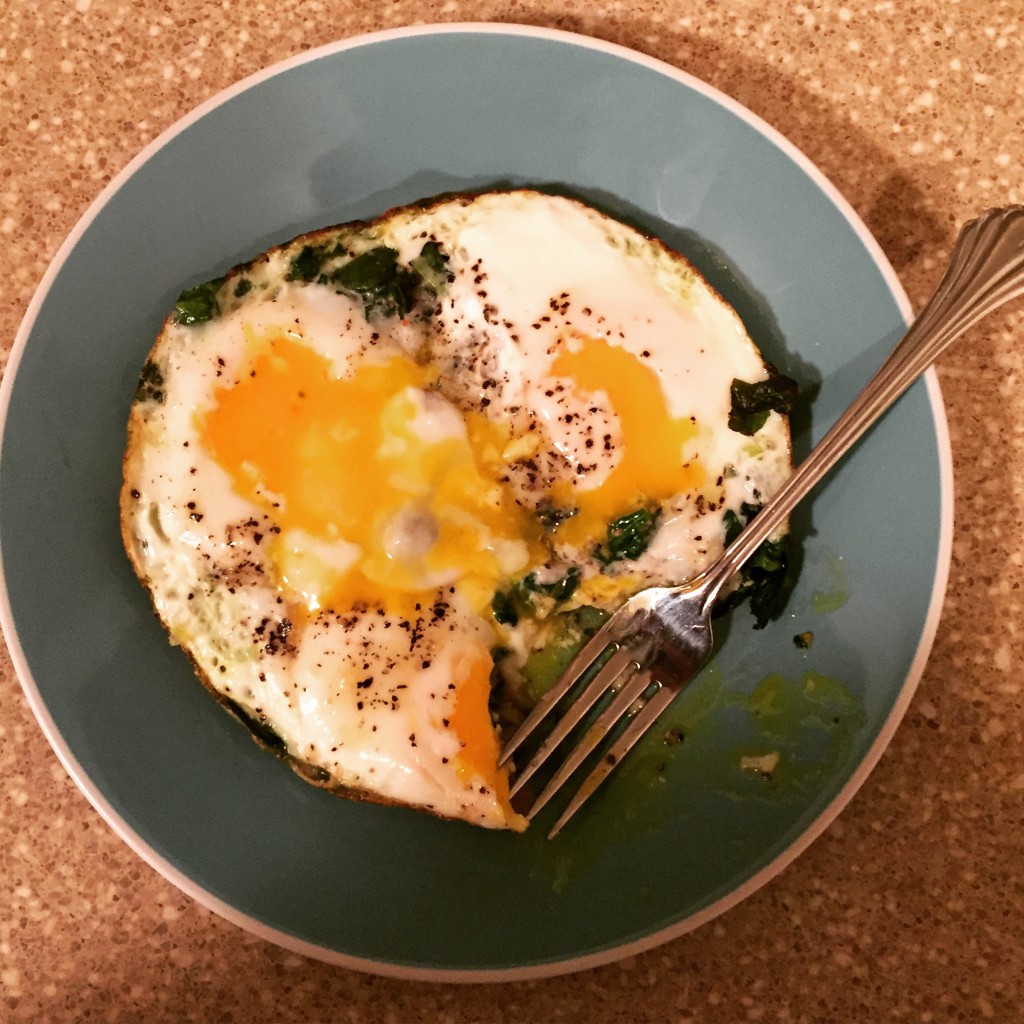 Spinach Eggs – A supper time variation of green eggs. I stumbled across this recipe and immediately made it for supper that evening – I've maybe made it several times this week as I've been in a "leftovers" menu plan to clear out the fridge. I added some Parmesan cheese on top of the spinach before adding the eggs. (THM = S)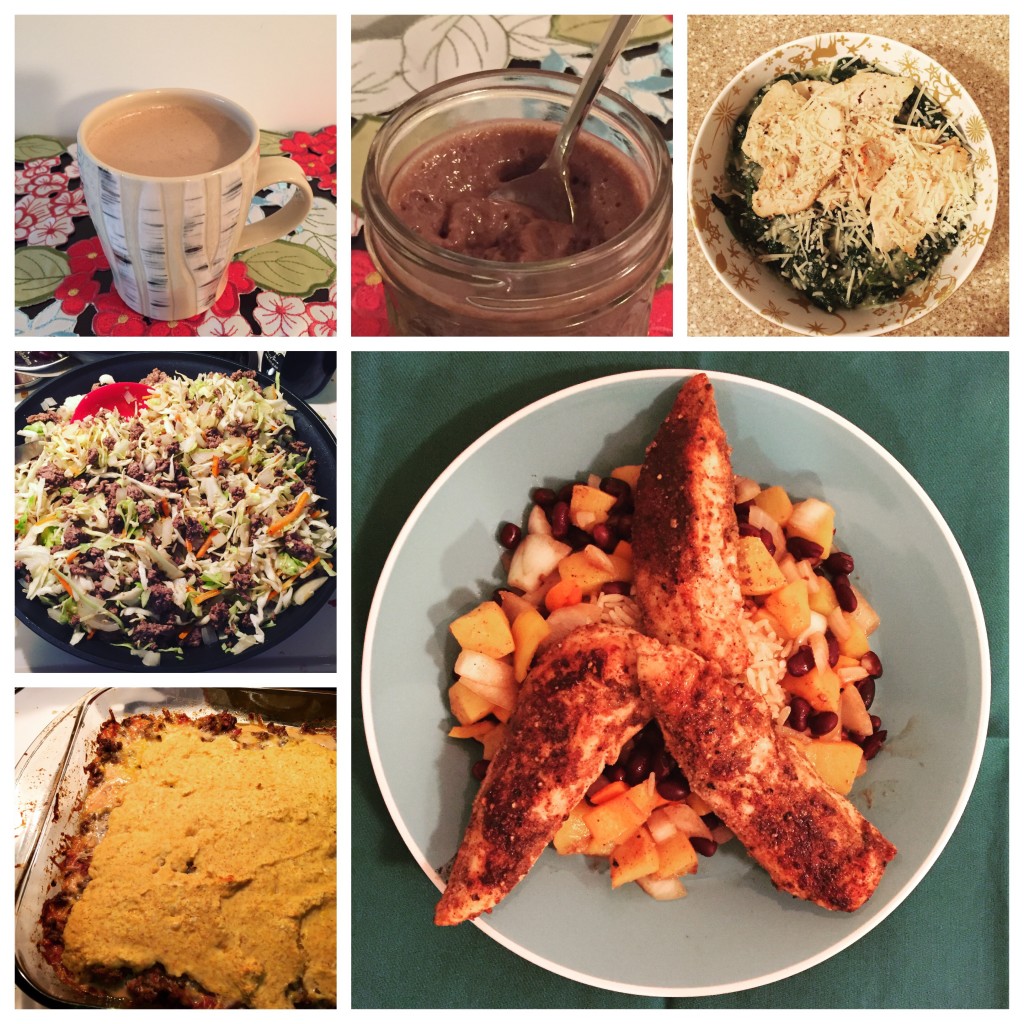 Many things from the Trim Healthy Mama Cookbook: Creamed Spinach with Pan Seared Chicken (recipe: Collagen Creamed Spinach)…Cornbread Crusted Mexican Pie…Blackened Chicken with Warm Peach & Black Bean Salsa (recipe: Blacked Chicken with Mangoes & Black Beans)…Egg Roll in a Bowl…Mexican Mocha Gluccie Pudding…assorted "Trimmy" coffees on cold mornings…
As February rolls to March, I have some extended travel that will have me away from the kitchen and cooking – but I'm already looking forward to when I'm "back home" and can once again play in the kitchen with new recipes and some of the recently added new faves. What were some of your favorite foods this month?