On Saturday while out and about running errands just about every intersection was an example of community in action. It was the annual Misericordia/Jelly Belly Candy Days drive – where many volunteers were out collecting donations to support a local community that supports those with special needs. As I drove around the city and up in the northern suburbs, car after car after car after car had a red "I Helped" tag on the mirror or dashboard.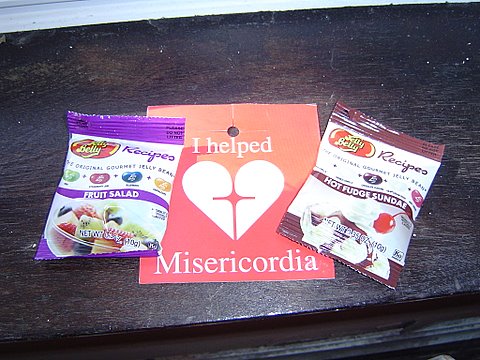 Our book club book this month focused on community as well – Better Off by Eric Brende was his memoir of the 18 months he & his wife spent living within an Anabaptist community. While his focus was giving up technology, the community was an integral part of being able to live with less. This week there was a crash on the Indiana tollway killed several people – including a couple of members of the Amish community. One of the articles I read about the crash showed community in action – as soon as word spread through the community a neighbor arrived to help milk cows, women showed up with food and everyone gathered around a grieving family.
The blog world, especially the knitblog world, is a community of sorts – with many virtual connections. Since starting to blog I have enjoyed participating in a community that comforts by knitting squares for assorted blanket projects. When I saw the Yarn Harlot earlier this month, in addition to her humorous stories I was touched by the details about how Knitters Without Borders has raised over $320,000 in some extremely short timeframes.
In the wake of the tragedy at Virginia Tech, Mosaic Yarn in Blacksburg has launch Hokie Healing with the goal of providing knit blankets to the families of the victims and those injured. Through May they are collecting 8″ x 8″ squares in the Hokie colors – orange and maroon. Phyl has a great post offering suggestions for colors and themes. Over 2000 squares are needed to make these blankets come together. (Thanks Robin for posting about this earlier & making me aware of the need!)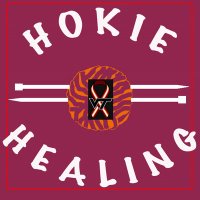 One of my errands on Saturday was a trip to The Village Knit Whiz to pick up some Hokie color yarns – I came home with 2 beautiful skeins of Araucania Yarns Nature Wool Chunky (colors 104 & 108) yarn and plan to keep knitting squares until the yarn runs out. I don't know anyone at Virgina Tech; however, when I was in college I was a part of a solar race car team. In June 1994 we were in Indianapolis for a prep/information weekend & I remember the VT team there showing their Hokie pride when it was time to introduce their car name and number. In the spirit of "We are all Hokies" my weekend knitting has been orange & maroon – so far a "Grandma's Favorite" square & a "Bejeweled" square.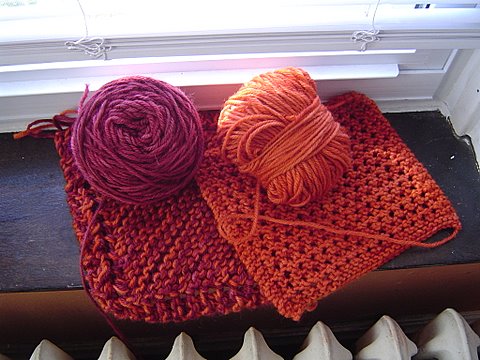 How have you seen community in action recently?