Ah, DECEMBER! A month filled with…holiday preparations…first snowfall…cold temps…holiday gatherings…pausing to celebrate Christmas and more…in the midst of it all, these are the things that filled my December days…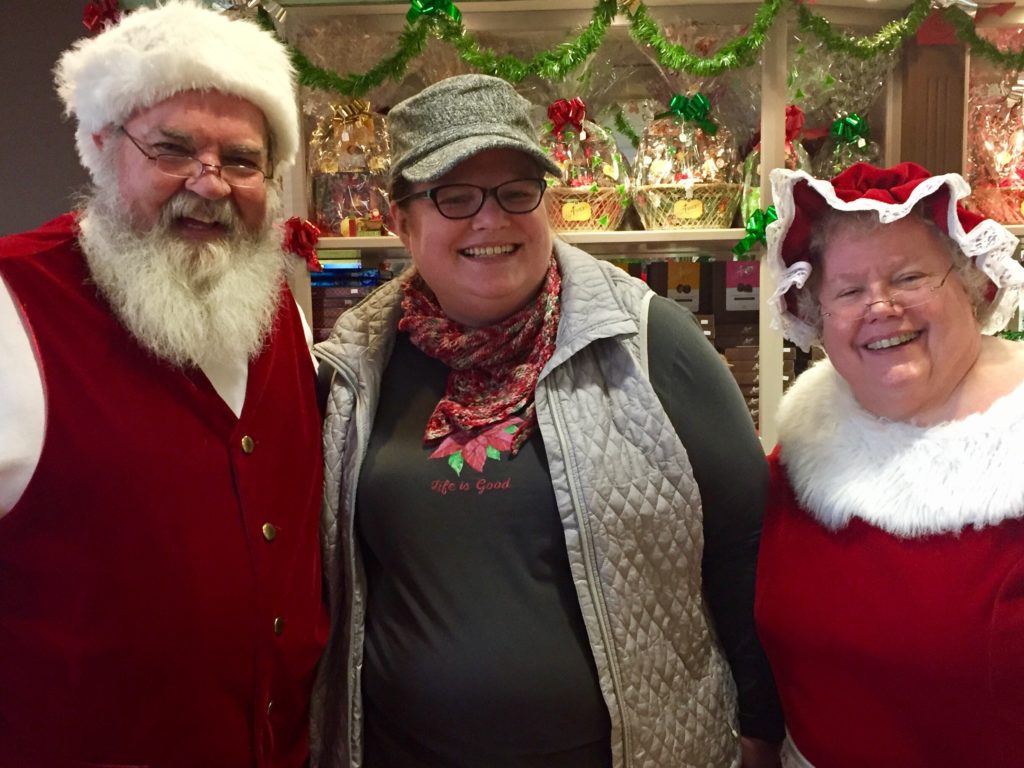 Visiting with Santa & Mrs. Claus! The first Saturday of the month was filled with errands. First on the list was a stop to a favorite local chocolate factory where a charming Santa & Mrs. Claus were taking pictures with everyone.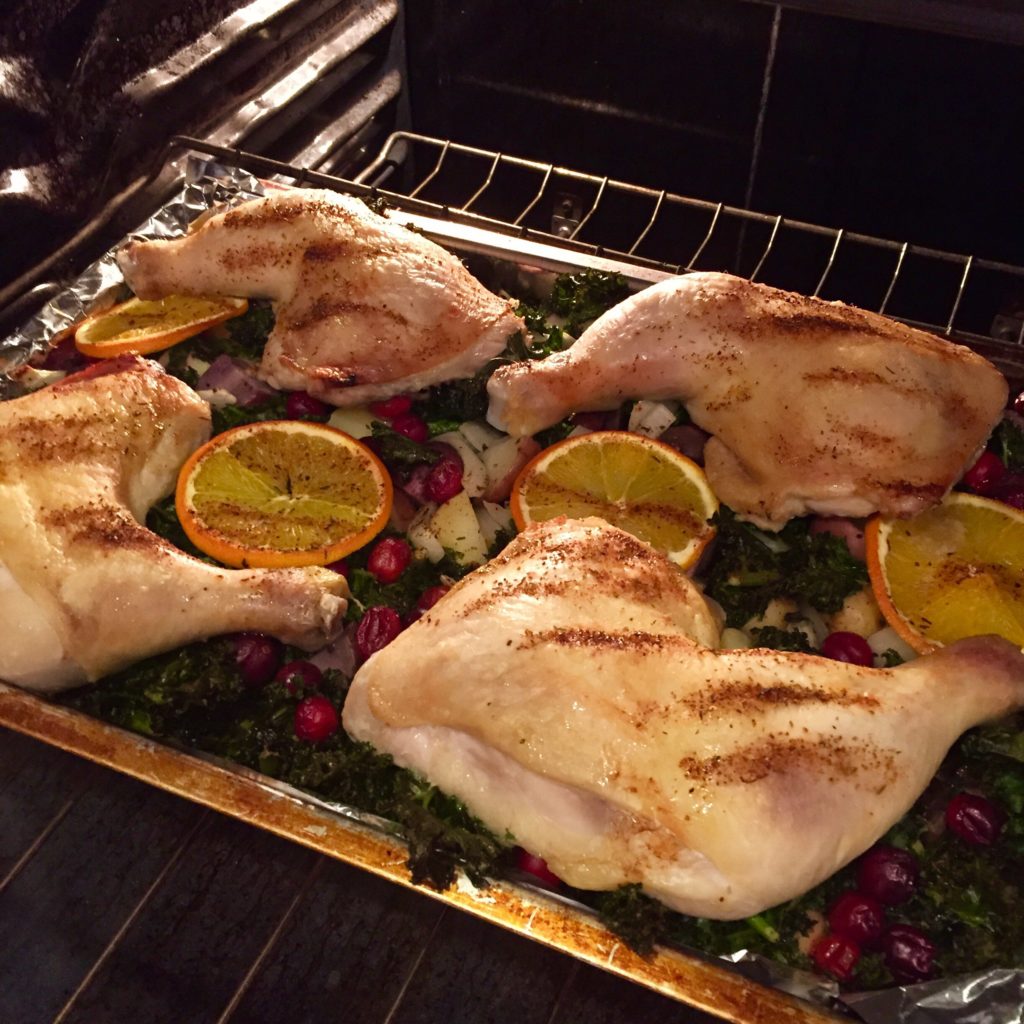 Sheet pan suppers…once for myself and once in the Ville, a simple pan of rainbow potatoes + kale + sweet onion + chicken made for a quick, healthy and tasty meal (and leftovers)…I definitely plan to incorporate more sheet pan suppers into 2018 meal planning…
Minimal mantel decor – My simple Christmas vignette on the mantel was "just right" for bringing holiday joy into my apartment this month! The accompanying JOY decor completed it.
Watching…way too many Hallmark Christmas movies. I did chuckle with this article about needing the escape from the year with these movies.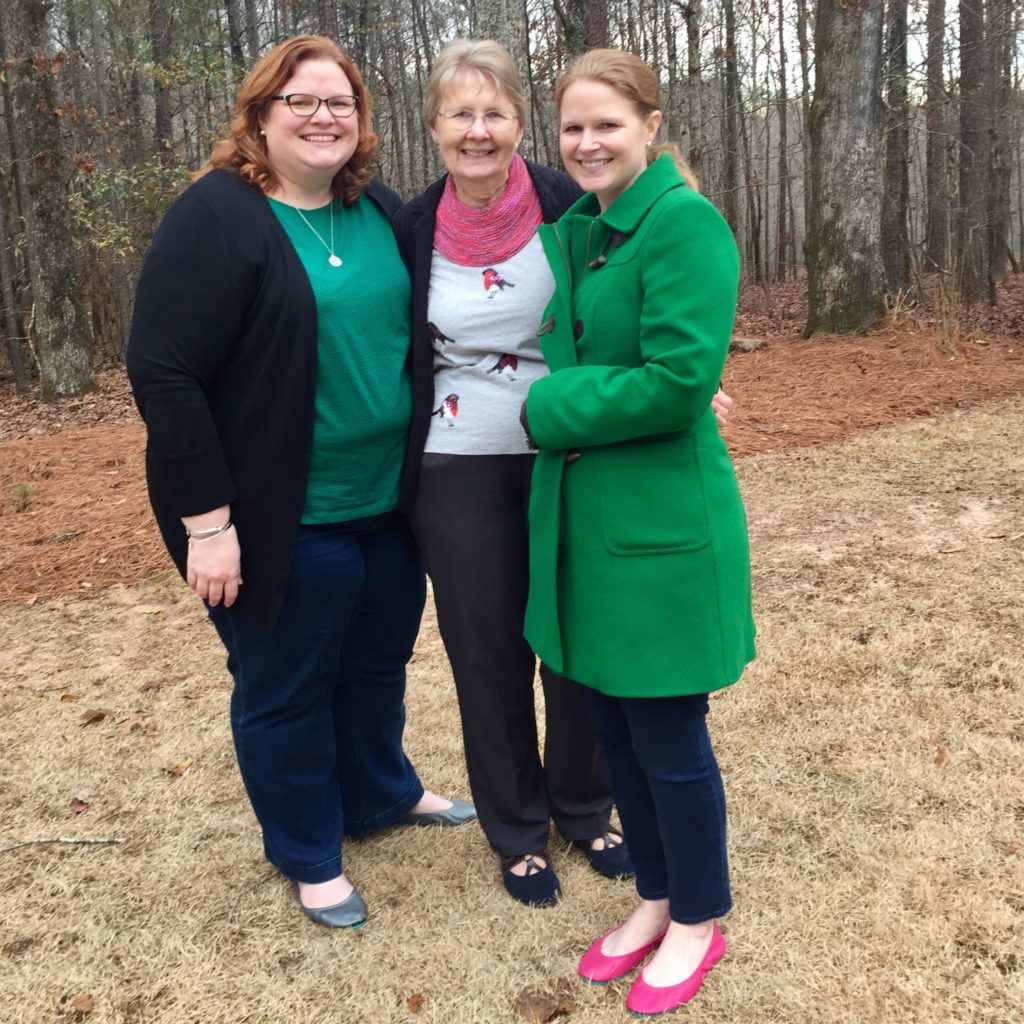 Christmas in the Ville…I was lucky enough to be home for 2 weeks with Mom & Rebecca. We navigated through Christmas without Dad pretty well – some traditions were in play this year; some traditions were not included; some new celebrations and moments were added. Visiting Dad's grave site right after the Wreaths Across America had been placed upon the rows was quite an experience – while the majesty of the national cemetery is always a site to see, the rows upon rows of white markers with the contrast of the green wreaths and red bows is truly awesome.  At Thanksgiving, we decided on a live tree with just colored lights & pearl garland – it provided just the right holiday glow in the living room for us this season. A couple of days were bliss for us all as we spent hours in the living room each deep in our own books, the fire going, coffee nearby and just being together.
Viewing…lots of Christmas lights. All told, we went "light looking" 4 evenings while I was home for Christmas. Rebecca has already challenged us to hit 5 nights next Christmas.
Catching up…with lots of friends while home in the Ville – often over food. In addition to several meals out and about, Rebecca hosted some girls for breakfast one morning. After Christmas, a delightful evening was spent at the now annual high school gang holiday gathering – this year was our largest group to join in – we all agree that we prefer this to the school reunions.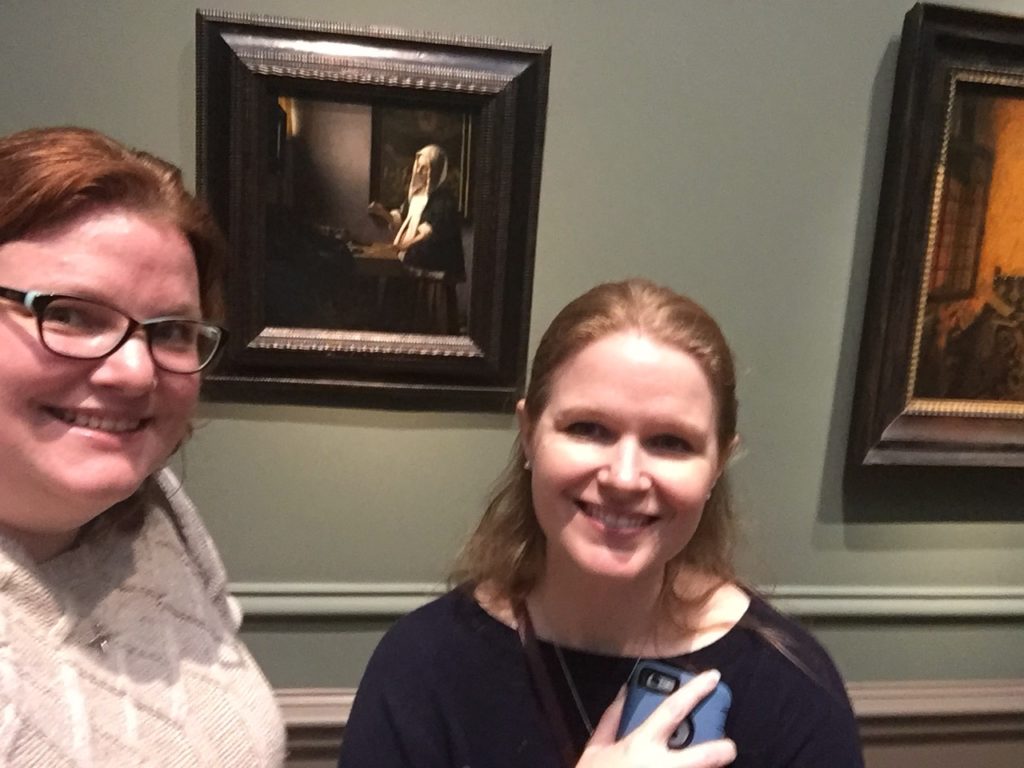 Visiting Vermeer…while home for Christmas, Rebecca & I made a quick day trip up to DC to take in the current Vermeer exhibit at the National Gallery of Art. A separate post is planned to share some of the highlights from that day…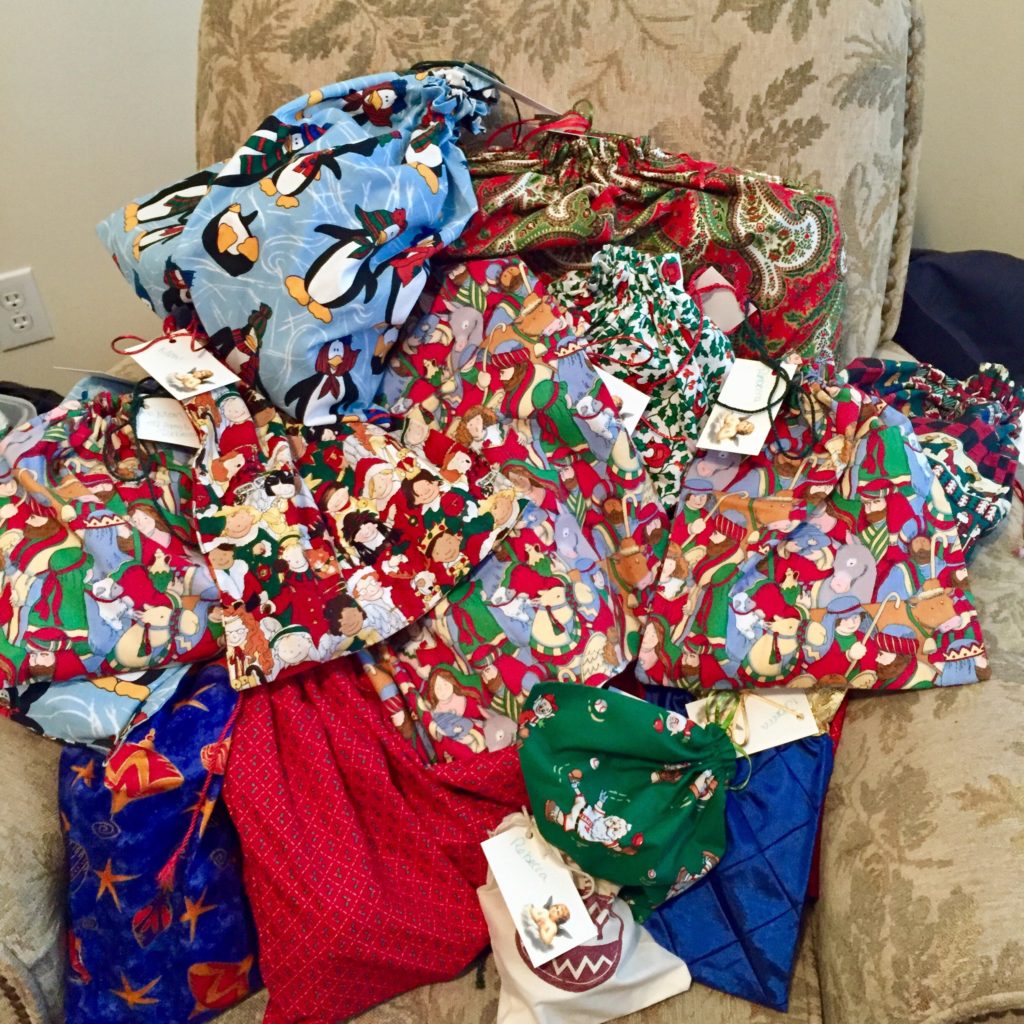 Wrapping…Christmas gifts on Christmas Eve. While I'm always thankful for the "fabric bag" approach that we adopted from a college roommate more than 20 years ago, this year I'm even more thankful – I'm confident that gifts would not have been wrapped without them.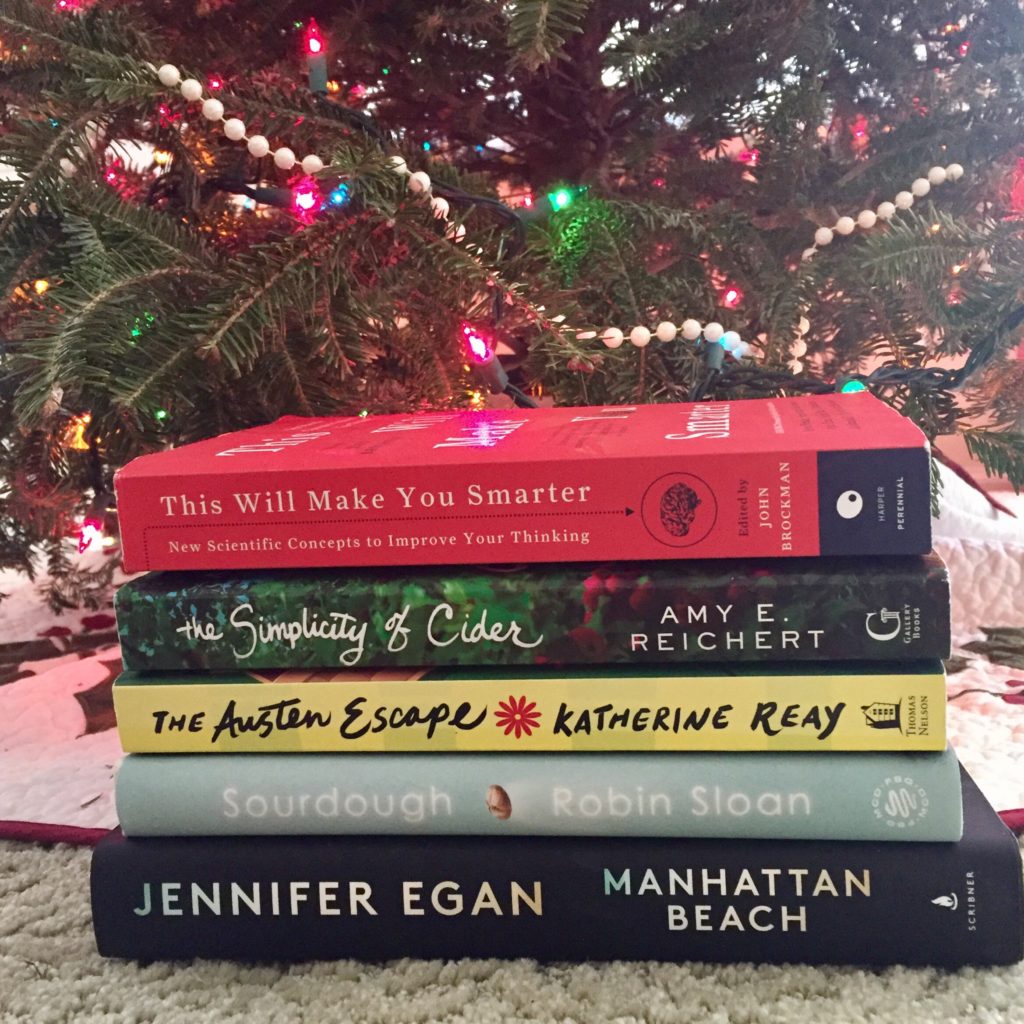 Reading…a whopping 13 books in the month to somehow meet my Goodreads 2017 challenge. Indeed, my Christmas break was filled with plenty of reading – including 4 of the 5 books that were under the Christmas tree for me. While book posts were nonexistent around here in 2017, I've missed sharing my reads and plan to share reading moments more in the new year…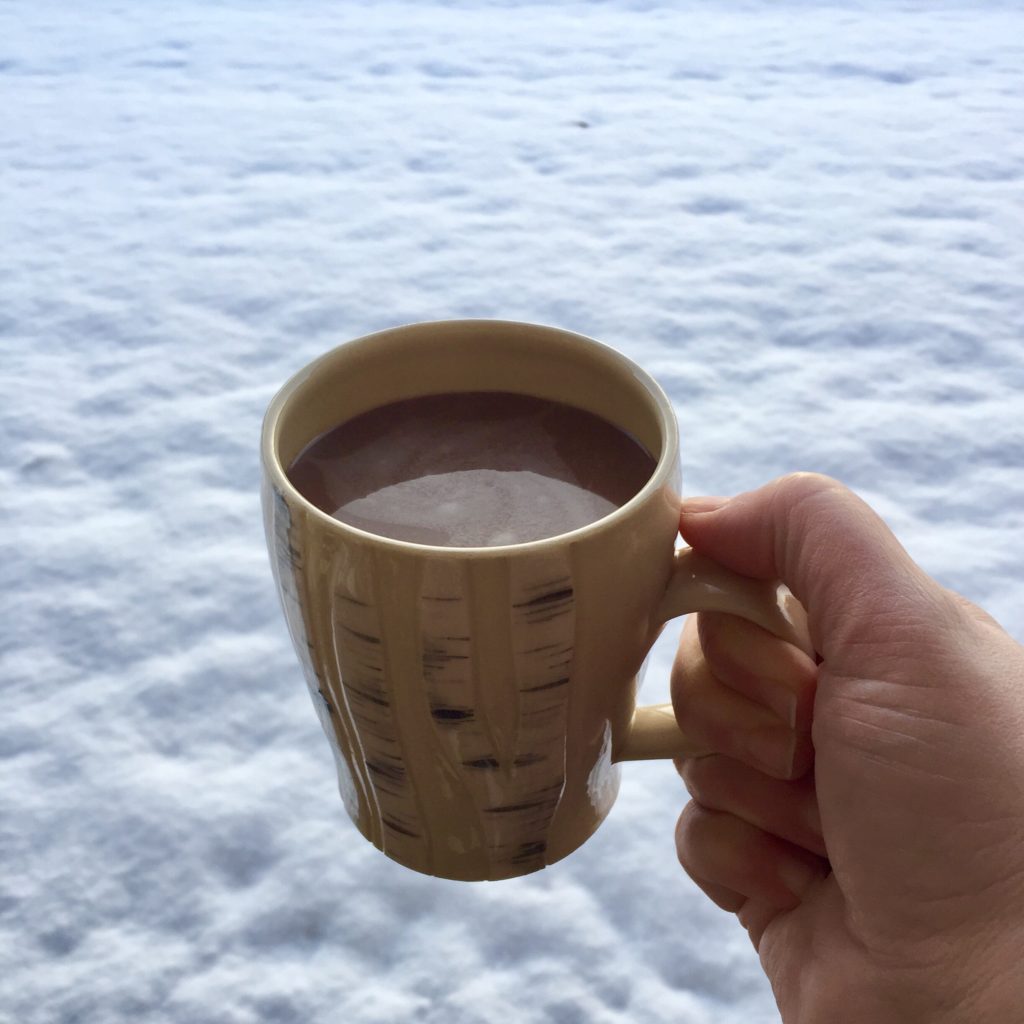 Sipping…all the Christmas flavored coffees…Door County Candy Cane was in frequent rotation – especially with a splash of Califia Farms Mint Cocoa creamer…
Looking ahead…as the calendar changes to 2018, I see a year filled with lots of opportunities on the horizon – which I look forward to writing bout as they unfold…I'm narrowing down my One Word for the year and will share that in the coming weeks…January will be a Whole30 reset month for me so I see lots of kitchen time in store – and my goal is to blog more of the food fun during the month…
What filled your DECEMBER days?
Once again linking up with Leigh for What I'm Into.