Ah, MARCH…a month filled with more and more sunshine and the adjustment to the time change…some lion-ish weather and some lamb-ish weather…more business travel…sea breezes and snow…friends and family…and more…In the midst of it all, these are the things that filled my MARCH days…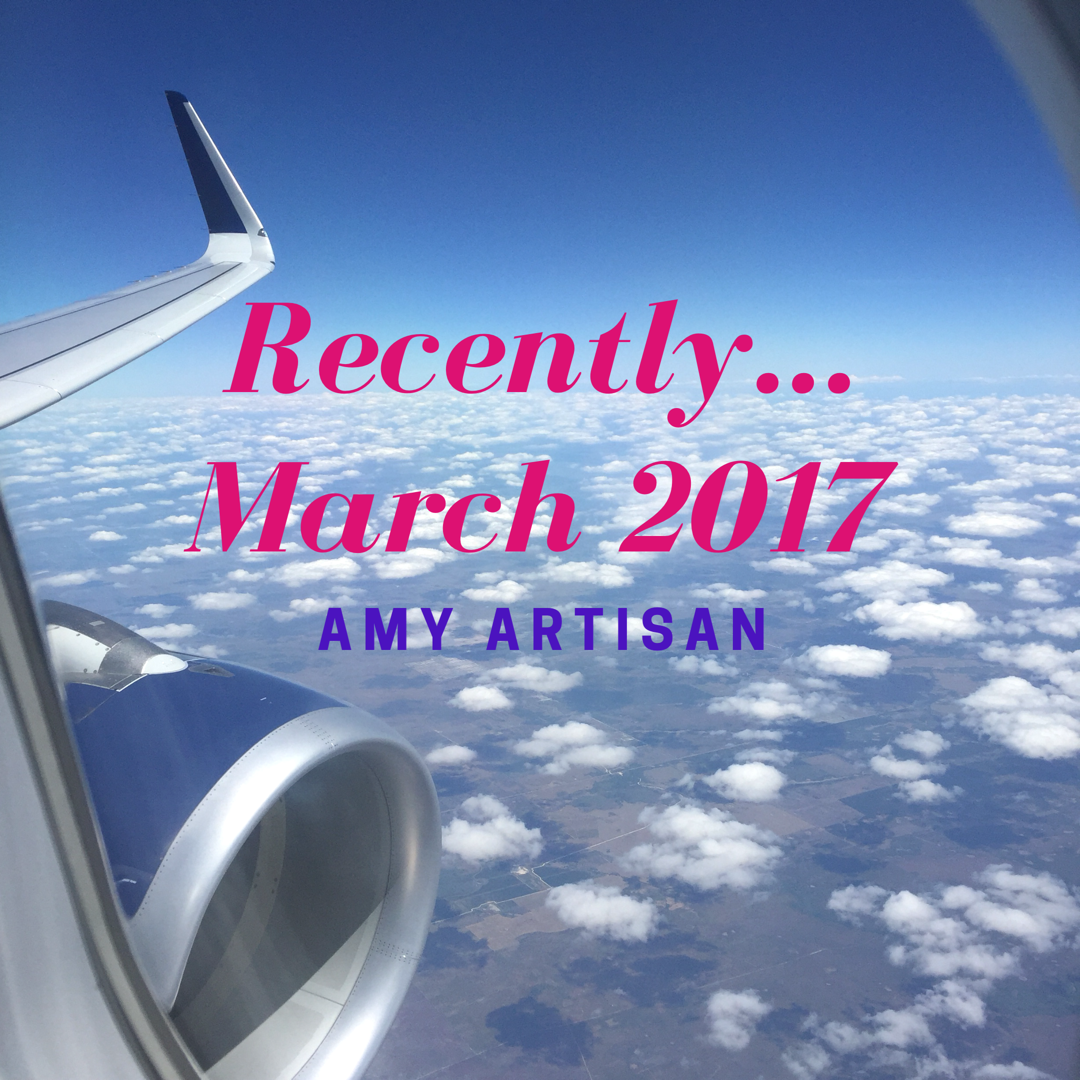 Watching…glad for the return of Designated Survivor…trying to stay semi-current on my DVR…the recent Natalie Portman movie "Jackie" was an enjoyable view while on a flight one Monday morning…
Reading…an assortment of books throughout travel time: Tell Me Three Things by Julie Buxbaum; The Balance Project by Susie Orman Schnall; Kitchens of the Great Midwest by J. Ryan Stradal; Invincible Summer by Alice Adams…this year's Lenten reading routine isn't as regular as I'd hoped…
Traveling (work)…11 nights on the road…the month started & ended with trips to Boca and also included 2 trips to Milwaukee…across those trips was the full gamut of weather from summer tropics to full-on winter snowstorm…the last evening I was in Boca, I made the effort to get down to Deerfield Beach for dinner at one of my favorite seafood spots and then enjoyed 2 scoops of rapidly melting gelato whilst sitting on a bench looking at the water as the sun was setting behind me…
Traveling (fun)…in early March the family had the privilege to attend another partner briefing for The Jesus Film Project – this time in Orlando. For this briefing, it was a family road trip. I flew into Atlanta late on a Wednesday evening. At 6:05 AM on Thursday we were pulling out of the driveway and after a Dunkin' Donuts iced coffee stop we were on our way. Two other families from church were joining us at the briefing and got on the road after us – there was a CB lingo text ring among the 3 vehicles the entire way down there. In true road trip fashion, lunch was a picnic at a rest area while enjoying the gorgeous weather. It was a delightful weekend hearing of the work being done around the world through this simple and powerful film and media and app. On Sunday, we were on the road back to Georgia by 11:45 AM – a late Sunday evening flight to Milwaukee for me had us focused on getting home in a timely manner…
Cooking…not too much with all the travel…craving clean and simple foods when I'm home…a simple Sheet Pan meal creation was the perfect thing for a Sunday supper and assorted meals during the following week…
MacGyvering…one business trip had me landing in Milwaukee at midnight on Sunday as a decent snowstorm was kicking in. I picked up my rental (a minivan?!?!) & slowly made my way to the hotel on streets that were disappearing under the snow. I dropped the van with the valet in on Monday morning had a white knuckle drive to the office on roads that still hadn't been properly attended. On Monday afternoon as I left the office, I discovered that the rental didn't have a snow scraper/brush in it & I had about 5" of snow on the front windshield. As I looked at the options I had, I sacrificed a Wonder Woman notebook to act as my brush & had the windshield cleared in no time – and then went to a "city" rental counter to get a scraper/brush which of course I didn't need the rest of the week…
Sipping…Tazo Wild Sweet Orange came back in rotation & was added to my travel kit – sipping a cup in the evenings in the hotel provides a way to unwind…
Celebrating…a delightful Bridal Shower brunch on a Saturday was the perfect way to celebrate a friend who is getting married in May. Because of travel fun the day before, I didn't get home till midnight and so my plans to get gift wrap on Friday morphed into turning the back of the Edge into a wrapping station in the CVS parking lot on Saturday morning before picking up a friend & heading towards the event.
Lunching…whilst in Orlando, we met up with friends for a Friday lunch. Julia was my best friend in 8th & 9th grade back in our Kansas City days…we reconnected on Facebook years ago. It was a treat to meet her delightful family & also see her parents – we hadn't seen them since early 1989 before the family moved to Belgium. As Julia & I were catching up at one end of the table, Rebecca was engaged with her boys and Mom & Dad were deep in reconnecting with Steve & Debbie at the other end of the table – truly one of those "pick up where you left off" sort of times with dear ones…
Looking ahead…Hello, April…April includes business travel – although it seems like the number of trips is changing…Easter at home in the 'Ville…who knows what spring adventures are to be had?
What filled your March days?
Belatedly linking up with Leigh's What I'm Into Round-Up.