On this Tuesday after the Memorial Day holiday weekend…joining in on the Ten on Tuesday Weekending edition to recap a great extended weekend in the 'Ville with the family – earlier this month, Dad had emergency back surgery and the days and weeks since then have been filled with rehab and recovery. As the month progressed – and Dad progressed – I started formulating a plan for a visit…we decided it would be best for me to just "show up" and not tell Dad I was coming. Last week started with a work trip and when my meetings were done, it was time to detour to Georgia for family time.
Caught the 5:55 Thursday morning flight from Milwaukee to Atlanta. The early departure time didn't dampen my excitement to be going home.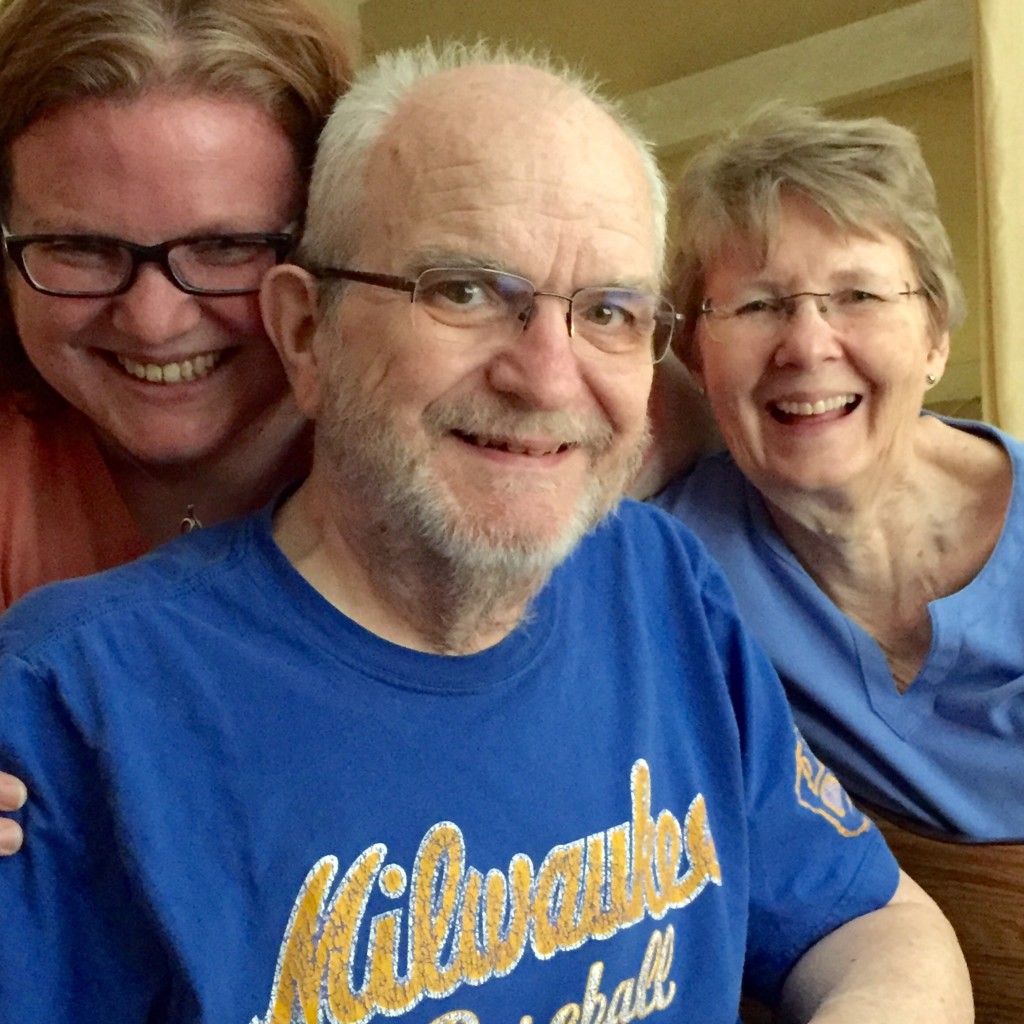 Walked into Dad's rehab room at lunchtime on Thursday and rendered him speechless with my surprise visit for the weekend.
Hung out with Dad each afternoon and balanced rest time for him with plenty of activities. While I spent a bit of time with him each morning and evening, the afternoons were "my" time to provide Mom with some respite for her nonstop presence by his side.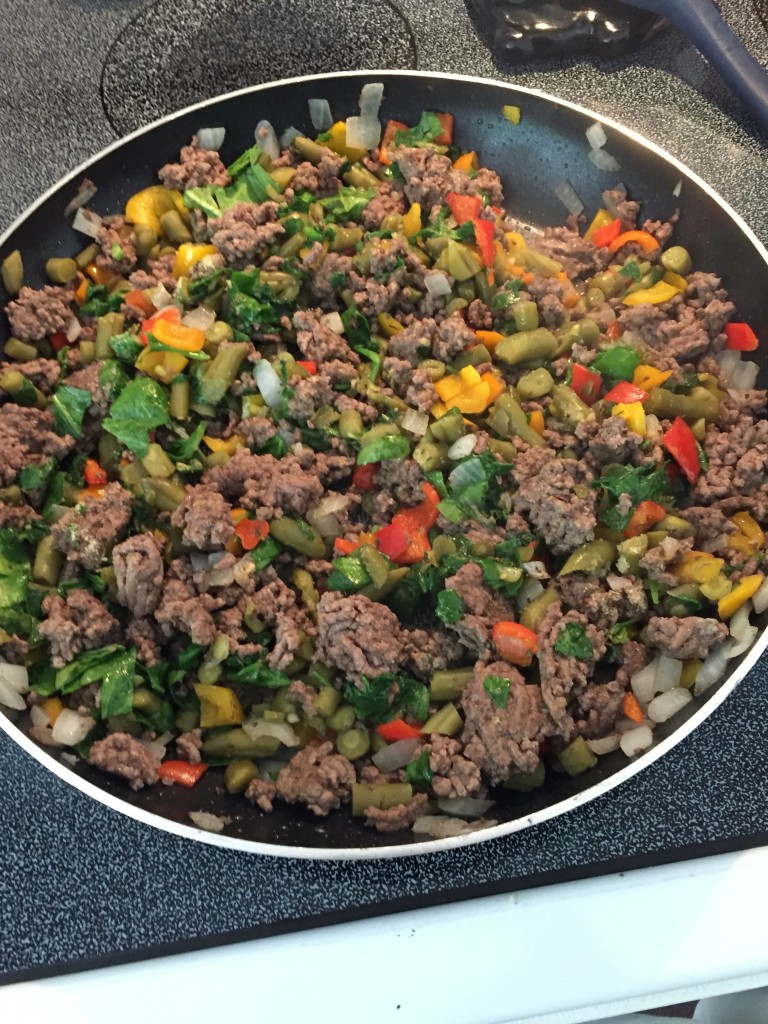 Made yummy meals for us to enjoy as a family sitting together in Dad's rehab room: Roma Italian Pie (with extra veggies) and Shepherd's Pie. We have all decided that Dad needs "tastes of home" for each meal instead of the tray from the rehab dining room.
Sat in salt…on Saturday morning, Rebecca & I tried out the halotherapy/salt room at a local med spa and thoroughly enjoyed it. We see future sessions for us.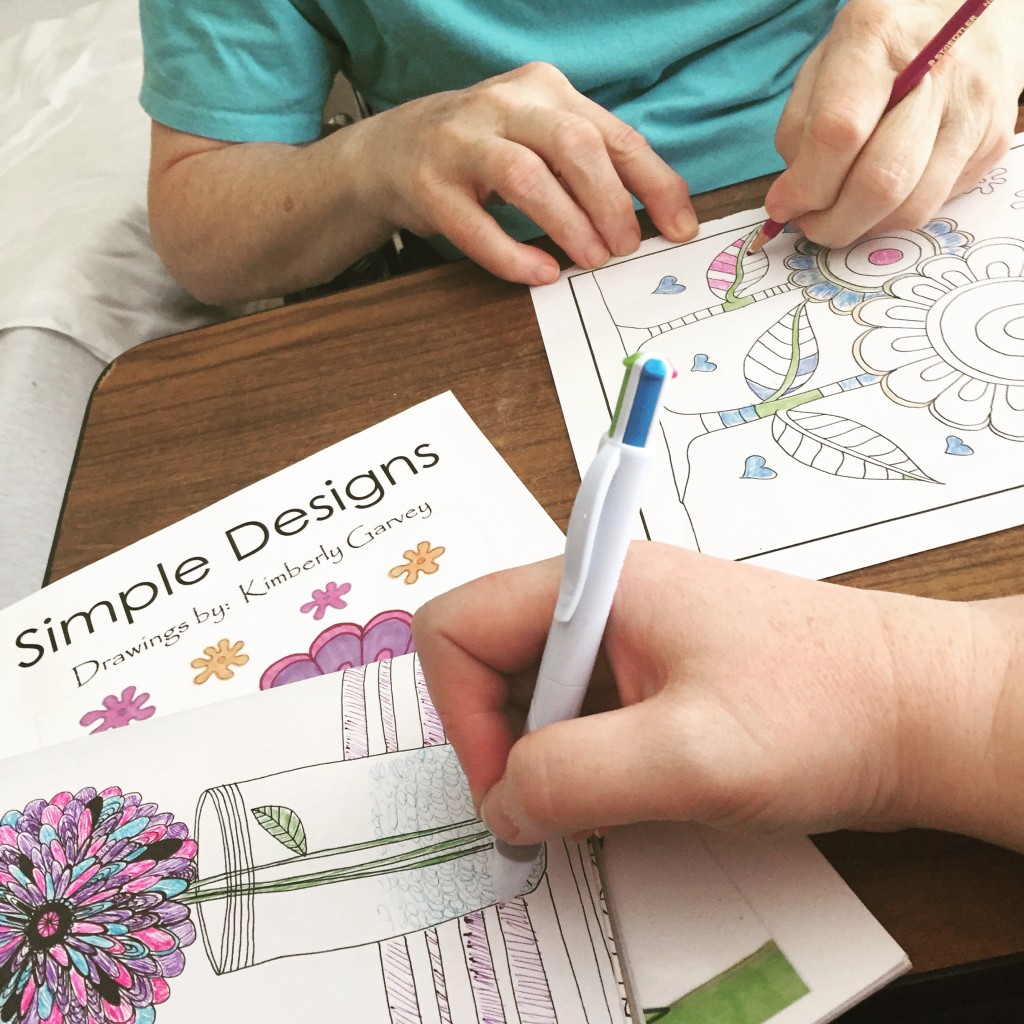 Colored pictures with Dad on a Friday afternoon. I pulled out my "travel" coloring book from my work bag and Dad worked on a coloring book that was under the Christmas tree for him.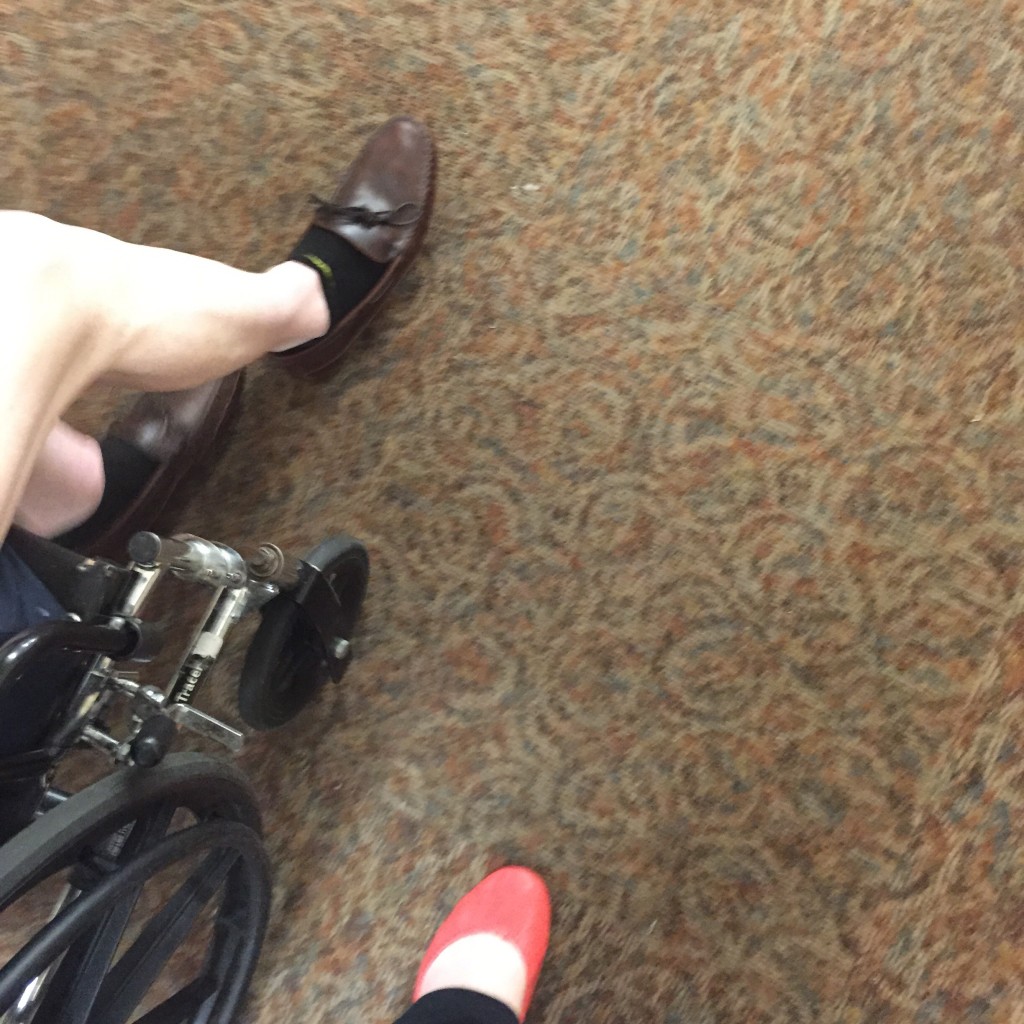 Strolled the halls each afternoon with Dad – our laps through the building provided more opportunity for him to strengthen his legs by powering his wheelchair with his feet.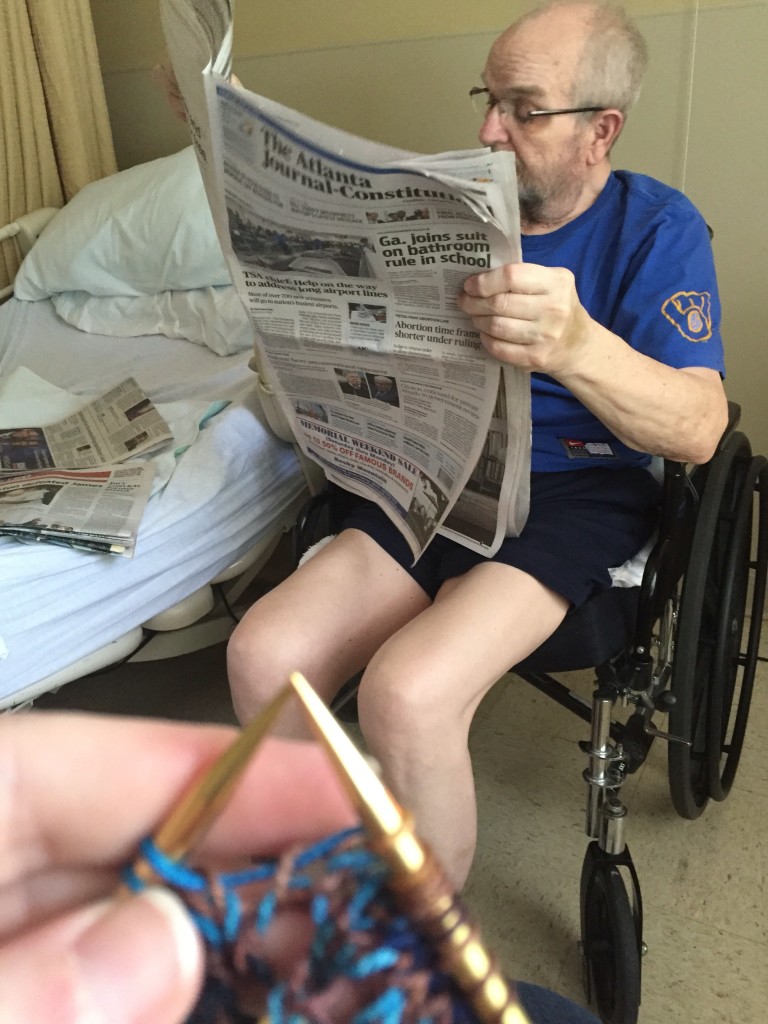 Knit on a new shawlette – digging into the stash from 2006 for this version.
Read several books in my down time – when Dad was resting in the afternoons; while easing into the days after seeing Mom off to the rehab center; while waiting up for Mom to return in the evenings.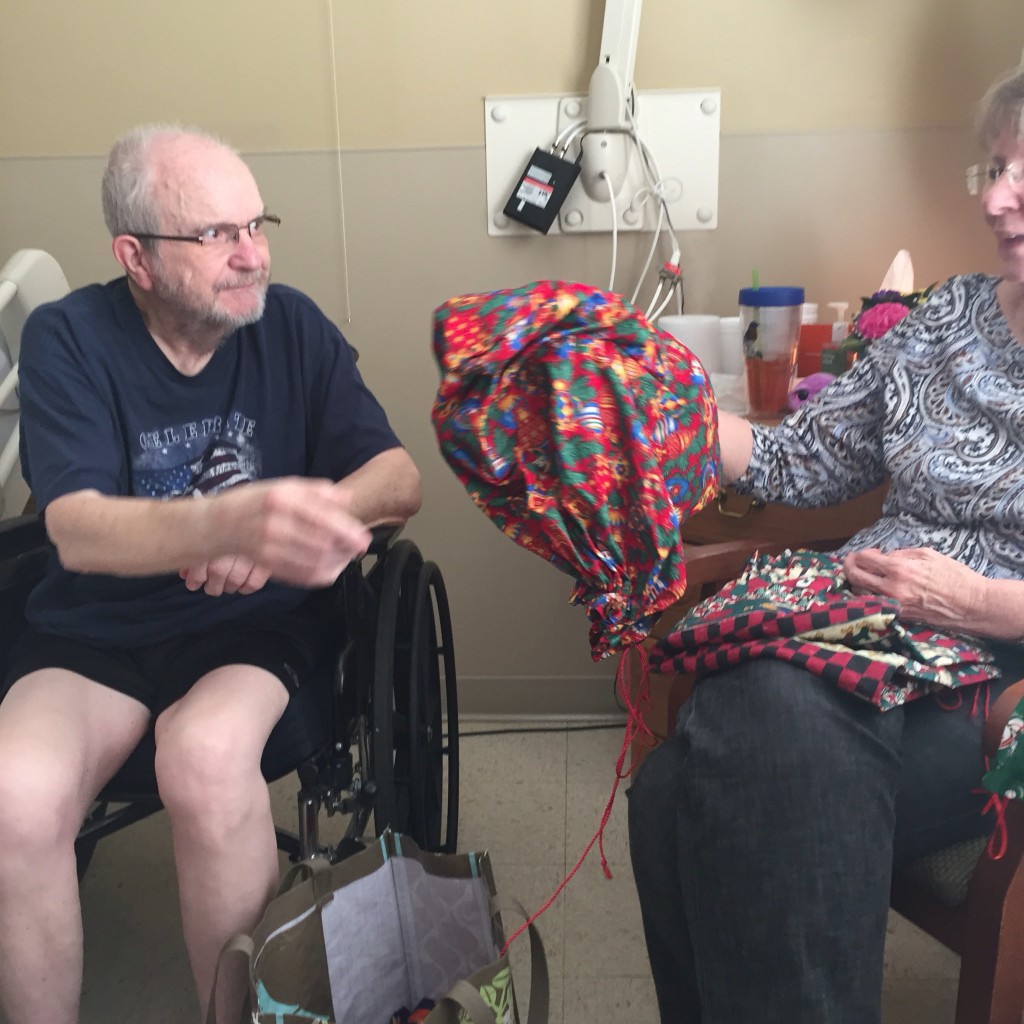 Celebrated "Merry Mom Day" – finally spoiling Mom with gifts for Mother's Day and her May birthday. The quick way to get everything wrapped was to use our Christmas fabric bags – which provided plenty of giggles for all when I carried in the bag of bags.
Split a yummy Cheesy Chicken Sausage & Spinach omelette with my sister when we met "Uncle Mike" for breakfast on Monday morning.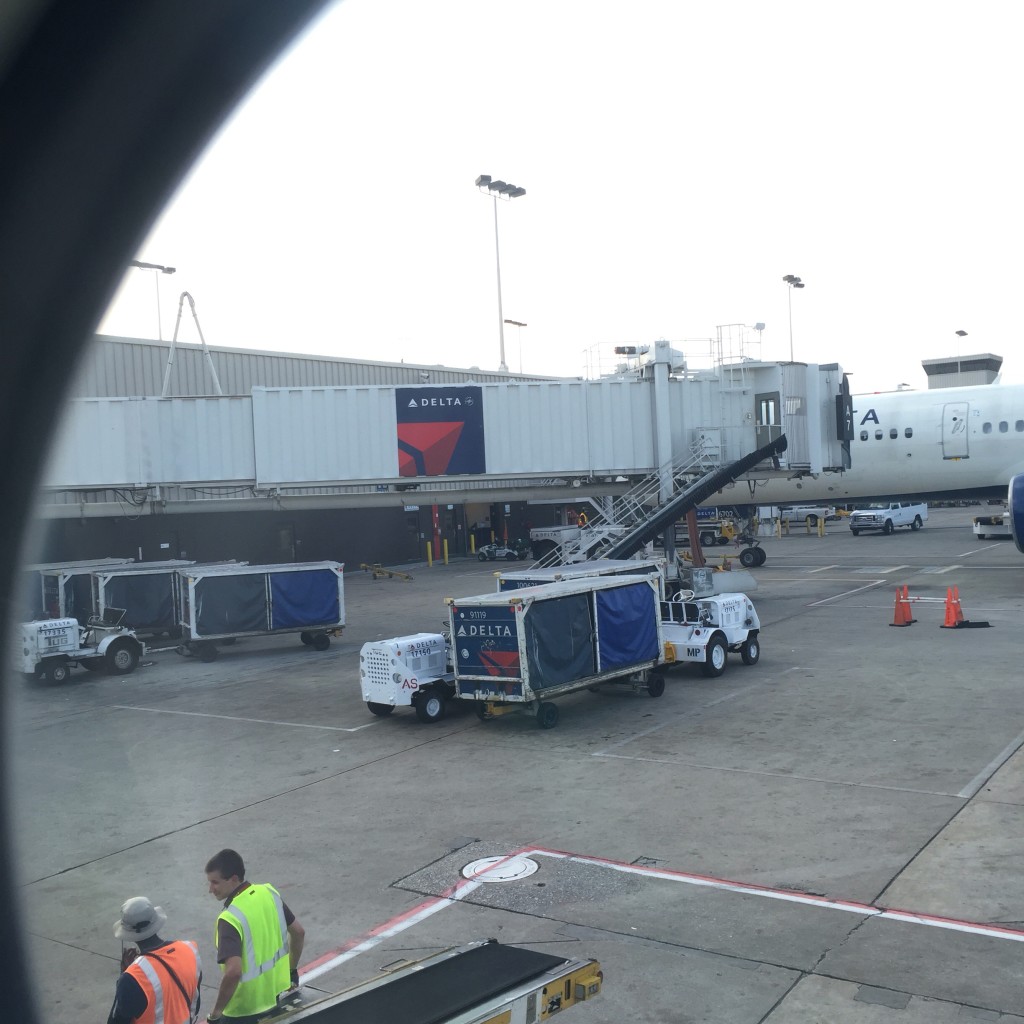 Much too soon, the weekend was over and it was time to head to the airport and wing my way back to PA. Thankfully I managed to get through the security line at the ATL airport in under 10 minutes in spite of all the recent security line troubles. As I settled into the backseat of my ride home from the airport, I was so thankful for the ability to be home with the family for these 5 days.
What did you do over the holiday weekend?