If it's summertime, it must mean that it's time for a library reading challenge! I remember many a childhood summer filled with assorted challenges hosted by the local library – many a trip to the library to pick up a new stack of books – many a delightful hour spent reading (or devouring) an assortment of books and subjects. I chuckled when I saw that my local library is hosting a summer reading challenge for kids AND adults – of course I signed up. The adult goal is to read 25 books – we'll see what my summer holds. My library book stack in my spare room & my hold requests list are looking like this goal can be attained – although, as I look at the tracking website, they are only counting books until Aug. 7th – really, summer is more than 8 weeks here…
Since last diving into books on the blog, I've read quite a bit. Some of these are in my summer reading challenge – others are just "normal" reading progress. From my recent reads, these are the ones that are at the top of the list:
The Dead Don't Dance by Charles Martin; When Crickets Cry by Charles Martin; Chasing Fireflies by Charles Martin – A "new to me" author I discovered via another blog. Nice stories that have uplifting themes to them. I'll definitely be working my way through the rest of his books. These are a nice change of pace…and maybe even a good emotion reset, when needed.
The Prodigal: A Ragamuffin Story by Brennan Manning & Greg Garrett – A modern retelling of the Prodigal Son parable. A good story of a timeless tale. Now, I think it's time to finally read Manning's Ragamuffin Gospel that has been on my bookshelf for a couple of years.
The Director by David Ignatius – A new espionage thriller where "the director" referred to is a new CIA director brought in from running a successful tech company to revive a struggling agency.
The Unexpected Mrs. Pollifax by Dorothy Gilman – I stumbled upon this series via another blog. It is a fun variation on the spy/thriller genre that I enjoy. A widowed grandmother in the 60's is bored and offers herself up to the CIA to be spy.
 That's Not in My American History Book (audio) by Thomas Ayres – A fun, trivia filled walk through some of the more obscure parts of American History. As I listened to the author read this book, I was taken back to my AP US History class – in addition to teaching "the basics" that we needed, Coach Walker loved this type of history. I still remember several of the lesser known history facts that he imparted to us in class 23+ years ago. In fact, some of the stories told here weren't new to me because of Coach Walker. In my collecting of random facts, I think I have a new arsenal of American History info for the next trivia encounter. #bringonBWWtrivia
Other recent reads: The Apple Orchard by Susan Wiggs; The Romanov Prophecy by Steve Berry; A Reliable Wife by Robert Goolrick; Reconstructing Amelia by Kimberley McCreight; The Little House in the Big Woods by Laura Ingalls Wilder; The Ashford Affair by Lauren Willig
Recently Abandoned: The Penderwicks by Jeanne Birdsall – I started this as an audio book and just couldn't get into it. The description sounds like a fun "kids book" read – but evidently I can't do this as audio – I really don't need the reader doing the girls in assorted high-pitched/whiny voices; Eleanor & Park by Rainbow Rowell – This seems to be everywhere as a "must read" these days. And yet, I just couldn't get into it. I may come back to it at some time…but for now it is time to move on to the other books in the stack that beckon me…
As you can see from the picture above, I have lots of books at hand to keep me busy in the coming weeks. What about you? What are you reading this summer? What are your summer reading memories?
P.S. Here's a summer reading challenge we can all do: Pages4Progress. Visit this site to log the number of pages you've read and dollars will be donated towards ensuring primary education is available around the globe. It just takes a few moments to share your page count and join in the every growing total.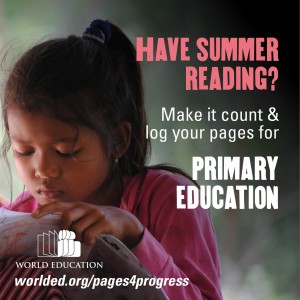 Once again, I'm linking up with Modern Mrs. Darcy for the Twitterature round-up. (And most likely adding to my to-be-read list as I check out other blogs…)