I've said it before & I'll say it again – knitting for babes & kids is fun! Especially when you get pictures of the knits in action.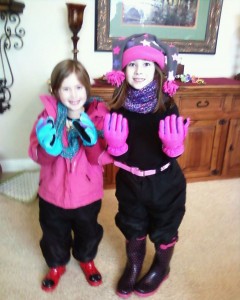 This afternoon these pics came from Texas via text message. When I was in Dallas in March we woke to a Sunday snowfall & scrambled to put together some cold weather gear for the girls to play in the backyard. So, I decided that I needed to provide some additional cold weather gear – this winter I was on the lookout for snow pants for them & found a steal of a deal on 'basic black' just before Thanksgiving.  For Christmas, I knit simple "infinity scarves" for Miss Butterfly & Miss Doodlebug & found some winter gloves to match. Today, they have a bit of snow down south & were adequately prepared to head outside & play.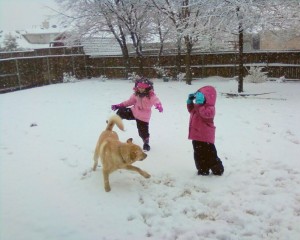 Most of the time, snow isn't as fun when you're an adult…there's the shoveling to do, getting the car in & out of the garage in the alley, dealing with driving in the bad conditions (I had a horrible trek north in December after a big snow), etc…how wonderful to be reminded of the joy that a bit of snow can bring!