As I mentioned earlier, work has me on the road once again. And once again it means winter in northern Wisconsin (on the border with the UP). And with a "way north" winter comes new winter gear.
Before the project I bought a new winter coat – it was touted as designed to withstand watching the game at Lambaeu Field. Since this project has me north of Green Bay I figured that was a good choice. The spice brown color made quite a canvas for winter knit accessories.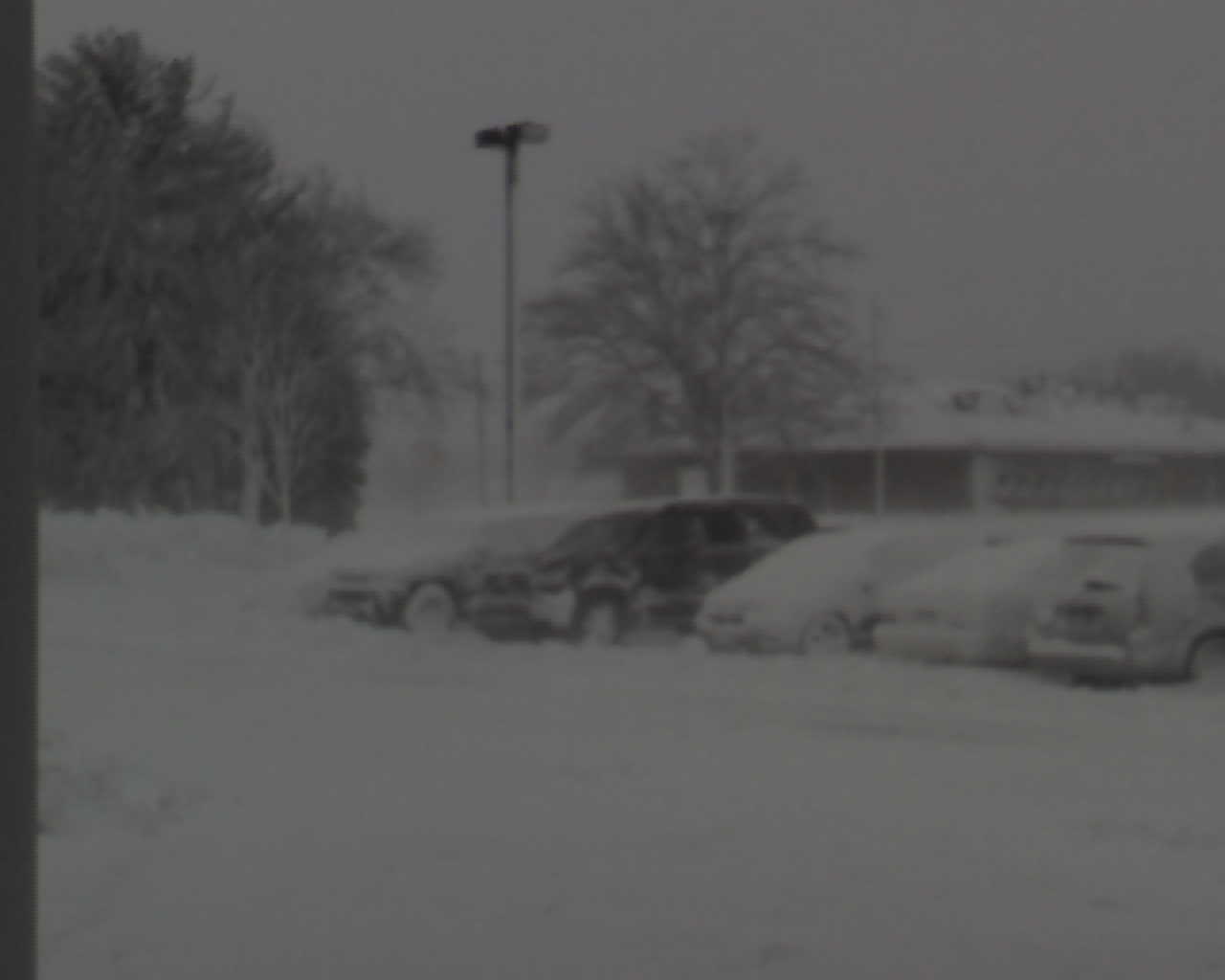 The December Blizzard: Right after clearing off my rental (aka big honkin' SUV) we heard we had to work from the hotel because of a power outage at the plant.
After an early taste of winter up here in December with a blizzard & then bitter cold and wind I had in mind a warm, squishy scarf. This Cocoa Nouvaeu from Huckleberry Knits was a perfect choice – it is a bulky worsted weight that I knew would be quite cozy. After a few attempts at more involved patterns, I went to a trusted basic – the Scrunchable Scarf – cast on for 23 stitches on a 10 1/2 needle. In no time at all, 2 skeins had been turned into 6 feet of winter warmth.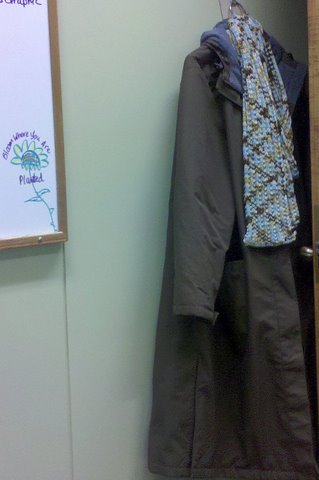 Next up, a coordinating hat. For this, I dipped into my miles of Peruvian alpaca that Rebecca brought home for me. I went with the Simple Pleasures Hat pattern – although I cast on more stitches than the pattern called for. Turns out, the hat came out a bit bigger than planned. So, a hot water bath helped to tighten it up. It's a bit of a slouchy watch cap now – very warm and cozy.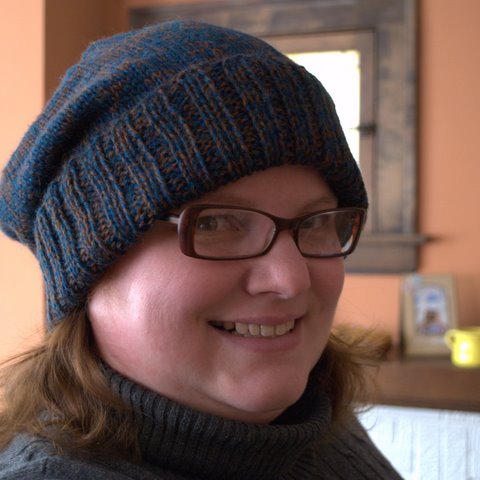 Given my project location and the winter weather, it makes more sense for me to be driving (trekking) north each week instead of messing with flights to Green Bay & then a drive after that. So, every week I am picking up a rental car. In my own car, I have a winter survival bag in the trunk in case I get stranded on the road. Just because I'm in a rental, I still need to be prepared. So, in addition to my luggage each week I'm loading my "car bag" into the back seat with the hope that I never have to use it. What's in the bag? Just a few things to help in case of unexpected weather, delays, etc. while driving. If you live in a cold climate or will be driving through one, I highly recommend having your own winter bag. Here's a peak inside my bag (a freebie from a sunscreen purchase – the irony seemed apropos):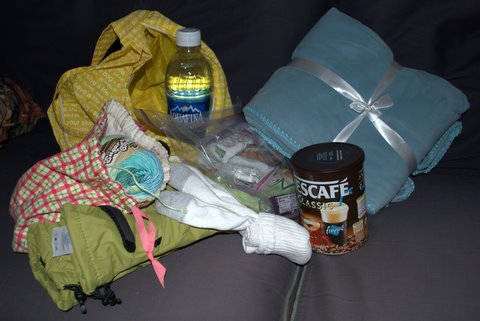 A coffee can with a few large tealights and matches; A flashlight with batteries; A couple of the handwarmer packets; A spare pair of socks, a pair of the mini-knit gloves & a pair of hardy gloves; A bag of snacks: granola bars, nuts & dried fruit, gum, throat drops; A pack of kleenex & some extra napkins; A bottle of water; A fleece blanket; And what truly makes this an Amy Artisan kit: emergency knitting – this project bag holds needles & dishcloth cotton. Of course, my goal is to never have to dip into this bag while doing my winter commuting.
As I'm way north this week, we are on the fringe edge of the latest snow storm & so only have a few inches. When I was "posted" to this assignment I figured that I would be in for a snow-filled winter – in actuality, the snow is rather minimal so far this year. In fact, this is the view from my office window this afternoon.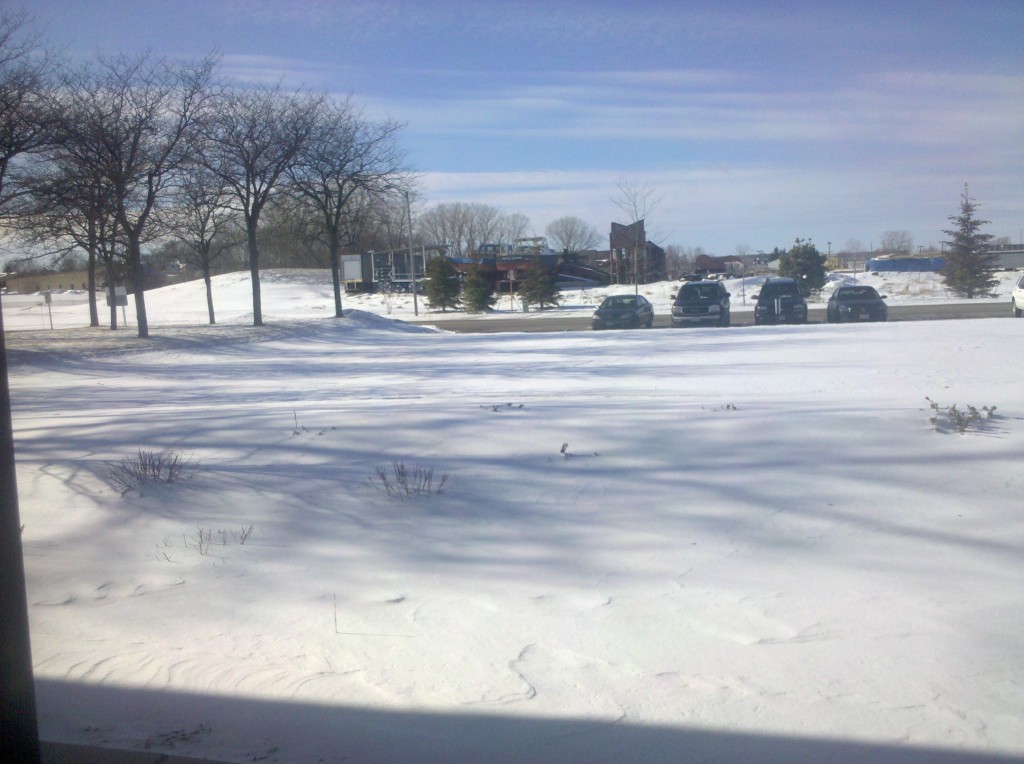 What about you? How are you staying warm this winter? What is in your winter emergency kit?