At 6:16 this morning my cell phone rang with a call that had been on the horizon – Grandma passed away early this morning in her sleep. For the last week or so, in every conversation with Mom it was obvious that Grandma was rapidly declining – she lived a full life in her 94 1/2 years & we are so grateful that she is now at peace.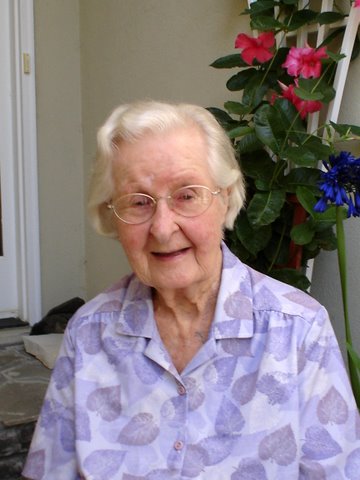 * In recent years, Mom started calling her Sweet Mama.
Grandma always had a sparkle in her eye when she heard that.
As I've mentioned on numerous occasions, Grandma's knit dishcloths are what pulled me to the needles and yarn in 1997. I am so grateful to have the the stitch legacy that she taught me (and also grateful that we got Mom knitting as well). While knitting is a big part of my memories of Grandma, there are so many other wonderful memories…
As the Artisan family moved around a lot when I was growing up, Grandma's home in Orange County California was a constant – how lucky we were that she lived 7 miles from the beach, 7 miles from Knott's Berry Farm and 7 miles from Disneyland! Being at Grandma's house was always fun – I remember waking up early & getting to watch The Transformer's on TV while eating a bowl of oatmeal. I also remember Rebecca & I loved to play with the box of kitchen toys – including some that Mom had played with as a little girl. It was around her dinner table in the evenings that we played many a game of Uno and Spite & Malice – she was a fierce competitor.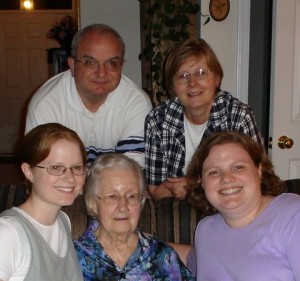 Celebrating her 90th birthday!
And Grandma's gardening… No strawberries have ever tasted better than the ones from her backyard! No raspberries crushed over orange sherbert have ever been sweeter! Spinach is a favorite veggie because of the delicious spinach from her backyard! And avocados – oh my, she had the biggest tree "ever" in her backyard & they were the best tasting ones ever! In the last few years that she was living in her house, she would send me a big box of avocados for my birthday – a delicious meal was wheat toast with an avocado smashed on top & a dash of onion salt.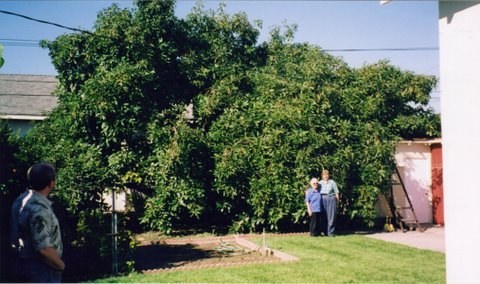 The avocado tree that defies description!
Her flowers were always beautiful – camilleas, bird of paradise, poinsettias (taller than the roofline) & more. In the fall of 2000 as we were shutting down her house & preparing her to move, Artisan Dad & I packed up 2 boxes of plants that we shipped to the 'Ville & Dad incorporated plants into their home.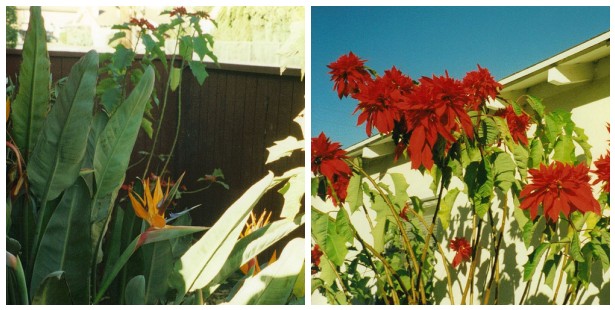 While it's tough to not be with the family in the 'Ville right now, the simple rhythm of a dishcloth on my needles brings me comfort & keeps Grandma close at hand…