Within the last couple of weeks, I started seeing mention for the Midwest Fiber & Folk Art Fair on a few blogs. When I checked out the website it sounded like a perfect way to spend a Saturday. The fair was this weekend and it turned out to be not too far from a BBQ that was already on the calendar for later in the evening. Saturday morning I picked up my knit gals, Jen & Kristy, and we pointed the car towards Crystal Lake.
In a word – WOW! Where to start with describing this great event? Several times throughout the day we commented that we just couldn't believe that this was the first year for the fair – everything was so well organized. There were 4 large tents filled with vendors. The mix of vendors was great – a lot of fiber options but also a lot of "non-fiber" choices. Looking through my bag of purchases, the yarn was kept to a minimum. Among the spoils: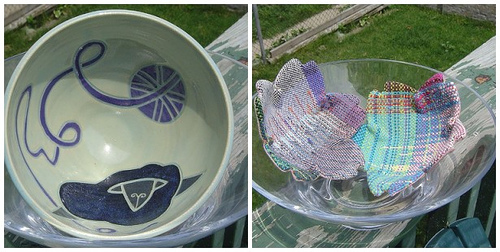 A sheep and yarn bowl from Jennie the Potter . Have you seen her adorable knit themed pottery? She's a knitter as well as a potter and while at a knitting event someone suggested that she incorporate knit motifs into her work. This bowl is glazed with a pale green & the sheep & yarn are navy blue. She also has a cute needle & thread motif and some beautiful nature motifs. I would love to pick up more pieces of her work in the future. These tulip coasters are leftover weavings from SAORI Freestyle Weaving Studio.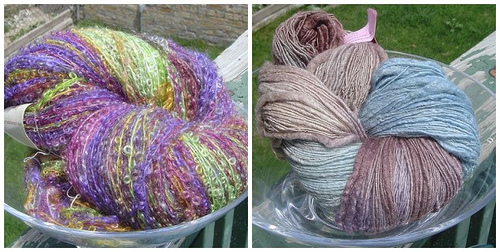 Creatively Dyed Yarn – In the last couple of months I've seen blog mentions about this beautiful yarn. Seeing all of the colors in person – they were so bright and fun. I went outside my normal zone twice with this selection – first with the curly yarn and second with the color choice. I think this will become a simple triangle shawl. This year's limited edition yarn from Brooks Farm is 50% wool and 50% silk and oh so lovely. This skein is filled with taupe, pale aqua and a dusty lavender. I think this skein may become a Montego Bay scarf for me.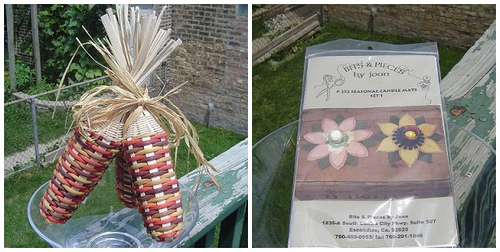 This bunch of corn is actually 3 mini baskets tied together with raffia from Basket Beginnings. This will be a fun autumn decoration to use for years to come & the colors go great with my terra cotta walls. I picked up the pattern for the wool felt candle mat from In The Wool – it looks like a simple pattern that will be a fun diversion from knitting and a great gift idea.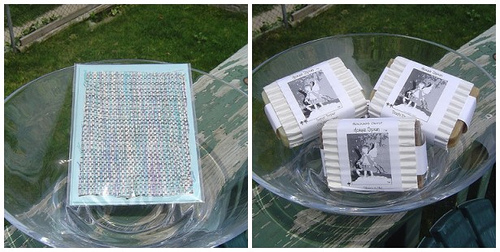 A simple note card with woven fabric on the front – picked up from Biggie. Some wonderful soaps from HeavenSent HomeSpun.
Jack & Kim Olesker had a booth & were signing copies of Cast On, Bets Off – it was great to see them since they were out of town when we were in Michigan last month. The book continues to do well and there is movie news on the horizon – talk about the ultimate knitflix!
What is a summertime fair without fun food? The Beer Garden had several local restaurants provide all sorts of fun choices – our lunch included Hong Kong chicken with fried rice, pulled pork BBQ, a shrimp taco, kabobs and peroigies. When we were done shopping we chilled with delicious mocha granitas from Conscious Cup while listening to the tunes of the Long Gone Lonesome Boys.
When it was time to leave we all had bags full of treats – yarn, notecards, and more. Kristy did a needle felting sample and became hooked on the craft so she stocked up on supplies – I see some creative felting happening in the coming weeks.
We all agreed that this was a lovely event & look forward to making it an annual tradition!