Indeed…this is another post recounting a Stitches Midwest experience…
When I first got my Stitches brochure earlier this spring I circled several classes that I was interested in taking & thought it would be fun to take a day off from work to knit/learn. I never got around to registering…then I was assigned to this project in Chattanooga…I ended up not being able to fly home to Chicago till Friday evening & would have had to cancel out of any weekday classes. So, I was excited to go to the Market on Saturday – it was a fun way to decompress from the work week. I picked up my fellow knit gals, Jen & Kristy, at 11:30 & we headed out to Rosemont. At about 12:15 we hit the market & our immediate reaction was "Wow!"
First up was a stop by the Black Water Abbey Yarns booth. My Knitting Vacation Swap pal, Judy, was in from Colorado to help at the booth – so I met my first knit blogger. It was fun to finally put a face with a name & blog adventures. (I would have snapped a picture of us, but there were lots of "no photos" signs everywhere.)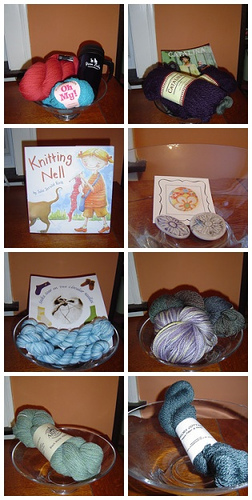 (Larger pictures are linked here…1. yarnlady 2. sitnknit 3. knittingnell 4. buttons 5. sockstuff 6. brooksfarms 7. angoracottage 8. blackabbey)
Over the course of several hours we made our way through all the aisles of the market. We didn't stop in every booth – but collectively made plenty of "oohs & aahs" about what we saw. At the end of the day, my bag was full with these goodies:
From Yarn Lady in California – A terra cotta color Cascade 220 that will be added to the felted tote bag currently on the needles; 2 balls of super soft Oh My! yarn from Plymouth – when I picked this up (before seeing the yarn name) my reaction was "oh wow" so it is aptly named; as we were standing in line to check out they were apologetic for the wait so we also received their logo travel mug.
Next up was a visit to the Sit & Knit booth – this time I got to meet Kim, the owner of our charming Michigan knit spot. In their booth was Shaun, the owner of Catalina Yarns who was showcasing some new colors and a great new Trinity Jacket pattern. I picked up some of the Baby Alpaca Chunky in the new deep purple color and some Baby Pima in a sage color and also got a free pattern book with the purchase.
Just last week Wendy posted about a cute new children's book from Julie Jersild Roth – Knitting Nell. In the hotel that evening I went to Julie's website & was charmed by the storyline and illustrations – I filed it away as a good gift for Miss Butterfly. Julie was at the show autographing copies of the book so Miss Butterfly now has a personalized copy to be gifted at a future time.
Color in Stitches was a beautiful booth of buttons, beads and more. (Their website isn't live yet.) I picked up 2 beautiful porcelain buttons that will be fun to incorporate into projects. I also got a fun fabric covered button that I think may end up on a cotton tote bag.
At a Wisconsin yarn shop booth (name escapes me) I picked up 2 skeins of Koigu in a lovely turquoise & white colorway – this booth had the best price on Koigu that I saw at the show. I also picked up Socks Soar on Two Circular Needles by Cat Bordhi – I haven't done much on socks since the quick class in May so I though this would be a good way to get serious about them again.
From Brooks Farm Yarn – 1 orphan skein of Primero in a purples/yellows/white colorway; 1 skein of their limited edition Silk/Superwash in a greens/browns/blues colorway. As I was paying for my selections I commented on the great service I had received from them earlier this year – I wanted to order the "Amy" colorway & they were out of it, when it was back in stock Dena emailed to let me know it was available. It turns out that Dena was the one at the counter and she asked if I was the Amy that had ordered "Amy." Indeed I was – don't know what that yarn will become.
From Black Water Abbey Yarns – a skein of their new Seafoam colorway – so pretty!
From Angora Cottage – a beautiful delicate skein of green wool/tencel that was spun with iridescent brown beads by Kristen, the owner. I'm thinking of a "fancier" scarf for my camel wool coat with this one.
At the end of the day we were exhausted from trekking through the market, thrilled with our purchases and excited to get knitting again. In fact Saturday evening we were all knitting while watching DVDs. I've started a project with one of these skeins – but it is a secret knit that won't be revealed for a while.
My Saturday started with a great mail package – my Flip Flop Swap goodies from Jeremy.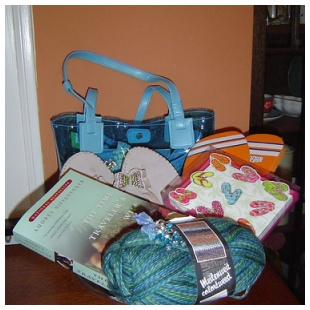 What a treat! All of the goodies were in the clear turquoise tote (which is now in use as a travel bag for dealing with the planes) – some soft ivory flip flops with a bit of butterfly bling; orange Wheaties flip flops; some flip flop notecards; turquoise & silver stitch markers; a skein of Lana Grossa Meilenweit Color Tweed in a summery colorway of turquoise, blues & greens; and a great read set in Chicago, The Time Traveler's Wife – where the story flip flops through time. This was a great book club discussion and I have been wanting to reread it since seeing "The Lake House" earlier this summer & I think my loaned out copy may have gotten lost. Thanks Jeremy for spoiling me with all these goodies – it was great to have this treat box waiting after the last 2 weeks of work!