A lot of my knitting recently has been dishcloth sized because it is relatively small & simple – so perfect for travel. Since I was home this week I was able to work on some larger projects…finished one that has been on the needles, started 2 more, started & finished another.
One (+ One) Skein Felted Clutch/Tote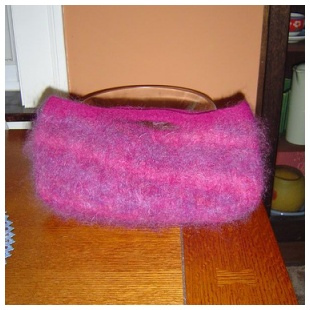 This is a cross between the The clutch you'll never give up and The Felted Striped Tote from One Skein. I used less than 1 skein of Cascade 220 & 1 skein of Lornas Laces Glory (I think it was Mixed Berries). I knew that I wouldn't have enough of Glory for the entire bag so I stopped it a couple of rows before the self handles.
This was my first felting project & was a lot of fun – both on the needles & in the finishing. It went through the hot cycle twice in a pillowcase with an old pair of jeans. I didn't capture any before pictures but the 2nd cycle was definitely needed to get this down to a good size. Once it finishes drying it needs a bit of a fuzzcut before it is ready to go.
I don't know who will end up with this – while I'm not a pink person there are several pink ladies with birthdays in the coming months.
Hook 'Em Horns
When I first saw this colorway I knew that it was destined to be a knit for Miss Butterfly – both of her parents are UT alums. I "whipped up" this poncho in just a couple of hours this week (actually twice, I ended up frogging the first one because I didn't like how it ended). I've had the yarn for several months but since Miss Butterfly was in town I thought it would be great to give it to her in person instead of mailing it to her. Here are some shots of her modeling it when she was here for a "Sleepover at M'Amy's House" (more details down below).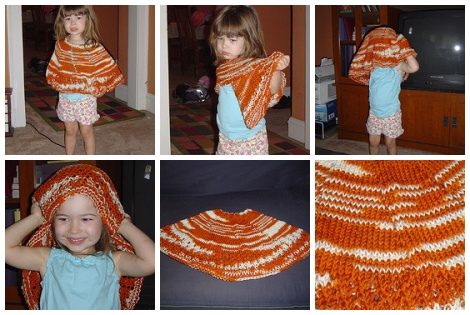 Project Details: Based on the Kiddie Capelet. My modifications – for increases I did yarn overs; I used the following needle sizes: 9, 10, 10 1/2, 13, 15, 17; I didn't do the ruffle at the bottom. Yarn is Hill Country Yarns Instant Gratification Superwash Sock Yarn in Hook 'Em Horns.
I loved working with this yarn – it was so soft & so easy to work with, I will definitely be using it again! I already have 2 other colorways in my stash & love all of the colorways that they offer.
Wrap it Up!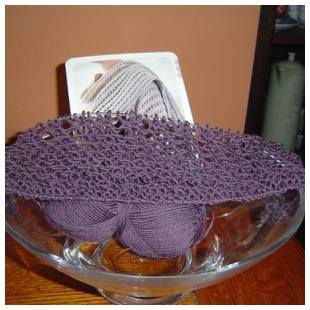 On July 1st I actually cast on for a purple knit project during Project Spectrum purple month. This is the "Superlong Wrap" from Knitting to Go. I'm using some Jaeger Matchmaker in Heather. This isn't as bulky of a yarn as the pattern calls for but I am wanting a lighter wrap. I don't know if this wrap will stay with me or be gifted but I'm enjoying working on it. It is a very simple pattern that knits up beautifully.
Cozy Babies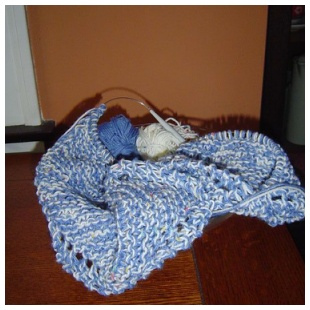 I've got 2 baby boys to knit blankets for in the coming months. I've started on one blanket using "new to me" yarns – Wendy Peter Pan Double Knit in Lupin Blue & Polka Dot. This is a very soft yarn that is turning into a cozy blanket.
Two co-workers are expecting babies in August & September so I think I will try the Mason Dixon bib pattern as a quick knit gift for them.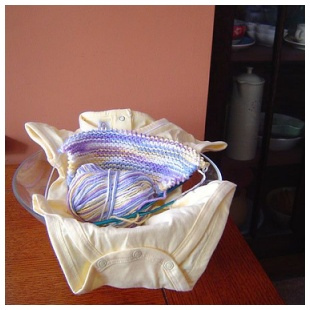 This is the start of an MDK bib that will go to another new baby with a matching onesie – I think it will be a "go to" gift to knit as needed.
Butterfly time
Miss Butterfly & Miss Doodlebug and their parents were visiting Chicago this week so I had fun spending time with them. On July 4th we went to the annual BBQ in their old neighborhood. It was a beautiful day for a picnic & we all had a great time.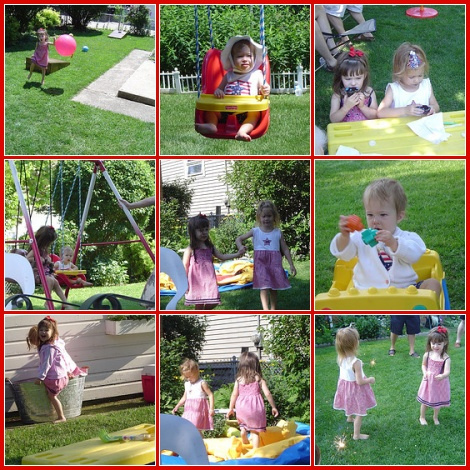 I took Thursday as a vacation day & had fun with the girls. We met for lunch at our favorite Pita Inn. After lunch Maya & Miss Doodlebug left for naptime & Miss Butterfly came with me for an afternoon of play and a sleepover.
Our afternoon was spent at the Kohl Children's Museum up in Glenview. What a great museum! We had so much fun with all the exhibits – we stayed there for over 3 hours. Here are some of the highlights of the afternoon.
As we were walking to the car Miss Butterfly said "I had such a fun time with you today." I would definitely agree! After the museum we planned to go for our favorite Bubble Tea as a special treat. Within about 2 minutes in the car Miss Butterfly was on her way to a power nap so we went for the new smoothie from the Dunkin Donuts drive thru instead.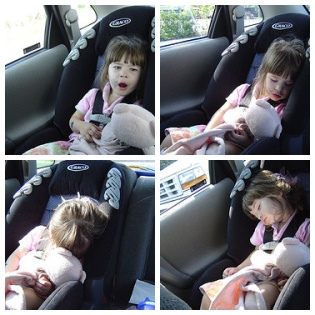 Our evening consisted of watching our favorite DVD, Mary Poppins, and reading Babar the King. Since she couldn't bring her sleeping bag on the plane we made a little nest of pillows, blankets & stuffed animals for her.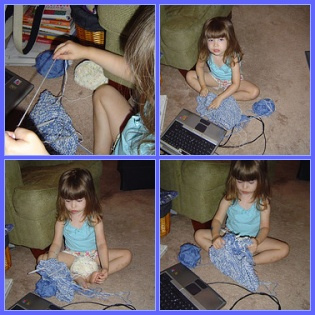 This morning before it was time to leave Miss Butterfly found my knitting basket & the baby blanket that is on the needles. She wanted "to knit" so she sat on my lap & put her hands on the needles as I knit a row. Then she did some "knitting" on her own & said she was knitting a blanket for her new baby cousin. Her Grosi is a great knitter so maybe one day she will be clicking the sticks "for real."
Knitting and time with the girls…just a couple more ingredients for a lovely week!