…down the road…but so far away…
One of my favorite things about going to Harbor Country, MI is that is really is a quick escape from the City (under 100 miles from my house) and yet as you travel those miles East from Chicago, over the Skyway bridge, through Indiana and on towards Michigan you really feel as though you are "far away" from the hustle and bustle of city life. Last weekend's "Sister's Weekend" was no different.
This is the 2nd summer weekend that my sister has flown up to join us for the fun and the fourth year that Jen, Kristy & I have gone over there. We booked the weekend several months ago and had been looking forward to it ever since – on several occasions, one of the four of us would comment about "can't wait till the beach weekend…"
We left downtown Chicago at noon on Friday – a large Dunkin Donuts Iced Hazelnut coffee for each of us and a car picnic of lunch items and the fun began.
Among the highlights: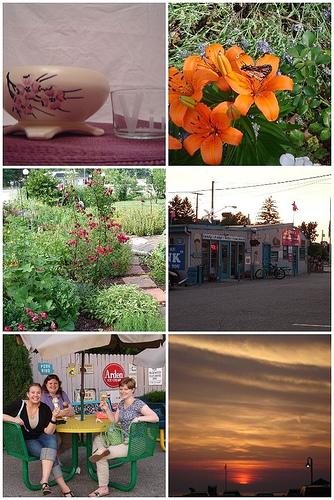 Friday afternoon was filled with shopping – including some antiques, and the charming Pomegranate Home shop…Friday evening was dinner at Cafe Gulistan – yummy Turkish treats. We sat right by the windows out on to parts of the beautiful garden…The evening was capped off by ice cream at Oink's…And a quick glimpse of the sunset over Lake Michigan.
Saturday was a beautiful day…

…for shopping among the Sidewalk Sales in downtown New Buffalo……a quick salad lunch at Rosie's, a local institution…part of the afternoon was spent at Sit & Knit. Jack & Kim were away at the Estes Wool Market; however, we had a delightful time sitting & knitting with Angie, one of their teachers who was minding the store. I don't know what the Cotton Blossom yarn will become (St. Croix for me & Tangerine for Rebecca).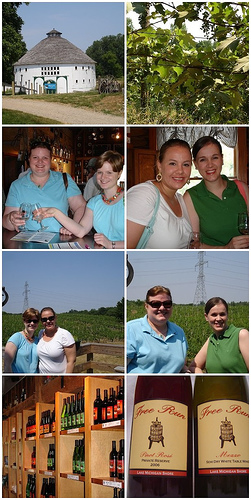 …the rest of the afternoon was spent on the Michigan Wine Trail…first to our favorite, Round Barn Winery…and then we checked out a "new to us" winery, Free Run Cellars, which is operated by the sons of the Round Barn family. It is a new favorite winery and will be included in any outings that include a Round Barn visit.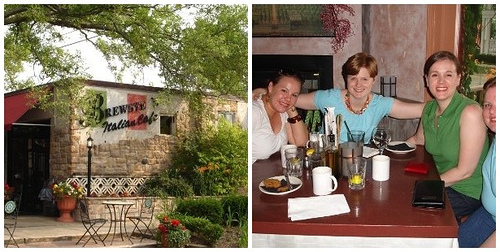 …for dinner we went to Brewster's Italian Cafe…earlier in the day, Kristy & Rebecca had checked it out & proclaimed that we needed to go there for dinner. It didn't disappoint. Their "Dinner for Two" option, twice, was the way to go. Their gazpacho was so fresh it was as if we were eating vegetables straight from the garden. The brick oven Pizza Margharitas were so yummy, flash backs to Italy. And both pasta options the table selected were excellent choices as well…After a bit of outlet shopping over in Michigan City, IN we were back at Oink's for ice cream.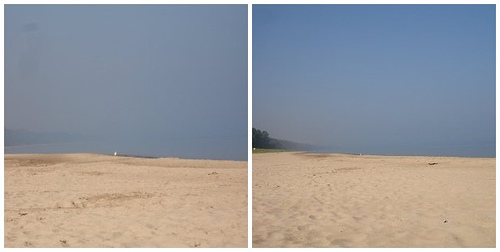 Sunday morning brought a few hours on the beach – we love staying at Gordon Beach Inn because of the private beach access. Because of the heat it was a hazy morning & you didn't see much of the lake. We enjoyed our breakfast of iced cappuccinos and scones/pastries, did a bit of reading & then walked the shoreline for a bit.
Before we knew it, it was time to pack up the car and return to the city. After some careful packing, everything and everyone fit in the car. On the way out of town we stopped at a produce stand to pick up Michigan cherries to bring home. The weekend was capped off by a quick lunch at Culver's and then we picked up custard treats for the drive home. We all agreed that the weekend was filled with just the right combination of relaxation and fun and we are glad to have a summer escape like this.
We are already looking forward to next summer's weekend – what annual summer trips do you have?
p.s. Stay tuned – contest winners & more blog fun in the next post…