A quick trip home to see the family in "The 'Ville" was just the bit of R&R that I needed after a pretty crazy couple of months at work. I flew home on Thursday morning and when I left on Monday evening we all agreed that it was just the right amount of "together time" that we all needed – it had been a while since we all had just hung out.
On Friday we loaded into the car, picked up iced coffees (an Artisan family staple) and headed south for a day trip. First stop: Warm Springs, GA. We didn't visit The Little White House this time, instead we did a bit of shopping in some of the cute shops and enjoyed a delicious lunch at The Bulloch House. From there we headed east to Macon, GA – with the specific goal of spending time on the Mercer University campus where my sister & I went to school. There has been a lot of construction on campus since we were students there; however, it was nice to see how the new buildings tie into the beautiful older architecture.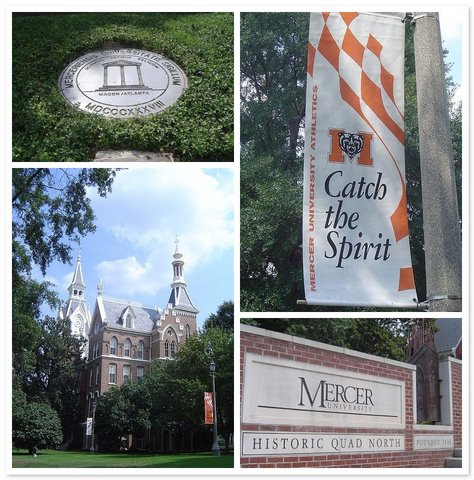 One of the highlights of the walk around campus was seeing the statue of Jesse Mercer – when I was a student there I was part of the Heritage Life committee that selected the design from several that had been submitted. When we selected this design we liked the concept that you could sit with Jesse – so of course Rebecca & I had to sit with him while visiting. (Um…sitting on a brass bench in 90+ degree weather is not so fun.) Surrounding the statue are several of Jesse's sayings – it was fun to read them and chuckle at some.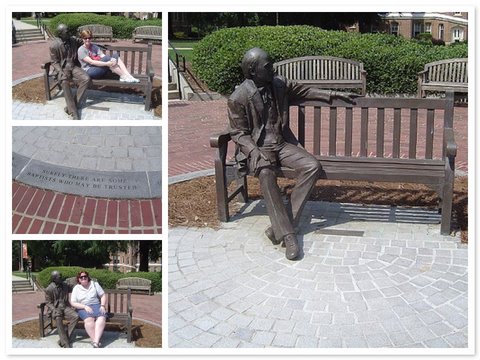 (The rest of our photo album is here)
Our day of fun ended with a bit of shopping at the outlets and then a quick dinner and dessert at the local Chick-fil-A Dwarf House where I worked when I was in high school.
A gift card for Barnes & Noble was a perfect excuse for my sister & I to spend some time at the bookstore on Saturday afternoon. While enjoying our frappucinnos, Rebecca settled in with a book and I spent the time looking through some knit books and magazines. A couple of magazines came home with me with specific project plans (including *gasp* maybe my first sweater).
When Rebecca & I were in Michigan in June we each selected some Cotton Blossom yarn as our yarn souvenir. Earlier this month I did a quick knit with Rebecca's Tangerine yarn and she now has a cozy shawl to wear.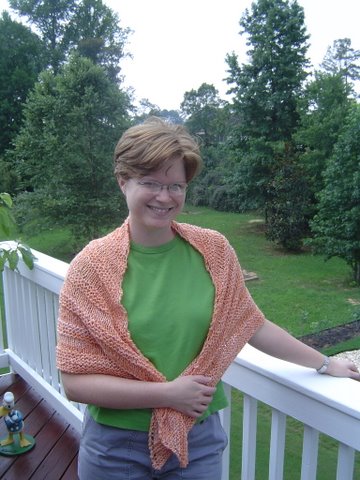 This knit was a great example of Ravelry in action – I stumbled upon it while browsing through patterns and it seemed like a good fit for the yarn. This "Simple Yet Effective Shawl" was a fun and easy pattern – I can see using it with several yarns in the stash.
When not out and about – there was plenty of time just hanging out at home. Lots of knitting time (details to come in future posts), lots of reading time, watching a few movies (Mame – a perrenial family favorite and the delightful Miss Potter). I also spent some time in Artisan Tech Support mode for my sister and dad. Earlier this summer my sister was a chaperone on the youth group mission trip to Moldova so I helped her build a web page of her highlight pictures (I'll provide the link in another post). Artisan Dad is working on starting a blog as well.
Since starting to build out my notebook on Ravelry I realized that a few gifts that I knit for the family hadn't been photographed so I captured them while at home.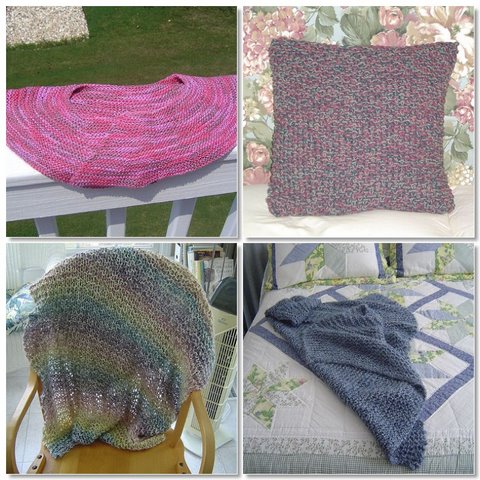 #1 – The Berthe Collar from No Sheep For You for Mom's Birthday this year – knit in bamboo; #2 – A Bedroom Pillow for Mom a couple of years ago – 3 colors of sale yarn from the LYS and a stitch pattern from a stitch dictionary; #3 – Rebecca's Reading Wrap – 2 skeins of Homespun; #4 – Grandma's Resting Wrap – 2 skeins of Homespun
This weekend was a lovely reminder of how much fun my family can have – even when we don't have a lot planned. It's not the "things" that we do – it's the time that we spend together!