What do you think of when you hear the word Whiplash? Your neck? Sometimes you feel like you are being tossed in so many directions that you can barely keep your head on straight. I'm experiencing a bit of that these days.
Whiplash also results from car crashes – especially when you are rear ended. Three weeks ago my sister experienced that firsthand. Thankfully she is alright. As is often the case, her neck is a bit sore these days as she is on the mend. When I learned of her accident I already had a scarf on the needles for her – I immediately thought that I would name the scarf Whiplash – a little something nice to comfort her neck. This was the secret knit that I mentioned in January. Now that it has been received in Georgia I can reveal the project – not only the "boring" shots but also the scarf in action.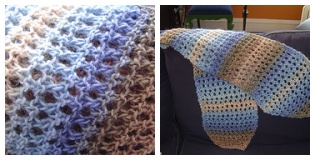 The Details:
Another Bejeweled scarf. This time I used Patons SWS yarn in Natural Blue on size 13 needles. This pattern was just as fun to knit this time and with the bigger yarn & needles it created a completely different scarf.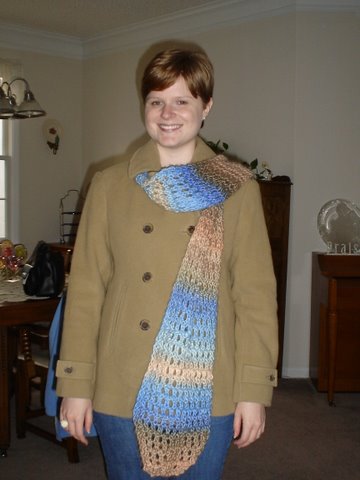 The scarf looks great with her new peacoat!
This pattern is definitely a favorite of mine now – I can see knitting it with lots of different yarns & having such different results each time.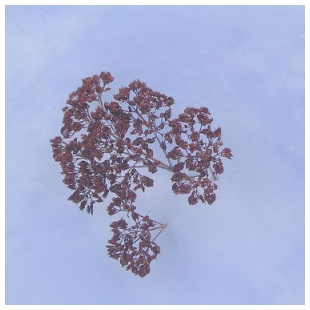 Work had me in Wisconsin this week so I missed the big snowstorm that came through Chicago. (Although, I had enough of a snowy drive en route to WI on Monday morning.) When I came home last night I was so thankful that my basement neighbor had shoveled the snow in front of my garage so I was able to get in without having to dig in. A batch of brownies were whipped up this morning to say thanks. This afternoon I took a few pictures of some snow scenes in the neighborhood. My favorite picture is of the "leftover" sedum in my neglected flowerbed poking through the snow.
Not much knitting to report – although Blanket of Hope squares are the perfect simple knitting for after these busy work days!