In April…the arrival of spring in full force – one day all you see are barren branches and empty flower beds & the next day blooms seem to explode from nowhere and remind you that you have survived the winter & are in the season of rebirth…while work is keeping me so busy these days that the blog seems to be way down on the list, at least I have this monthly compilation to ensure the dust doesn't settle too much out here…in the midst of it all, these are some of the things that filled my April days…
Reading…thoroughly enjoyed Walter Isaacson's The Innovators: How a Group of Hackers, Geniuses and Geeks Created the Digital Revolution – this was the first time I used the Whispersync technology to move between kindle read & audio read…almost finished listening to The Monuments Men…almost finished with Station Eleven…rereading Forget a Mentor, Find a Sponsor: The New Way to Fast-Track Your Career by Sylvia Ann Hewlett ahead of a professional development summit at work in May…
Watching…the latest film adaptation of Cinderella is delightful! Enjoying some British mysteries through Netflix: Death in Paradise and Rosemary & Thyme…
Crafting…a fun evening of Painting with a Twist with some friends from work…a few rows of knitting (need to do more!)…a photo book via the Shutterfly app on the iPad…
Browsing…the Apollo 13 mission retold in tweets in real time…the story of a 124 year old cooking club in Wichita…
Celebrating…Easter locally. A beautiful Easter service at church on Sunday morning to start the day. A fun and tasty afternoon at a friend's house – which ended with 3 dozen confetti eggs being put to good use. An evening bonus was FaceTime with the girlies in TX and with the family in WI.
Cooking…Simple and colorful roasted veggies for the Easter table were paired with a bright berry dressing – I think this dressing is going to become a fridge staple this spring…
Sipping…lots of iced coffee and iced tea via Dunkin' Donuts and their clever $0.99 refill mug…
Refreshing…a long overdue haircut unleashes my curls again…a new spring lipstick in the makeup routine…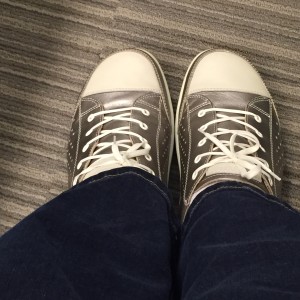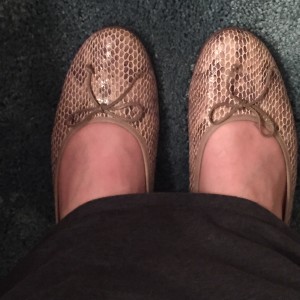 Wearing…new shoes for the new season…sassy silver kicks for casual Fridays and weekends…neutral ballet flats for the office…I seem to be "finally" making the transition to quality over quantity in my shoes…some pretty pennies are being spent but the daily difference is amazing…
Traveling…a quick trip down to the project site in Florida included a Sunday afternoon to enjoy delicious seafood and fantastic pineapple gelato at the beach…
Looking Ahead…a long weekend at home in the 'Ville for Mother's Day…time to celebrate a high school graduation (gulp!) in Wisconsin at Memorial Day weekend…
Linking up with Leigh Kramer for the monthly What I'm Into round-up. What are you into these days?