Caprese salad has long been a favorite of mine – as a starter to a meal or sometimes as the main part of a meal. It captures summertime on a plate. Five years ago, it was an ultimate summer meal as Rebecca & I enjoyed it on a Saturday afternoon on Capri.
Since eating out for 3 meals a day each week when I'm on assignment up north can get very old (especially in a smaller town with limited options), I try to pack a few meals to take with me each week. In the winter months, soups were a frequent part of my cooler bag. Now that it's summertime the bag is filled with salads. In addition to my regular "green salad fixin's" the cooler bag this week will include a taste of Capri with a bit more substance: Quinoa Caprese with Basil Vinaigrette.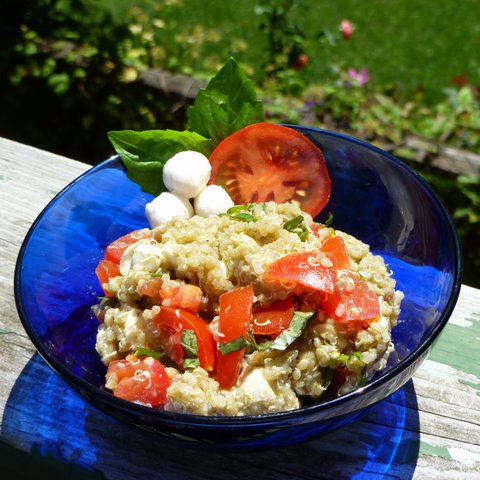 As I grab bites of this salad for lunch this week amidst the meetings & document review that fills my work week, I will fondly recall favorite moments from Italy.
Quinoa Caprese with Basil Vinaigrette


1 cup dried quinoa

1 cup fresh tomatoes, chopped

3/4 cup fresh mozzarella, chopped

6-10 fresh basil leaves, chiffonade

Basil Vinaigrette (1 small shallot, chopped; 1 c. loosely packed basil leaves , torn; 2T balsamic vinegar; 1T water; 2 cranks fresh ground pepper; 2 cranks ground sea salt; 6T extra virgin olive oil)

Salt & Pepper to taste, fresh ground

Cook the quinoa & let cool.
Prepare the Basil Vinaigrette: Combine all ingredients in the blender & blend until smooth.
Assemble the salad: Combine the quinoa & vinaigrette – mix thoroughly. Add tomatoes, mozzarella & basil – toss until well mixed. Add salt and pepper to taste.
Enjoy immediately or chill until serving.